Custom Lighting Designs at Lamps Plus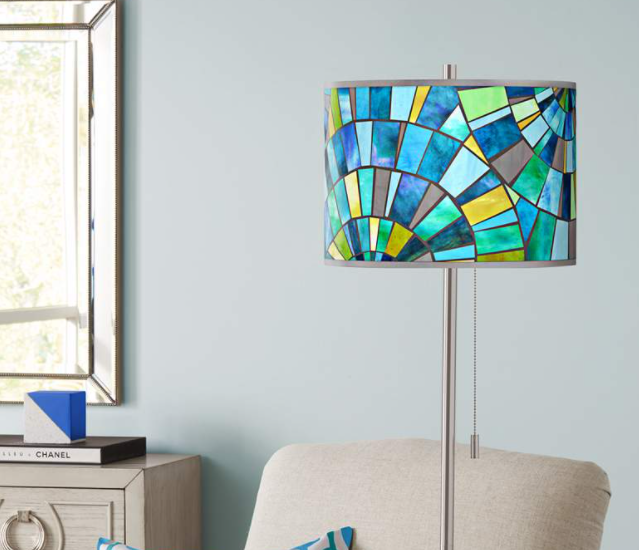 Custom Lamp Shades, Table Lamps and More
Lamps Plus is home to so many designs and products that our customers can often find exactly what they're looking for. However, sometimes you just need to add that personal touch that ensures your home is truly an expression of you. To help you create those personalized items, Lamps Plus offers a variety of options, including customizable lamp shades, and over one hundred lamp base colors.
Custom Made Art Shades with Designer Patterns
Giclee (pronounced zhee-clay) refers to the process of using inkjet printers to create fine art digital prints. Lamps Plus primarily uses this technology to create high fidelity wraps for lamp shades. Using a specialized proprietary variation on the giclee process, in use for over a decade, each of our Lamps Plus art print shades is manufactured to order in in our Los Angeles, California workshop. Using art-grade canvas and archival quality inks, each lamp shade is then hand-assembled by our team of trained artisans before being shipped directly to our customers.
Lamps Plus Giclee art shades can either be purchased on their own, as individual shades, or as part of a larger product, such as a table lamp or even chandelier.

Made to Order Exclusive Patterns
Lamps Plus maintains an extensive library of beautifully designed exclusive art shade patterns in a multitude of colors. These patterns include vibrant solid colors, to more complex patterns inspired by modern art works, to scenes of the natural world. Most patterns are also available in several color schemes, creating options for customization.
On our dedicated Art Shade Lighting homepage, customers have the option to browse a selection of designs, or choose a specific category to begin their search. Available categories are chandeliers, pendants, floor lamps, table lamps, lamp sets, close to ceiling lights, wall lamps, and standalone shades. After selecting your preferred category, our website offers several options to help narrow the search, with the most popular being the color. Clicking on a color from the list will show you all designs and patterns associated with that color scheme.
Although these patterns have already been designed, each one is still printed to order and manufactured by hand before shipping.

Custom Lamp Shades with Your Photo
For a truly customizable experience, Lamps Plus offers a unique Custom Photo Lighting service! By using our online tool, anyone can upload a picture they have taken and we will use our Giclee technology to print the image onto a lamp shade. This is the perfect way to turn a family photo into an artistic lighting experience.
Before you upload a photo, however, you can select exactly what type of product the image should be uploaded to. Aside from standalone lamp shades, Lamps Plus also offers this service with table lamps, swag pendants, apothecary lamps, floor lamps, and even pillows! For more information on the custom pillows, see the last section of this article.

After selecting your product, follow the instructions on screen to select either a background or a frame to start. This will help highlight the image you upload and make it really pop. After that, you can upload the image and see a preview of what the finished product will look like. Our online tool also has additional added features, such as adding graphics and/or text, ensuring that the piece is truly a custom work.
Color Plus – 100+ Lamp Colors
Manufactured alongside our Giclee art shades is the Color Plus line of custom color lamp bases. Available exclusively at Lamps Plus, the Color plus line of lamp bases are available in over 100 colors and shades. From vibrant tones to soft pastels, creating your own Color Plus lamp only takes two easy steps.
First, find the color that you love, then select a lamp base design from our available styles. Once your custom order is in, the clear glass lamp base is painted from the inside in the color you chose using our specialized in-house method, creating a truly eye-catching piece. Aside from table lamp and floor lamp styles, Lamps Plus also offers an array of classic candle holder sets for that timeless appeal.

Pairing Color Plus and Custom Giclee Lamp Shades
Giclee and Color Plus are practically made to pair together! By default, our vibrant Color Plus pieces come with a brilliantly white shade, all the better to make that color really pop. However, that makes it all the easier to replace the shade with something you truly love.
While shopping for your Color Plus lamp, take some time to browse our Giclee patterns, or upload a custom photo using our online tool. Shop by color to find a pattern to complement your lamp, or add a little contrast by using multiple tones.

Custom Designs Are a Celebration of You!
Lamps Plus prides itself on offering a large selection of products across every style imaginable, helping our customers create comfortable home spaces that are truly a celebration of you. With our customizable art lamp shades and custom Color Plus lamps, you can take control of the design process and create the perfect combination to really appeal to you.