Fountains – Buying Guide and Cleaning Tips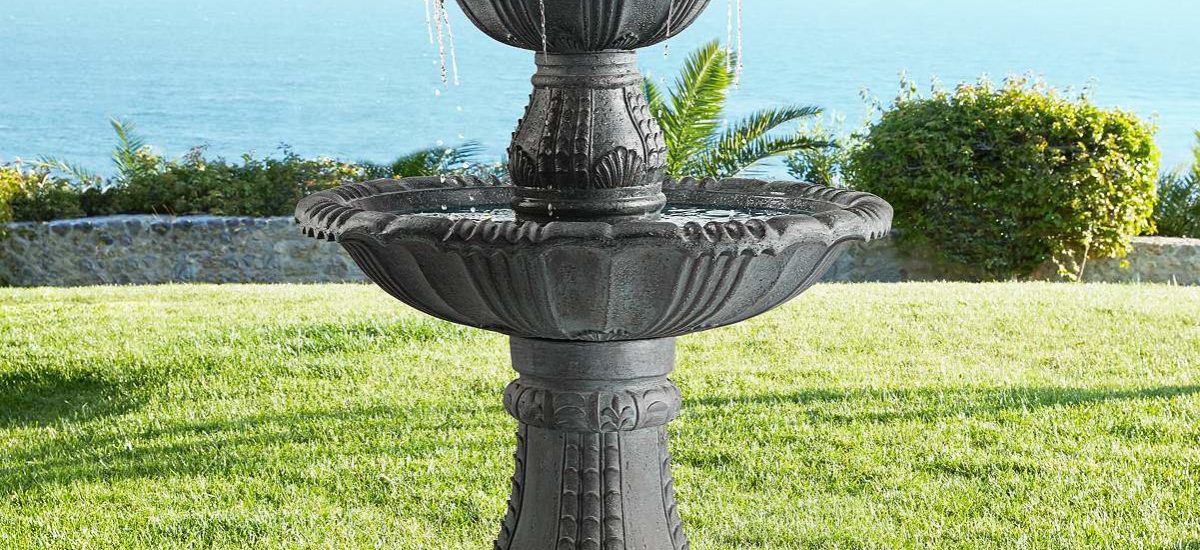 Whether used indoors or outside, a decorative water fountain is a great way to add a peaceful and relaxing accent to your home.They are quick to set up and easy to install.
All our fountains come complete with a water pump and cord. Inside, our designs plug into any three-prong outlet. Outside, use a GFCI grounded outlet, and be sure to look for fountains that are rated for outdoor use.
Below are some tips and features to look for.
5 Fountain Types
Great for home offices, kitchens and more. Many designs come with rock or stone features that you can arrange to create a custom look.
A great choice for small patios, side yards or other outside areas is outdoor wall fountains. These easy-to-install designs lend a refreshing and inviting look to patios and porch areas. Inside the home, an indoor wall fountain can transform the living space with the calm and relaxing sound of water.
These versatile freestanding designs can be used indoors or out. Add them to a foyer or home entrance to create a dramatic visual statement, or place in a patio corner to fill an otherwise drab area with sound and movement. Resin construction fountains are lightweight and easy to move.
Cascading designs with multiple levels create soothing sounds. As the water travels through each level, more water noise is created, making outdoor waterfall fountains ideal for masking background noise from roads or neighbors. Family and friends will enjoy the cascading sounds of water from an indoor waterfall fountain, a beautiful enhancement to any room.
These types of fountains come with built-in lights, including new long-lasting LEDs. A lighted fountain gives any room our outdoor setting a little extra sparkle by night.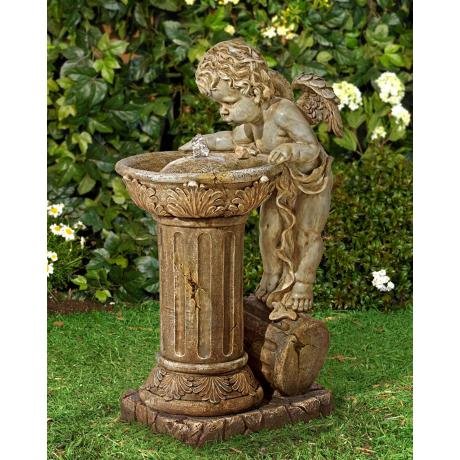 Fountain Cleaning & Care Tips
Once you have your water fountain situated and running, you are pretty much set. A few tips will keep it purring along for years to come.
1. Maintain Proper Water Levels
Low water level makes the pump noisy and can eventually damage it. Make sure there is an adequate amount of water in the fountain for it to run properly, especially in hot summer months.
2. Too Much Splash?
Sometimes a fountain can run too fast, causing excessive splash and water movement. The solution? Use the pump intake-control valve to adjust the amount of the water flow.
3. Winterize
Cold and freezing water can damage the pump and the fountain itself, especially if the fountain has a resin finish. Bring fountains in from the cold to protect finishes, hoses and pumps. For stone fountains that are too heavy to move, just bring indoors the pump and hoses.
4. Keep It Clean
Clean water makes a fountain happy. Control scale, mold and other deposits by regularly adding a fountain water treatment. Just make sure it's a product that is safe for animals and pets.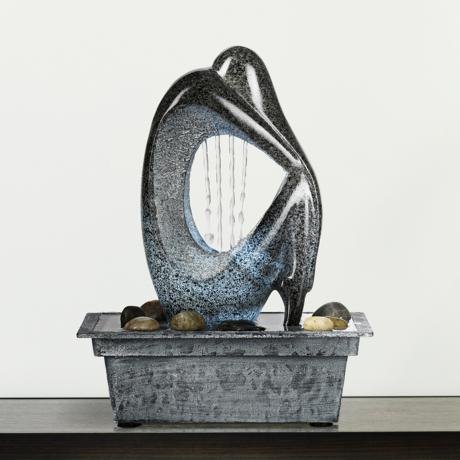 Questions?
For in-depth help, call us at 1-800-782-1967 or visit a Lamps Plus store near you. One of our American Lighting Association trained associates will be happy to help you select a new fountain.