Fountains – Buying Guide and Cleaning Tips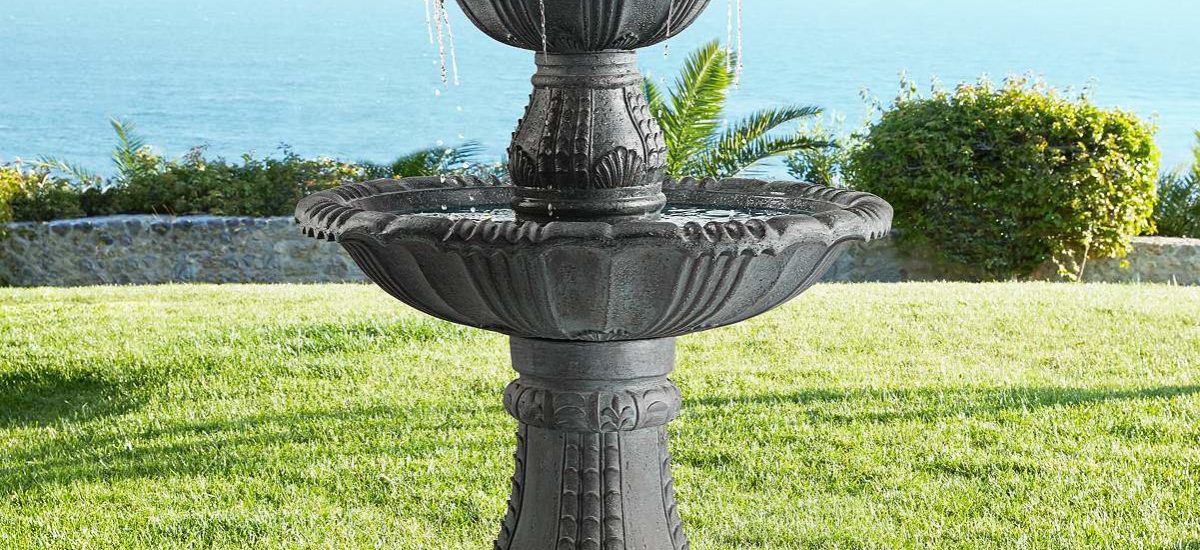 Whether used indoors or out, decorative fountains provide a soothing presence, adds style, and can even disguise traffic or neighborhood noise.
What you need to know before and after you buy a fountain:
Five Types of Fountains
Great for home offices and kitchens, many designs come with rock or stone features you can arrange to create a custom look.
A great choice for small patios, side yards or other outside areas is outdoor wall fountains. These easy-to-install designs lend a refreshing and inviting look to patios and porch areas. They also work great for inside the home.
These versatile freestanding designs can be used indoors or out. Add them to a foyer or home entrance to create a dramatic visual statement, or place in a patio corner to fill an otherwise drab area with sound and movement.
Cascading designs with multiple levels create soothing sounds. As the water travels through each level, more water noise is created, making outdoor waterfall fountains ideal for masking background noise from roads or neighbors.
These types come with built-in lights, including new long-lasting LEDs. A lighted fountain gives any room our outdoor setting a little extra sparkle by night.

How to Set-Up an Indoor or Outdoor Fountain
Follow these four steps to set-up your fountain:
1. Place the base on a stable area.
For larger fountains, do not place outdoor fountains on loose soil or mulched beds.
Instead, use patio stones, hard-packed pea gravel, or sand.
2. Position the pump in the fountain basin or bowl.
3. Fill the bowl or reservoir with water.
Never let the water run dry.
A fountain without enough water will cause the pump to overheat and fail.
4. Connect to an outlet and pPlug in.
All Lamps Plus fountains come complete with a water pump and cord.
Inside, our designs plug into any three-prong outlet.
Outside, use a GFCI grounded outlet, and be sure to look for fountains that are rated for outdoor use.
5. Adjust the pump setting and water level to your liking.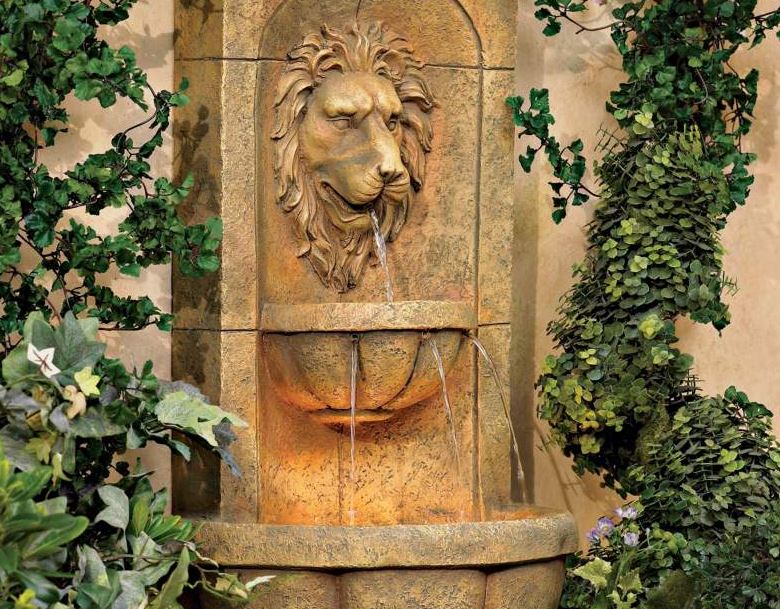 Fountain Troubleshooting
Here are some of the more common issues with fountains.
1. Too much splash
Adjust the pump intake-control valve to reduce the amount of the water flow.
2. Not enough water flow
Check that the pump is fully emerged in the water.
Make sure you have enough water to fill the bottom basin.
Next, adjust the flow of the valve to achieve the desired water flow.
3. Noisy water pump
Check that the pump is fully submerged in the water.
Make sure the pump is not vibrating against the side or bottom of the basin.
Secure all connections to prevent air from escaping and causing noise.
Tips on How to Clean a Fountain
To keep your fountain looking and running it's best, we recommend cleaning it every two to three months, or whenever the water looks dirty. Cleaning is pretty simple, just keep a few tips in mind.
1. Drain the water and remove leaves or other debris to avoid clogging hoses, filters, and pumps.
2. Use a soft rag to wipe down the fountain with specific fountain cleaning products, such as scale and stain water treatments, and water algaecide and clarifiers.
Avoid abrasive household cleaners as well as pool and spa chemicals or cleaners.
Harsh cleaners can damage finishes and are not safe for animals.
Chlorine bleach, in particular, is not recommended. It is corrosive to the pump and fades fountain finishes.
3. Add fresh water and a water treatment product.
If you live in a hot climate, you may notice that the water turns green with scale or  mold. To control this, just add a fountain water treatment.
Make sure to choose a product that's safe for birds, wildlife, and household pets.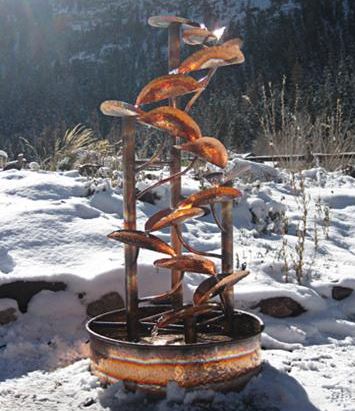 Fountain Winterizing Tips
Winter can be harsh on outdoor fountains. Cold and freezing water can damage hoses, the pump, and the finish of the fountain itself. So, if at all possible, consider moving your fountain in from the snow, rain, and cold to protect it.
A garage, outdoor garden shed, or other protected structure all make for good winter homes.
Of course, some stone fountains, large fountain designs, and heavy fountains can't easily be moved indoors. For both indoor and outdoor winter storage, we recommend doing the following:
Drain the fountain of all water.
Disconnect and bring indoors pumps and hoses.
Don't allow water to collect and freeze in fountain basins or bowls.
Fill basins or bowls with burlap bags, hay, or other material to protect it from freezing temperatures.
Cover the entire design with a fountain cover or tarp. Even if you are storing your fountain indoors this is a good idea.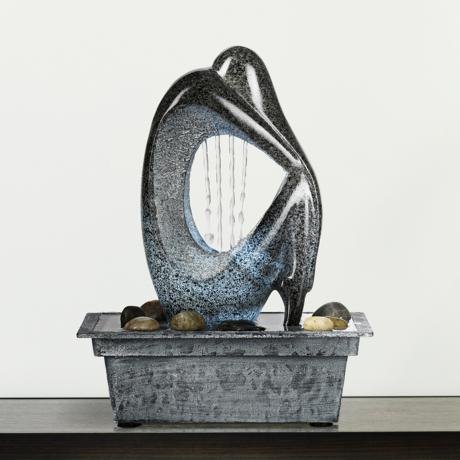 Questions?
For in-depth help, call us at 1-800-782-1967 or visit a Lamps Plus store near you. One of our American Lighting Association trained associates will be happy to help you select a new design.
 Related Ideas and Advice Articles
Adding Life and Light to Your Outdoor Spaces
Outdoor Space Design – Outdoor Wall Lights