Lamps Plus Unveils Exclusive Lamp Shades and Pillows Featuring the Artwork of Renowned Artist Romero Britto
Jubilant, Bold Patterns Can be Customized by Color Choices on Lamp Shades and are Now Available Online and in Stores
LOS ANGELES – May 15, 2019 – Lamps Plus, the nation's largest specialty lighting retailer and a leading lighting and home furnishings manufacturer, announced today that lamp shades and pillows featuring the bold artwork of renowned artist Romero Britto are now available exclusively at LampsPlus.com and Lamps Plus stores.
Britto, a Brazilian artist, painter, serigrapher and sculptor, combines elements of cubism, pop art and graffiti painting in his work using vibrant colors and bold patterns as a visual expression of hope and happiness. His works are on display throughout the world, including several pieces showcased in Miami.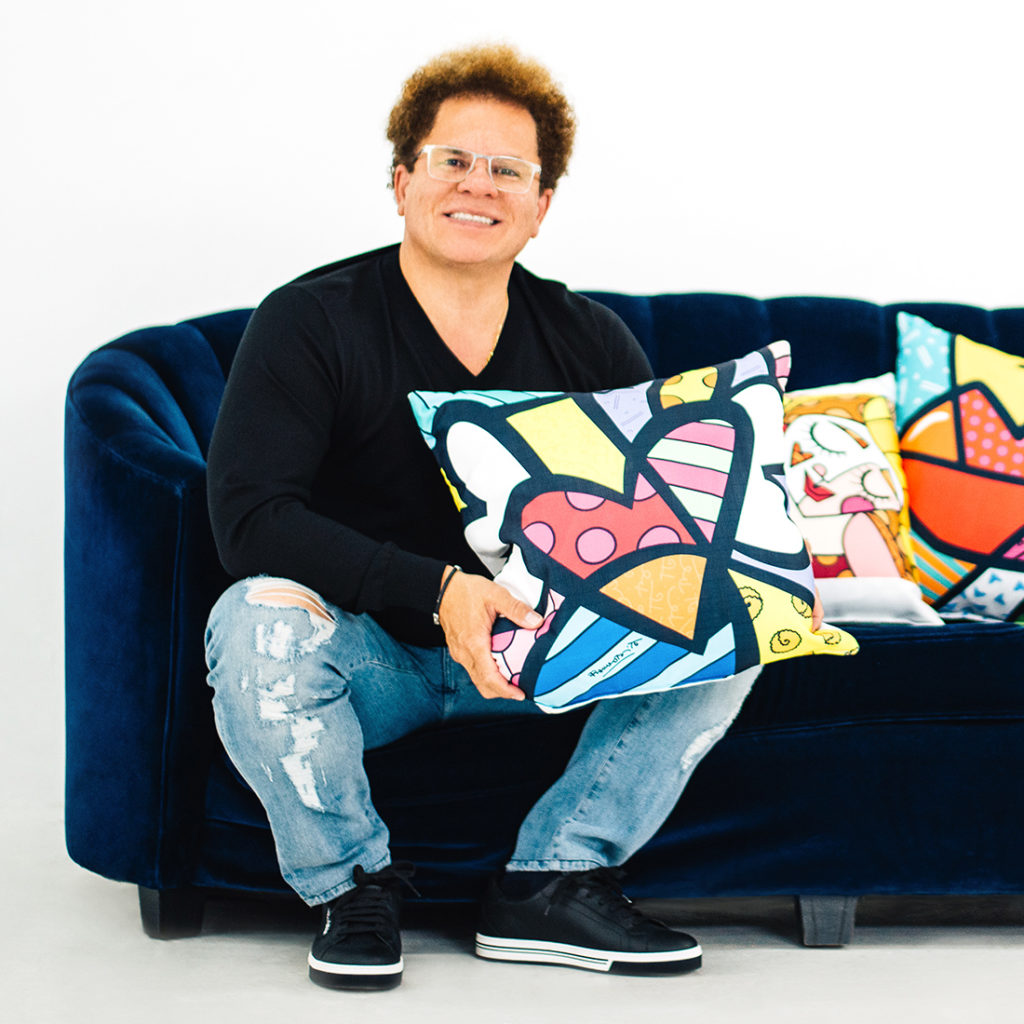 Lamps Plus features Romero Britto artwork on over 100 designs of lamp shades, chandeliers and ceiling fixtures. Most of the shade patterns can be customized online to appear in myriad colors. An additional 12 Britto artwork patterns are available on 18-inch square pillows. Both the lamp shades and pillows are custom made to order by artisans in Lamps Plus' California workshop using giclee printing technology.
"Britto's unique, vibrant artwork brings memorable designs to homes both for lighting and décor," said Dennis Swanson, founder and CEO of Lamps Plus. "I've been a longtime Romero Britto admirer and have one of his pieces on my office wall that I purchased during my travels. Britto's artwork is dramatic and adds the perfect accents to room colors."
"Art tells a story on a surface or sculpture but also a piece can bring so much joy, passion and enthusiasm to other surfaces that tell stories and bring the aesthetic alive," said Britto. "My art uses bright colors, lines and shapes for beauty and inspiration. Adding my art to designs will bring so much vibrancy to the home."
The Britto designs from Lamps Plus are intended to offer unique expressions to augment the interior design of homes and apartments.
According to Lori Dennis, Lamps Plus brand ambassador and interior designer: "Against a white wall or sofa, the Britto artwork creates a vibrant statement that sings with on-trend style. The colors and patterns give a room a theatrical, whimsical style that is popular in design right now."
Lamps Plus has been successful offering products with the artwork of other world renowned artists, including Brandon Ragnar Johnson and Thomas Kinkade.
Media Contact: PR@LampsPlus.com