Lamps Plus Writes New Chapter by Supporting Pen + Napkin in Charitable Mission to Help Homeless
Company Brightens Homes of Families in Transition with Lighting and Furnishings
LOS ANGELES – Dec. 12, 2018 — Los Angeles County has more than 52,700 homeless people in need of shelter, according to a recent report from the Los Angeles Homeless Service Authority. The community of North Hollywood in the San Fernando Valley ranks second in the county's homeless population behind Downtown Los Angeles.
Recognizing this problem in its community, Lamps Plus is sponsoring charity Pen + Napkin to donate thousands of dollars in lighting and home furnishings to families assisted by the nonprofit organization with a mission to provide free professional design services to homeless, low income families and individuals transitioning into new homes. The company began sponsoring the charity in early 2018 and will continue in 2019.
Based in Los Angeles, Pen + Napkin was established in 2014 by designer Catie Bouchard. Using a small team and relying on volunteer efforts, the charity helps design and furnish apartments and homes for those transitioning out of homelessness. Pen + Napkin has furnished over 75 homes in Los Angeles, Orange Country, and San Diego.
"Every person deserves to have a comfortable space the way they want it to call their home," said Angela Hsu, senior vice president of marketing and eCommerce for Lamps Plus. "We've been grateful to work with Pen + Napkin in its mission to help people who were without homes to get back on their feet by designing and furnishing their new homes."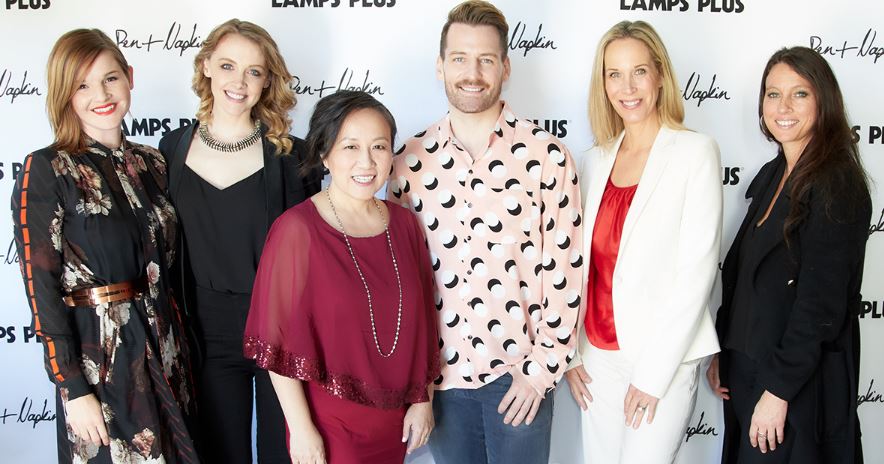 From left: Catie Bouchard and Ellyn Molzer from Pen + Napkin; Angela Hsu from Lamps Plus;
Lamps Plus brand ambassadors: Orlando Soria, Lori Dennis and Courtney Allison.
Lamps Plus works with Pen + Napkin to provide product donations and will continue on future collaboration ideas for installations. Each child in a transitioning family receives a custom photo pillow from Lamps Plus with her or his name on it — for many, this is their first pillow of their own. In addition, Lamps Plus continues to leverage its network of local interior designers to offer their expertise and services for these projects.
According to Humble Design – "Fifty percent of families moving out of transitional living or homeless shelters without furniture end up back on the street. With furniture, that statistic drops to 1 percent."
For the coming year, Lamps Plus will continue its partnership to help those in need including consideration to assist those struggling with sudden homelessness from the recent Woolsey Fire, which destroyed over 1,500 structures and burned over 96,000 acres.
"Pen + Napkin strives to make spaces both beautiful and functional. Many of the families are recovering from losing their homes in fires, job losses, domestic violence and other unforeseen circumstances," said Bouchard. "We appreciate what Lamps Plus has provided and extending our partnership into the future. Our design inspiration is dignity because when someone regains their dignity, they can achieve their destiny."
Media Contact: PR@LampsPlus.com