2015 Kitchen and Bathroom Design Trends
LOS ANGELES — January 31, 2015
Leading Lighting Retailer Lamps Plus Offers Designer Trends and Tips Following Annual KBIS Show in Las Vegas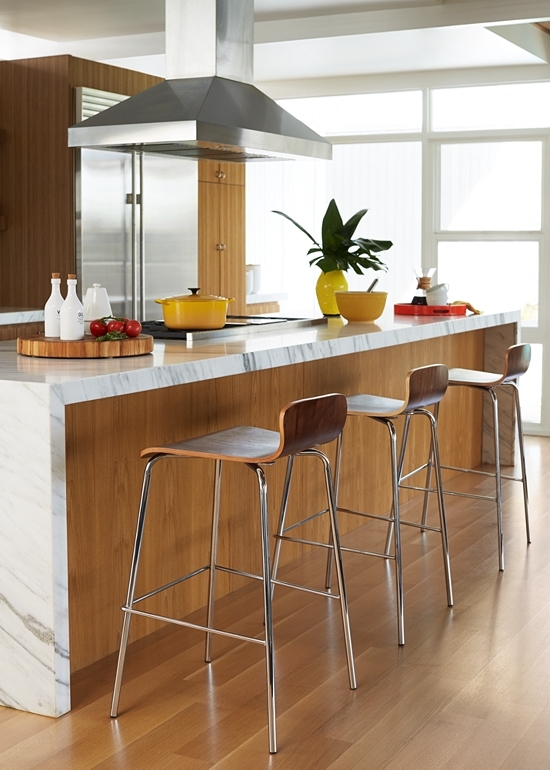 Going hi-tech, putting on a show in the kitchen, and getting colorful are all top kitchen and bathroom design trends for consumers to keep an eye out in 2015. Lamps Plus, the nation's largest lighting retailer, and its trade arm Lamps Plus Professionals, participated in the recent Design Construction Week in Las Vegas, which encompasses Kitchen & Bath Industry Show, Las Vegas Market, and the International Builders Show. Designers and Lamps Plus experts identified the top trends and tips from show displays, designers and participants during the week-long event. Here's what to look for in 2015:
Technology in the Kitchen
"What I thought was really innovative were all the new ways that technology is being incorporated into kitchens," said Leslie Hendrix Wood, founder of Hadley Court and Interior Designer with Chancellor Interiors. Wood in particular pointed out the merging of home and mobile – such as wireless charging stations embedded into kitchen counters – as something to look for in the coming year. Other automation designs are coming to market daily, such as the Caseta wireless dimmer by Lutron which can be operated by remote control or, with the proper router, via a Lutron smartphone app.
"Technology is playing a huge role in our life," noted Michael Murphy, Lamps Plus Interior Design and Trends Producer. "As home automation and interactivity becomes the standard, wireless dimming systems are just the tip of the iceberg."
LEDs Come Into Their Own
When it comes to trending innovation in the kitchen, Patti Johnson, CID, IDS, DSID and founder of Patti Johnson Interiors, points to LED lighting in particular. "What I specifically found exciting for the end user was built-in LED lighting in both cabinet and closet systems," she said. "Definitely an opportunity to up-sell!" Due to its compact and energy efficient nature, LED is finding a wide range of applications across kitchens, appliances and bathroom lighting. LED tape lighting from Lamps Plus have been a particularly big hit among consumers. These designs can be cut to size and simply adhered to surfaces like tape, making them perfect for cabinet, under-cabinet, cupboard, and vanity use.
Show Kitchens
Kitchens are also increasingly seen as places to entertain guests. In that regard, show kitchens – that is, larger and more open workspaces with restaurant style appliances and built-in banquettes or seating areas – figure to be popular in the year to come. Multi-functional kitchen lighting options such as track-style fixtures provide the sort of versatility that such spaces require. And because many of these track-style designs install simply into a single ceiling junction box, they're an easy and convenient way to overhaul a kitchen lighting plan.
Color Is King
Gold, brass and copper are extremely hot in kitchens and bathrooms right now. Offset by a clean look like a sleek white vanity or marble countertop, these classically regal metallic finishes have a fresh yet timeless appeal. Likewise, bright colors are back. "With rising optimism and consumer confidence," explains Murphy, "there's a lot of interest in using big splashes of color in bath and kitchen spaces. For those not as adventurous, more relaxed, muted tones, such as Marsala, the Pantone color of the year are being used." From vanities and wall coverings to lighting, consumers can expect to find lots of color in the coming year.
Everyone Loves Customization
Consumers are still interested in anything that allows them to bring a custom, one-of-a-kind look into their home. Customizing lighting fixtures and shades to match a room's palette is one option, such as the Lamps Plus art shade lighting program that offers hundreds of lamp shade patterns which can be custom colored to a customer's exact specifications. The company's exclusive Color Plus collection is another example. This collection allows customers to choose fixtures according to exact Pantone and designer colors. Murphy points to this level of personalization as a growing segment in the industry. "With 3-D printing and other personalized design options on the horizon, consumers can expect the custom home trend to remain hot well beyond 2015."
Media Contact: PR@LampsPlus.com