Lamps Plus Announces 2016 National Home Lighting Survey Results
LOS ANGELES — July 31, 2016
Survey Finds Energy Efficiency a Top Priority for the Home; Uncovers Potential for Increased Efficiency
Leading national lighting and home furnishings retailer and manufacturer Lamps Plus today announced the results of its nationwide 2016 Home Lighting Survey. The survey found 81 percent of respondents feel either confident or very confident about choosing the overall lighting for a room. Likewise, 81 percent of respondents rank energy savings as an important or highly important factor in choosing lighting for their home. A deeper look at the numbers however uncovers areas where respondents can increase efficiency around the house.
While energy efficiency is clearly a top priority among Americans, usage of LED lighting (the most energy-efficient and money-saving type of lighting available today) is relatively low. Only 45 percent use them in their table or floor lamps, and a mere 13 percent use them in chandeliers. Use in bathroom lights is nearly non-existent at only 2 percent.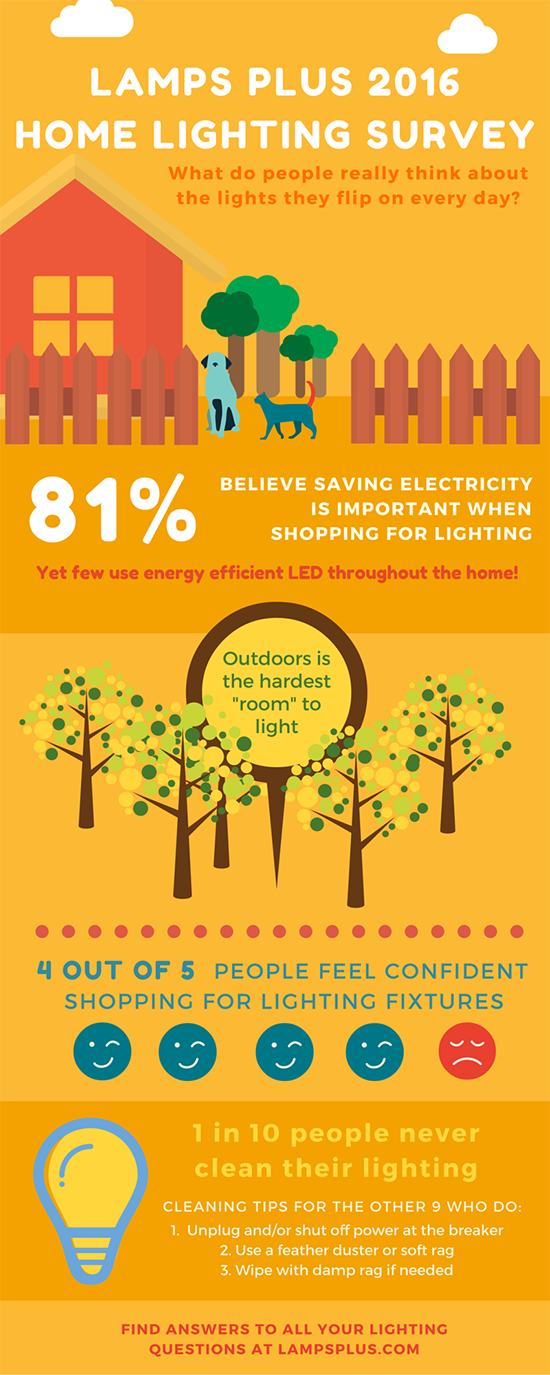 "We anticipated that energy efficiency would rank as a top concern for consumers. What's surprising is that this concern is not matched by a similar level of product adoption. LEDs are by far the most efficient lighting source, and they are more affordable and available than ever before, so now is the time for consumers to make the switch" said Dennis Swanson, CEO and Founder of Lamps Plus. "Additionally though there is much talk and investment in smart home technology, we found people rank organization and storage as more important."
With regards to chandeliers, a top-selling category for Lamps Plus, 24 percent of respondents view them as for use only in formal settings, and only 13 percent view them as not affordable, suggesting a general openness to the chandelier as a lighting option around the home. And while only 28 percent view chandeliers as difficult to hang, 54 percent say they would still prefer to hire a professional to install an overhead lighting fixture vs. installing themselves. In yet another area where long-lasting LED bulbs offer an advantage (in terms of minimizing bulb replacements in hard-to-reach locations), only 13 percent of respondents report using them in chandeliers.
In purchasing ceiling fans, respondents rank design (36 percent ), and energy efficiency (31 percent) as the most important considerations, over motor specifications (6 percent ) and blade construction and pitch (7 percent ). And unlike with chandeliers, a majority of respondents (52 percent ) percent state they would install ceiling fans themselves versus 48 percent that state they would hire a professional. However, only 18 percent name "easy installation" as the most important aspect when considering.
A number of interesting findings arise with regards to outdoor lighting. While energy-efficiency is a high-priority among the majority of respondents, only 28 percent utilize LEDs outdoors. Security is cited by only 10 percent as the most important function of home lighting. However, 20 percent cite safety as the most important function. Broken down into the types of outdoor lighting respondents would most likely change or add during the fall/winter, respondents identify safety and security uses like front door lighting (21 percent), pathway lighting (18 percent), and lighting the sides of the garage (12 percent).
Additional findings of the Lamps Plus 2016 Home Lighting Survey show Americans are not confident purchasing large furniture pieces online, such as bathroom vanities (54 percent), sofas (53 percent), and bedroom furniture (49 percent). However, respondents are confident purchasing lighting (54 percent) and ceiling fans (53 percent).
Lastly, on an anecdotal note, Americans generally keep a clean home with only 8 percent of overhead lighting cited as never being cleaned. Among the types most often "never cleaned" are under cabinet lighting (22 percent) and outdoor lighting (23 percent).
Russell Research conducted the study online from April 22nd to the 25th, 2016, for the retailer. A total of 1,025 adults across the United States were asked about their lighting preferences, use of energy efficient products in their home, and seasonal lighting choices, among other topics. The respondents were representative among race, sex, geographic location, and income levels.
Media Contact: PR@LampsPlus.com