Lamps Plus Announces New Giclee Custom Made Designer Art Patterns for Lamp and Fixture Shades in Home and Commercial Spaces
New Giclee art designs are now available for print on shades for table lamps, floor lamps, chandeliers, pendants, lamp sets, and other lighting fixtures. Lamps Plus Giclee custom designer shades are hand-crafted and made to order.
LOS ANGELES – August 9, 2022 – Lamps Plus has added five new art shades to its Giclee art collection, capitalizing on some of the latest and current design trends such as organic materials, weaves, and natural elements. The five new patterns, Rosy Blossoms, Sprouting Marble, Swell, Drifting Petals, and Spring, are part of a more extensive collection of Giclee patterns based on proprietary designs created by Lamps Plus artisans and original artwork. Each design is made to order and hand-assembled in-house by the artisan team at Lamps Plus' Southern California workshop.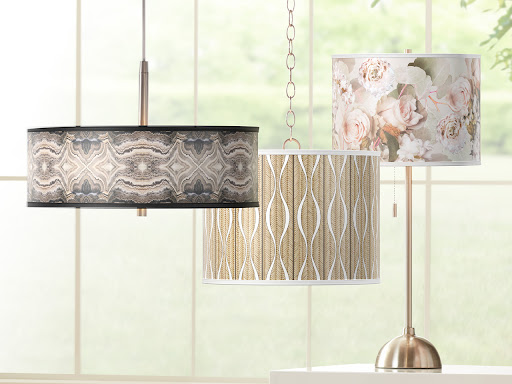 Lamps Plus Giclee lighting helps customers craft a unique look for any space, with hundreds of shade patterns based on original designer artwork available on more than 7,800 lamps and fixtures. The patterns are giclee printed on shade material using archival quality ink. Customers can use a variety of lamps and fixtures to bring a personalized touch to any home or commercial space. They also have the option to customize their look with the Lamps Plus Design Your Own lighting tool, enabling virtually millions of colorful custom combinations. Interior designers, builders, architects, and contractors in the Lamps Plus Pros program also have the ability to send in their own patterns or designs for custom printing.
"As a company, we can quickly produce hand-crafted designs, made to order, that reflect current design trends. The ability to bring a deeper layer of customization is appealing for all of our customers, as it allows them to find the exact right design fit for their home or commercial space," said Lamps Plus CEO and Co-Founder Dennis Swanson.
Giclee, the technology for fine art or photograph reproduction via high quality inkjet printer, was first called 'Giclee' in 1991 by Jack Duganne of the Nash Editions. With support from Graham Nash, of the music group Crosby, Stills, Nash & Young, a pre-press printer was modified for ink jet, printing a reproduction of art for the first time and thus crediting Graham Nash with the first ever digital printing studio for art reproduction in Los Angeles (Nash Editions) in 1991. *Source: https://www.canson-infinity.com/en/what-giclee-print.
New Giclee patterns are continuously added to the collection. Whether in need of a more minimalist style, an active design, or an entire set of lamps in coordinating color, all designs in the Giclee collection can be found exclusively at Lamps Plus.
About Lamps Plus
Established in 1976 and headquartered in Los Angeles, Lamps Plus is the nation's largest specialty lighting retailer, operating a thriving e-commerce business, LampsPlus.com, along with 35 stores in the western United States. Lamps Plus carries a full range of lighting and home furnishings, including exclusive patented designs and artisan-made customizable shades and lamps. The company's American Lighting Association-trained staff provides expert advice. Follow @LampsPlus on social media: Instagram, Pinterest, YouTube, Facebook, TikTok, and Twitter. To learn more about the history of the company, visit our About Us page.
Media Contact
PR@LampsPlus.com