Lamps Plus Expands the Inspire Me! Home Décor Lighting Brand with New Chandeliers, Pendants, and Ceiling Lights Curated by Designer and Stylist Farah Merhi
With designs in trend-setting crystal, chrome, golds, blacks and brass, the new additions are the latest in the Inspire Me! Home Decor luxury lighting brand.
LAMPS PLUS – September 20, 2022 – Lamps Plus, the nation's largest lighting retailer, has expanded the product assortment within their exclusive Inspire Me! Home Décor luxury lighting brand, curated by celebrated home and family expert Farah Merhi. An influential author, entrepreneur, and social media content creator, Merhi is Founder of the Inspire Me! Home Décor brand.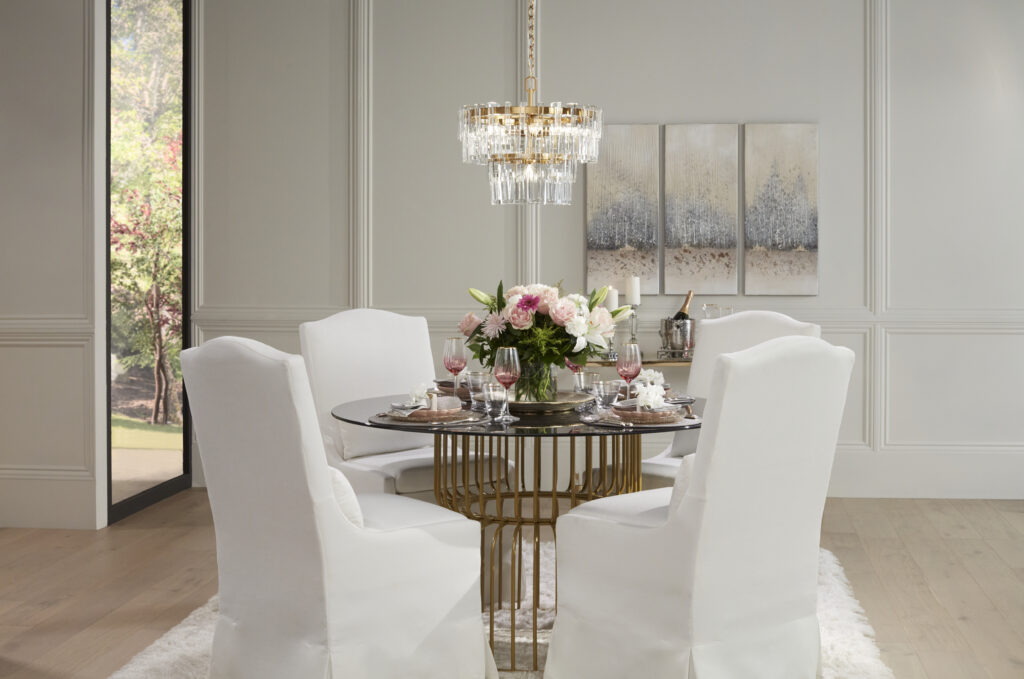 Elegant and designed with affordable luxury in mind, the new assortment features seven designs hand selected by Merhi. They include:
The Felicity Chrome Pendant, a sputnik-inspired fixture resembling an acrylic snowflake shape, the design is a bright accent for modern spaces that brings bold and eye-catching detail.
The Posey Black and Brass Mini Pendant comes in a bowl shade that contrasts beautifully with the golden brass finish of the design.
The Posey Black Soft Gold Dome Pendant Light adds a retro flair to the usual contemporary dome pendant.
The Prava Brass and Crystal Ceiling Light adds a touch of glam and beauty for hallways, bedrooms and more.
The Prava 4-Light Crystal Chandelier radiates brilliance, elegance and timeless beauty in any space.
The Luxum Brass and Crystal Pendant Light features a striking, 3-tier design that adds luxury to seating areas and dining rooms.
And the Luxum 8-Light Crystal Chandelier which features 3-tiers of lights that create a warm golden look, making the perfect centerpiece for a traditional luxury setting.
"Farah Merhi has a unique eye for showcasing a glam-luxe style, and we feel these exclusive designs will resonate with our customers and her followers to achieve that look," said Dennis Swanson, Co-Founder and CEO of Lamps Plus.
"I am very excited to add to my curated collection with Lamps Plus to offer more bold, timeless statement pieces that can stand out in any space," said Merhi. "Lamps Plus fixtures are featured throughout my own home, so our partnership is a natural fit that intersects seamlessly with my personal life and work life."
The brand currently features over 25 lighting designs manufactured exclusively by Lamps Plus in total, including luxury crystal chandeliers and pendants, gold patterned lamp shades, ceiling lights, and table lamps with lampshade patterns.
In this video, Merhi speaks about how she initially curated the brand with Lamps Plus.
Shop the Inspire Me! Home Decor lighting brand at Lamps Plus retail stores and at LampsPlus.com/InspireMe.
About Farah Merhi of Inspire Me! Home Décor
Based in Grand Rapids, Mich., Farah is an entrepreneur, content creator, tastemaker, design expert, and author. She has built a business of product lines across her website, retail and manufacturing partnerships, and her daily advice is enjoyed by nearly 15M followers across her @inspire_me_home_decor Instagram page and @farahjmerhi on both Instagram and TikTok.
Through her book, Inspire Your Home, published in October 2019 by Simon & Schuster, Merhi shares insights and photos of her home to advise and inspire homeowners. Farah regularly appears and contributes to the Today Show and has been profiled by the New York Times. Away from her various businesses, she's a wife, mother and daughter.
About Lamps Plus
Established in 1976 and headquartered in Los Angeles, Lamps Plus is the nation's largest specialty lighting retailer, operating a thriving e-commerce business, LampsPlus.com, along with 35 stores in the western United States. Lamps Plus carries a full range of lighting and home furnishings, including exclusive patented designs and artisan-made customizable shades and lamps. The company's American Lighting Association-trained staff provides expert advice. Follow @LampsPlus on social media: Instagram, Pinterest, YouTube, Facebook, TikTok, and Twitter. To learn more about the history of the company, visit our About Us page.
Media Contact
PR@LampsPlus.com