Lamps Plus Introduces New Super Duty Line of LED Landscape Lighting
LOS ANGELES — March 31, 2014
Exclusive Collection Offers Energy-Efficient, Plug-in Landscape Designs for DIY Homeowners
Lamps Plus, the nation's largest lighting retailer, introduces the Super Duty collection of low-voltage LED landscape lighting. Available exclusively through Lamps Plus and its family of websites, the Super Duty line offers consumers a durable and energy efficient way to provide landscape lighting and area lighting for yards, patios and other outdoor spaces. Featuring designs ranging from outdoor spot lights to five foot high area lights, the Super Duty collection is available as both single lights and as kits, which include lights, transformer and cable.
"The Super Duty low-voltage lighting collection was developed to make it easy for consumers to light their yards, paths and driveways," explains Dennis Swanson, CEO of Lamps Plus. "We wanted designs that would offer something new in the world of garden lighting. LEDs make these designs energy efficient and long-lasting. Our customers can easily integrate individual designs into their existing landscape light systems, or they can purchase one of our all-in-one DIY kits."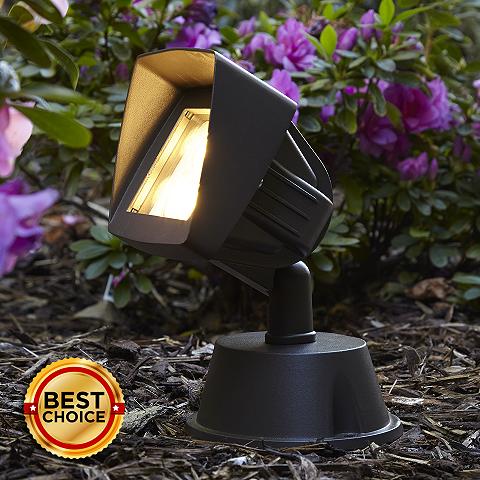 The Super Duty LED landscape lighting kits include everything a consumer needs for a DIY job: lights, cable and a transformer to power the system. Both the transformer and the cable are included as a free item. Kit lights come with ground stakes for easy placement in the yard and may include LED spot lights, larger LED area lights or a combination of both. Installation and wiring is a straightforward job and can easily be done over the course of an afternoon. Explains Swanson, "Simply diagram your layout, place your lights around your yard as desired, connect them to the transformer, and plug in to any grounded outdoor outlet."
The collection utilizes the latest efficiencies and advances in LED. "We're very excited that the Super Duty collection uses the latest technology," notes Swanson. "With LED landscape lighting you get the same amount of light output, or lumens, as regular incandescent or halogen lighting, but you use far less energy. And because you use less wattage, your transformer can be smaller, making these kits that much more affordable." LEDs also have the advantage of lasting for years, greatly reducing the number of times a consumer will have to re-lamp and change bulbs over time.
"LED is a no-brainer in landscape lighting," continues Swanson. "It really is transforming the landscape lighting market, and we are very pleased that our new Super Duty collection takes advantage of all that LEDs have to offer."
Super Duty LED landscape lighting comes in black and bronze finishes in both traditional and modern styles. It is featured in the new Lamps Plus Outdoor Living catalog and can also be viewed among the full assortment of landscape lighting at LampsPlus.com.
Media Contact: PR@LampsPlus.com