Lamps Plus Launches Personalized Product Pages Powered by Certona
The nation's largest specialty lighting retailer uses a new predictive landing page solution to reduce bounce rates and improve customer experience
LOS ANGELES – Sept. 6, 2018 – Lamps Plus has recently expanded its partnership with Certona, the leading real-time omnichannel personalization company, to bring new and innovative experiences for online customers. The nation's largest specialty lighting retailer is leveraging Certona's AI-powered personalization platform to deliver specialized content and product recommendations for individual customers.
Lighting retailer Lamps Plus uses Google paid search campaigns to display product listing advertisements, in which digital ads are displayed in Google for specific keyword searches. "In the past, clicking on these ads would bring a consumer to a static landing page of a single product," explained Angela Hsu, Senior Vice President of Marketing and eCommerce for Lamps Plus. "By implementing Certona, we can create individualized product landing pages with personalized recommendations relevant to the user."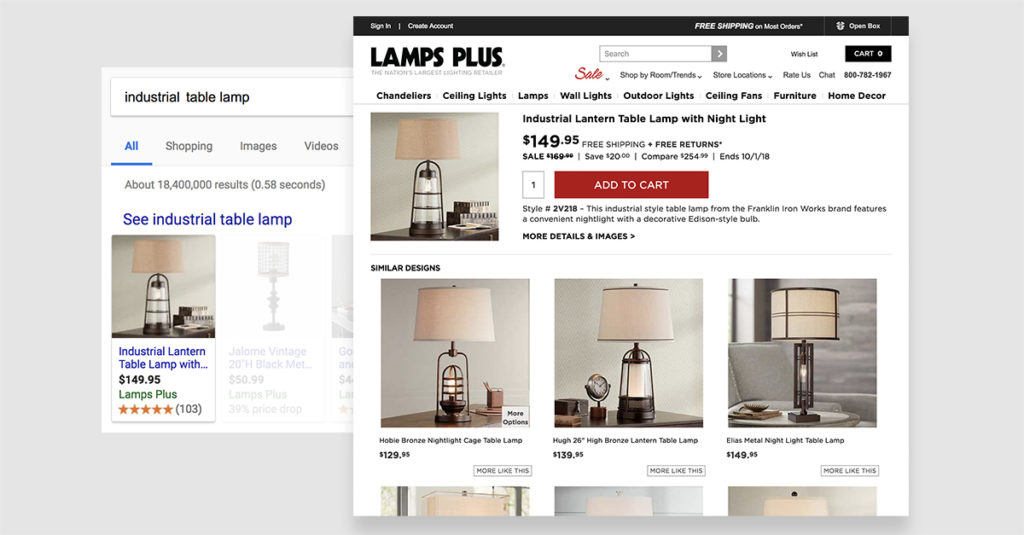 The personalization process uses a predictive algorithm that combines complex data such as real-time shopper behavior, paid search keywords, and contextual information such as device type, search engine type, location, and time of day. By leveraging this information, Lamps Plus offers a personalized shopping experience for each and every customer that constantly evolves based on online habits and browsing history.
The new strategy has been considered a success within Lamps Plus. There has been a 22 percent bounce rate reduction from paid traffic sources, as well as a 17 percent decrease in bounce rate from all external traffic. In addition, there has been an increased click-through rate and a greater return on investment in ads spent.
Noted Hsu, "In the past, Lamps Plus has benefitted from Certona's expertise with personalization technology. By expanding this program to better support paid traffic sources, we have significantly improved the customer experience. Our personalization program ensures that customers see an expanded selection of lighting and home furnishing products that match their preferences and needs, which has generated more sales."
Meyar Sheik, the CEO and Co-Founder of Certona, commented that "Lamps Plus continues to make the shopper's journey a priority by leveraging keyword search to deliver a superior customer experience from the moment shoppers land on their site. We continue to leverage our long-term partnership with Lamps Plus in innovative ways, making it easier for their shoppers to find the right products at the right time."
By continuing to partner with marketplace-leading companies such as Certona and implementing new technologies, Lamps Plus hopes to make the online shopping experience an easier, faster, and smarter process for its customers.
Media Contact: PR@LampsPlus.com