Lamps Plus Launches Pillow Collection to Support DreamWorks Animation Television's Spirit Riding Free
LOS ANGELES – May 8, 2017
Two Exclusive Decorative Throw Pillows Add Vibrant Colors from Original Artwork and Bring the Series' Camaraderie to Home Decor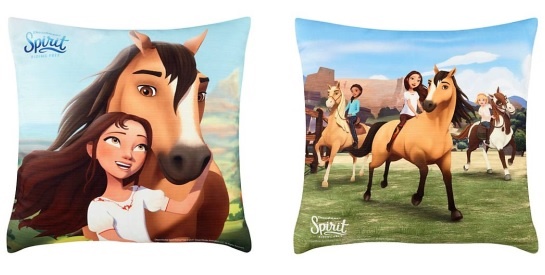 Lamps Plus Inc. today unveiled exclusive decorative throw pillows inspired by DreamWorks Animation Television's all-new Netflix original series, Spirit Riding Free. Available now at LampsPlus.com, the Spirit Riding Free pillows feature original artwork and are machine sewn by hand.
The Netflix original series DreamWorks Spirit Riding Free is now available exclusively on Netflix. The 2002 Oscar®-nominated film, Spirit: Stallion of the Cimarron, introduced the world to a resilient mustang named Spirit, and now has inspired a new story set to enchant a whole new generation. Lucky, a gutsy 12-year-old girl, befriends a wild mustang she names Spirit. With her two best friends (and their horses) by her side, they explore a world filled with endless rides, magnificent horses and never-ending fun.
The pillows are available in two options featuring Lucky and her horse, Spirit, alongside her best friends and their horses. The mustang-themed pillows are 18-inch by 18-inch square, with a 95/5 feather down/poly fill.
"Our collaboration to support DreamWorks Animation's all-new original series, Spirit Riding Free, offers high-quality exclusive pillows that will inspire families with the series' equestrian-themed freedom and companionship," said Dennis Swanson, CEO of Lamps Plus. "The stylish, comfortable pillows feature the series' bold and vibrant artwork like no other home décor item, accenting room design tones. Families will be elated to display these pillows in their living rooms or bedrooms to revel in a special touch of Spirit Riding Free."
"Leveraging the proximity of our Los Angeles corporate headquarters, we continue to be a key partner for the entertainment industry through licensed partnerships and hundreds of home furnishing products used each year by set decorators," Swanson said.
Media Contact: PR@LampsPlus.com