Lamps Plus Partners with FYI™ Series "Tiny House Nation"
LOS ANGELES — March 24, 2016
Designs from the nation's largest lighting retailer will be seen throughout the 2016 season airing on the FYI network
Lamps Plus is partnering in 2016 with the hit FYI television series, "Tiny House Nation," to provide indoor and outdoor lighting designs. The series follows host John Weisbarth and renovation expert Zack Giffin as they travel across America showing off ingenious small spaces and the inventive people who live in them. Along the way, they help families design and construct their own mini dream homes, each no larger than 500 square feet.
The first episode from the new season premieres Saturday, March 26 at 9pm ET/PT, and continues airing throughout the summer.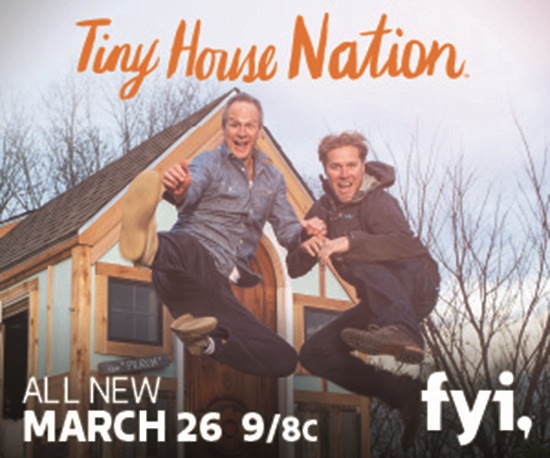 An original series on the FYI network, Tiny House Nation celebrates the exploding trend of extreme downsizing across the country and was the first of its kind in the tiny living genre. The series continues to rank as the network's #1 rated program in the home space.
"We enjoyed partnering with Tiny House Nation to showcase how functionality doesn't have to compromise design," said Dennis Swanson, founder and CEO of Lamps Plus. "When we design our products we take into consideration many factors, from double-functions for a product to smart, energy-savings LEDs to make our designs practical for any room, any use, no matter what the size of the home."
Many of the wall light designs from Lamps Plus used on the show are ADA compliant, an important factor when designing for smaller spaces. ADA rated lights have a minimal profile and extension from the wall, and meet code requirements specifying the clearance of hanging lights and the distance a wall light fixture or sconce can extend from the wall. Because of their thin extensions and profiles, ADA lights are ideal for small rooms or hallways, and are especially well suited for tiny homes.
Other designs use energy saving LEDs. LED lighting has energy saving advantages, offering a long bulb life with reduced consumption. In small spaces, it also has the advantage of having a low heat output when compared to traditional bulb types such as halogen or incandescent lights.
Going small doesn't mean sacrificing style, however. Throughout the season of "Tiny House Nation," episodes will feature the use of stylish Sputnik-style chandeliers, industrial style wall lighting with decorative Edison bulbs, and even a dramatic antler chandelier. All of these designs are sized to fit into the small spaces seen on the show.
Other lighting tips explored include the idea that brightly lit spaces can help a room look larger, as can the strategic placement of wall mirrors, which can be used to reflect light and color from outside into a small space, making it appear more spacious. Tips for using furniture in a tiny house include using stackable chairs and nesting tables to save space, and looking for designs that can serve more than one function.
"Tiny House Nation" can be watched on DirectTV on channel 266, on Dish Network channel 119, and on Time Warner channel 134. Viewers can click here to find out where to watch FYI.
About FYI
For your inspiration, for your imagination or for your innovation, FYI embraces an adventurous, personalized and non-prescriptive approach to peoples' taste, space, look, story and more. FYI covers a range of stories and experiences that reflect how people actually live their lives today, not defined by just one passion or interest. FYI is a division of A+E Networks, a joint venture of the Disney-ABC Television Group and Hearst Corporation. The FYI website is located at fyi.tv. Viewers can follow the network on Twitter at twitter.com/fyi and Facebook at facebook.com/fyi. More press information and photography is available at: press.aenetworks.com.
Media Contact: PR@LampsPlus.com