Lamps Plus Partners with Green Builder® Media on Net-Zero Energy Development Project
LOS ANGELES — April, 21, 2016
The nation's largest specialty lighting retailer is a sponsor of the VISION House® at Mariposa Meadows presented by Green Builder® Media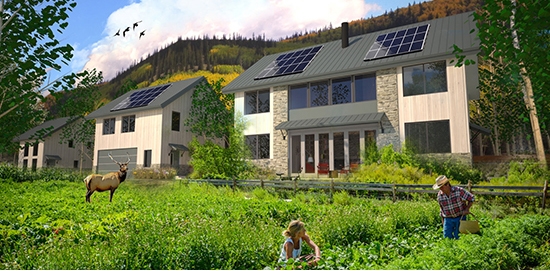 Lamps Plus, the nation's largest specialty lighting retailer, announces a recent partnership with Green Builder® Media as a sponsor of the VISION House® at Mariposa Meadows. This collaborative undertaking will result in the completion of a self-sufficient, carbon neutral development that will eventually include other low-impact residencies, a corporate campus and a research center that hosts environmental testing, training and leadership summits, all nestled in the Rocky Mountains of Colorado.
The VISION House® at Mariposa Meadows is a unique and groundbreaking off the grid project in a high-elevation setting, requiring modern innovation and strategic planning to ensure sustainability in the region's extreme climate. In looking to reduce energy consumption, Green Builder® Media chose to employ renewable energy sources like solar power and a selection of lighting designs with low environmental impact from Lamps Plus. Offering over 8,000 energy-efficient or LED designs, the California-based lighting and home furnishings company has a deep commitment to advancing sustainability whenever possible.
"The VISION House at Mariposa Meadows is a unique project, and one that can lead to more sustainable home design and construction. We were intrigued to be part of this project because, when planned for correctly, lighting can be an extremely efficient way to go green," said Dennis Swanson, Lamps Plus Inc., CEO and founder.
According to Green Builder® Media, if the project succeeds in such a challenging setting, the same principles can in turn be applied in a variety of settings across the country. And one of the ways Green Builder Media® will decrease energy expenditure at the VISION House® at Mariposa Meadows is through the use of light-emitting diodes (LEDs). Unlike incandescent light bulbs which use a filament to produce light, LEDs use a small semiconductor chip similar to the chips that run modern smartphones, and the savings add up—using up to four-fifths less energy than a comparable incandescent bulb to produce the same light output.
Swanson notes of Lamps Plus, "the percentage of LED and energy-efficient products we offer is approaching 20% and growing every day." The VISION House® at Mariposa Meadows will contain a curated selection of indoor and outdoor LED products like contemporary wall sconces, outdoor wall lights and desk lamps from the Possini Euro Design Lighting Collection.
Learn more about Green Builder® Media's VISION House® Series by visiting their website, and see more energy-efficient LED designs at LampsPlus.com.
Media Contact: PR@LampsPlus.com