Lamps Plus Renews Partnership with Dwell with Dignity to Help Families in Need
LOS ANGELES – July 11, 2017
Lighting retailer Lamps Plus Inc. today announced a renewed partnership with Dwell with Dignity, a Dallas-based nonprofit uniting interior designers with volunteers and corporate donors to help families struggling with homelessness and poverty.
Dwell with Dignity's program provides apartment and home interiors that are designed to include everything a family might need, from living essentials such as food and cleaning supplies to home decor items such as lighting, art and other furnishings. Last year, Lamps Plus contributed product to several projects in Dallas and has already provided lighting, furniture and home decor this year to help residents who can benefit from bright new home designs through Dwell with Dignity's chapters in Dallas and Atlanta.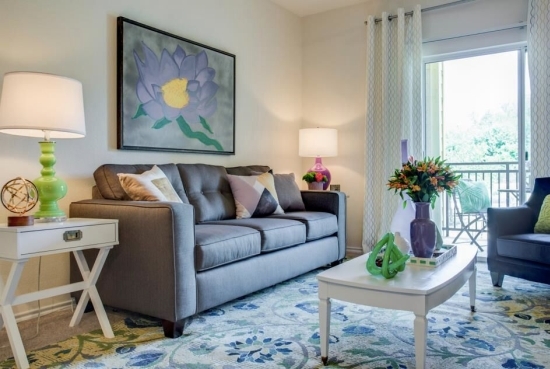 As a partner, Lamps Plus works with the volunteer designers and the Dwell with Dignity staff, providing a variety of table lamps, ceiling fixtures and furniture pieces to help make each room space as comfortable as possible. The designers have access to the two Dallas area Lamps Plus stores, as well as LampsPlus.com when sourcing their designs.
"We know that our designs made a positive impact on the homes of people in need for new outlooks," said Angela Hsu, senior vice president of marketing and internet business for Lamps Plus. "Our hope is that the lighting and home furnishings that we provide can help bring a sense of positive energy and well-being to the families in the program."
Dwell with Dignity's mission is to help families escape poverty and homelessness through design, one household at a time.
"Lamps Plus has been an invaluable partner to Dwell with Dignity," said Lisa Robison, founder of Dwell with Dignity. "The company's ongoing support of product has allowed for us to help more families live with dignity and respect in their homes. We are honored that Lamps Plus has chosen to support us and proud of their dedication to improving the environments of families in need."
Past designers involved in the program include Nate Berkus and groups such as the American Society of Interior Designers (ASID) and Interior Design Society (IDS), as well as the charity's own in-house design team.
About Dwell with Dignity
Dwell with Dignity is a nonprofit group of Interior Designers and volunteers dedicated to creating soothing, inspiring homes for families struggling with homelessness and poverty. Our mission is to help families escape poverty and homelessness through design; one household at a time. We empower families to lead their best lives and to thrive in a safe, functional, and beautiful environment. By providing and installing home interiors that include furnishings, art, linens, kitchen supplies and food in the pantry, we enable families to become stable and create home lives they are proud of. Toxic stress levels are reduced significantly. Academics improve. Play dates are made. Plans are made for birthday parties, holiday gatherings, and family dinners. These homes will have a powerful generational impact. To learn more go to dwellwithdignity.org or email info@dwellwithdignity.org.
Media Contact: PR@LampsPlus.com