In the News: Light Bulb Moment
LOS ANGELES — May 15, 2017
The Lead Story in Today's San Fernando Valley Business Journal Chronicles Lamps Plus' Successful Leap from Brick-and-Mortar to Multi-Channel Retailer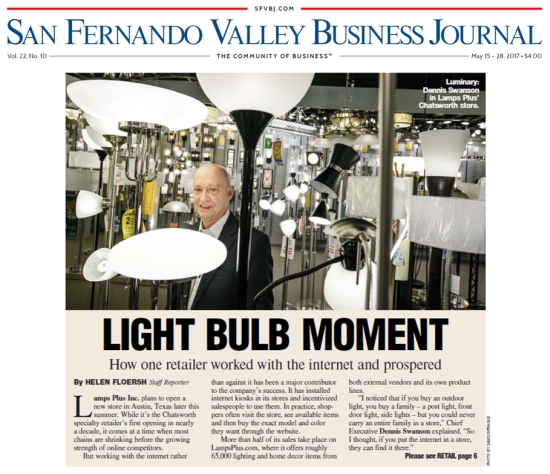 This must-read story sheds light on the retailer's ever-evolving digital strategy, from its very first in-store computer kiosks to its current challenges and successes as a leading multi-channel retailer in the housewares space.
Key highlights include:
How the company was able to incentivize Lamps Plus store associates to embrace in-store kiosks (Hint: allow them to earn commissions from kiosk sales).
How customer website browsing behavior – in particular site searches and exits – offers a critical feedback loop to inform the development of new products.
How today's shift toward mobile devices presents a new opportunity for local stores to serve as de facto call centers, helping customers browse and shop over the phone.
The challenge of understanding and addressing a customer's needs on the fly as he or she shifts between platforms, from desktop computer to mobile phone to store visit and back.
In addition to illuminating insights from Dennis Swanson, CEO, the article also speaks with Angela Hsu, VP of Internet Business and Marketing, and Terre Wellington, Senior Vice President of Store Operations.
Read more in the San Fernando Valley Business Journal, a leading local business publication covering business news across northwest Los Angeles.
Media Contact: PR@LampsPlus.com