New Collection of Metal Fixtures Launched Featuring Exclusive Shade Patterns
Lamps Plus California-assembled Giclee Gallery brand expands with new pendants and chandeliers
LOS ANGELES – July 28, 2020 – Lamps Plus introduced a new lighting fixture collection featuring a variety of exclusive design patterns on metal pendant lights and chandeliers (see below for links). The Giclee Gallery brand collection expands by now offering design wraps for metal fixtures with more than a dozen patterns. Additional pattern designs will follow in late 2020 and early 2021.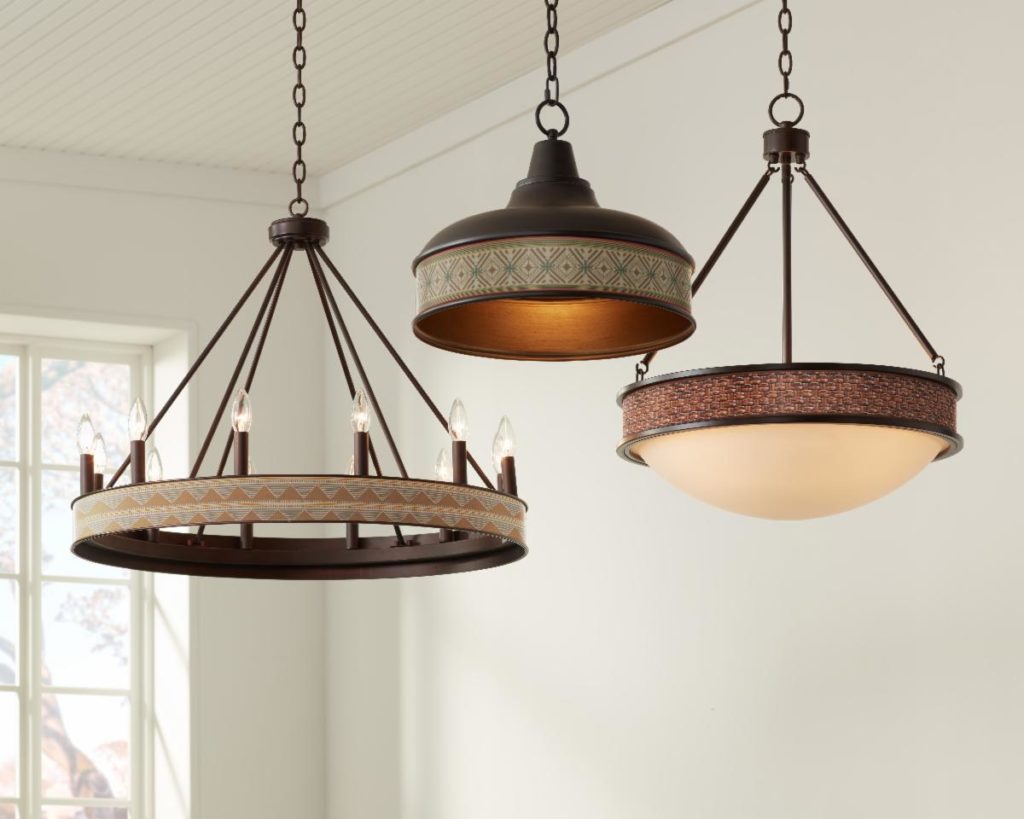 The fixtures, available in both bronze and brushed nickel finishes, start at $129.99. Over 12 pattern designs are available on eight fixtures, including various pendant sizes, a rectangular kitchen island pendant and a wagon wheel chandelier and ceiling lights. The new fixtures and patterns are now available online at LampsPlus.com and in Lamps Plus stores.
Each fixture can be made with a variety of printed patterned bands that decorate the frames of the fixtures. Patterns include Western-style distressed wood, rustic forest, Southwest motifs and faux glass.
Each printed pattern is made to order and created using the giclee printing process. The designs are printed using archival quality inks on textured canvas material. All are based on original artwork exclusive to Lamps Plus. Assembly takes place using the artisan workforce at the Lamps Plus headquarters in California.
"This new collection leverages our company's strengths – manufacturing quality, affordable lighting fixtures and customization through a variety of on-trend patterns," said Lamps Plus Founder and CEO Dennis Swanson. "People have specific unique ideas for their homes and customization through Giclee Gallery now on metal fixtures offers that expression."
The new designs join the already popular line of art shade lighting, which features other shade patterns available on fixtures, table lamps and floor lamps.
Giclee Gallery brand lighting with printed shades have been offered by Lamps Plus since 2006. Customization and a focus on innovation have been an emphasis for Lamps Plus since that time. Along with the art shade giclee designs, the company also sells custom designs through its Color Plus lamps line, which offers over 100 designer color choices.
The new giclee collection is featured on eight different fixture bases:
Rectangular Kitchen Island Pendants
Wagon Wheel 29½" Wide Chandeliers
Bronze 16" Wide Ceiling Lights
Brushed Nickel 16" Wide Ceiling Lights
Brushed Nickel 20½" Wide Pendants