New Lamps Plus Store-Based Customer Care Team Allows Certified Professional Sales Agents to Assist both Pro Industry Clientele and Store Customers
New, advanced, brick and mortar customer care team supports both professional clients and store customers, helping more interior design and home building professionals increase productivity and save costs in their businesses.
LOS ANGELES – July 12, 2022 – As part of the Lamps Plus Pros trade discount program, trade professionals, including interior designers, builders, architects and contractors, can now establish direct relationships at the store level with Lamps Plus brick and mortar retail associates certified by the American Lighting Association. Known as Certified Professional Sales Agents, or "CPSAs", these retail store associates serve both professional trade clientele and in-store customers, alternating their time between the showroom floor and building relationships with their trade clients.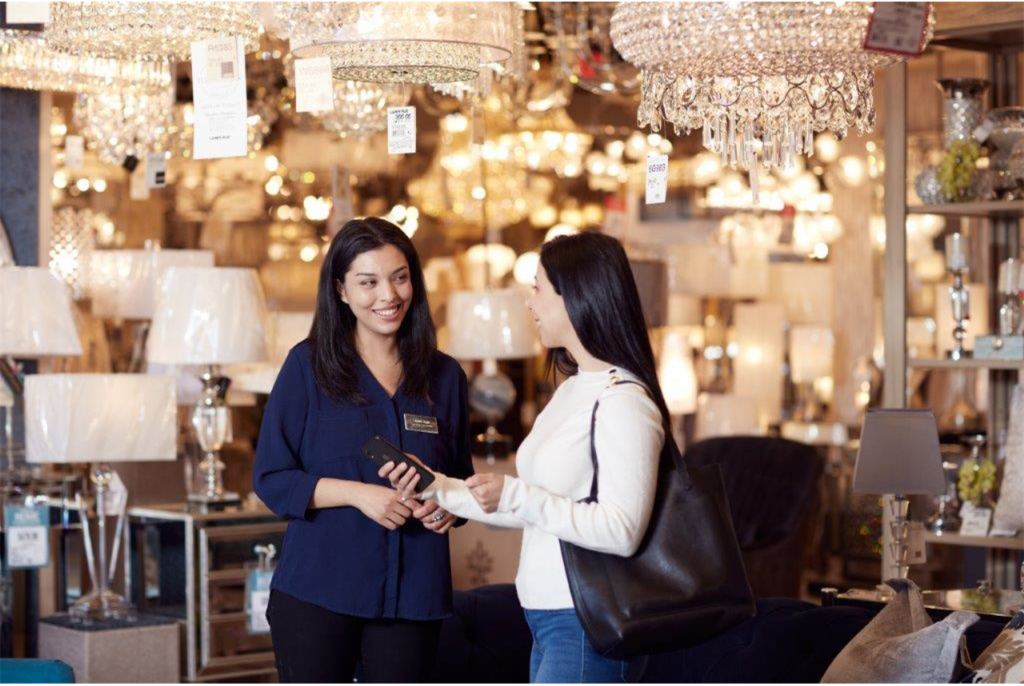 Noted Terre Wellington, Senior Vice President of Store Operations at Lamps Plus, "We understand that design and renovation projects present complex challenges, and we felt our highly trained CPSAs have the unique product knowledge and project management expertise to support the needs of both consumers and the trade. Our stores have a long-standing history in the consumer sector, but now through this program we can leverage this strength and build stronger relationships with trade professionals, giving us a competitive advantage in the market."
CPSA agents catering to professional trade clients in retail stores expands upon over 20 years of Lamps Plus Pros online business, cultivating strong relationships between trade customers and their assigned professional agent. This enables trade members to have a closer relationship with their professional agent in a local store who can offer assistance during hours beyond normal trade business hours. This also provides trade professionals the ability to send their clients to a Lamps Plus store to choose their products in person.
Lamps Plus Pros offers two different professional discount programs: 1) Dedicated Account Managers Program: provides the professional member with industry leading pricing and support on all their lighting, furniture and home décor needs. 2) Rebate Program: a self-service model where professionals receive cash back on every order they place themselves.
In addition to trade pricing and volume discounts, trade members also benefit from same day shipping privileges on thousands of items, along with priority access to exclusive deals and specials. Professionals can also purchase customizable pieces through Lamps Plus Color+Plus™ and Giclee lighting collections, and they can access Lamps Plus exclusive brands, including Possini Euro Design, Casa Vieja, John Timberland and Franklin Iron Works.
The new CPSA initiative, with expanded versatility of the Lamps Plus salesforce, follows on the successful 2021 rollout of positioning Hybrid agents to service both in-store and e-commerce customers. The CPSA program aligns with Lamps Plus' technological innovations, including the ability for customers to text stores, and has led to maximized productivity, efficiency and overall growth in new trade partners who are typically high value customers that make frequent purchases.
Candidates interested in working as a Certified Professional Sales Agent with Lamps Plus can learn more about the company, review current openings, and apply at https://www.lampsplus.com/careers.
About Lamps Plus
Established in 1976 and headquartered in Los Angeles, Lamps Plus is the nation's largest specialty lighting retailer, operating a thriving e-commerce business, LampsPlus.com, along with 35 stores in the western United States. Lamps Plus carries a full range of lighting and home furnishings, including exclusive patented designs and artisan-made customizable shades and lamps. The company's American Lighting Association-trained staff provides expert advice. Follow @LampsPlus on social media: Instagram, Pinterest, YouTube, Facebook, TikTok, and Twitter. To learn more about the history of the company, visit our About Us page.
About Lamps Plus Pros
As the trade program of Lamps Plus, we are one of the nation's leading lighting sources offering trade pricing and rebates on exclusive lighting and home furnishings designs. Whether you're a professional interior designer, builder, architect, or contractor, Lamps Plus Pros account managers will work with you to specify designs that fit your project budget and timeline. Learn more at https://www.lampsplus.com/pros.
Media Contact
PR@LampsPlus.com