Top NFL Draft Prospect Forrest Lamp Inks Partnership with Lamps Plus
LOS ANGELES – April 27, 2017
Nation's Largest Specialty Lighting Retailer Signs Lauded Offensive Lineman with Desirable Last Name to Support Bright Future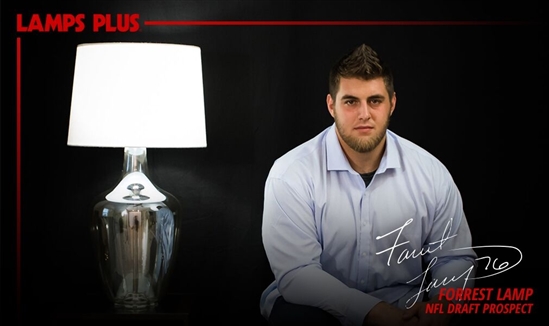 Lamps Plus Inc., the nation's largest specialty lighting retailer, is adding a new Lamp — Forrest Lamp, a highly-touted NFL Draft prospect. Lamps Plus today announced a partnership with Forrest Lamp ahead of the 2017 NFL Draft this weekend in Philadelphia.
An Associated Press third-team All-America and first-team All-CUSA selection, Lamp completed a successful college football career at Western Kentucky University where he was a four-year starter on the offensive line from 2013-2016. A two-year team captain, Lamp competed in 51 career games for the Hilltoppers. One of the Draft's top-rated offensive linemen, Lamp is known for his overall athleticism, quick feet and hand speed.
"The opportunity to partner with Lamps Plus before my rookie NFL season, especially with my last name, is the perfect scenario," said Lamp. "I'm confident that my girlfriend Natosha and I will have the best-decorated and most well-lit rookie home in our new team city!"
"Lamps Plus brings a sense of comfort and security to homes with a large selection of lighting, home decor and furniture. Similarly, Forrest Lamp will be providing comfort and security for quarterbacks and running backs throughout his promising NFL career," said Dennis Swanson, CEO of Lamps Plus. "While his name is perfect to endorse our company, we really like Forrest's work ethic and enthusiasm. He will shine at the professional level."
A leading multichannel lighting and home furnishings retailer, Lamps Plus maintains partnerships with interior designers throughout the United States for residential, commercial and hospitality properties. The endorsement agreement with Forrest Lamp is the company's first with a future professional athlete as the company continues to expand its customer base.
Lamps Plus will be furnishing the future new home of Forrest Lamp and longtime girlfriend Natosha Boden when the couple settles into their new NFL city. Rustic lamps for bedroom use, new fixtures, and desk lighting are all designs they will be looking at.
"Like all NFL rookie couples, our move will be a whirlwind experience with unpacking and organizing, so we're grateful to Lamps Plus for providing the nuances that will turn our house into our new home," said Boden. "The diverse selection from LampsPlus.com will enable us to bring our unique style and to feel at home in our new city."
Media Contact: PR@LampsPlus.com