Tips on Home Remodeling from Renovation Inspiration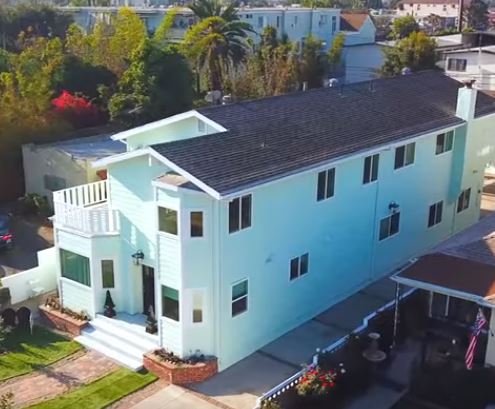 Lamps Plus's home renovation series "Renovation Inspiration" is back for its second season. Our brand ambassador, Lori Dennis, and her husband, Roy Yerushalmi turn a five bedroom home in Marina Del Ray into three separate rental units. Located only 20 blocks from the beach, the house has tons of potential. They plan to complete the renovation with a $70K budget and a tight three month time table. The series takes you through the process and shows you all the hurdles they encounter along the way.
Episode 1 – House Tour
In the first episode of the series Lori and her husband Roy talk about their background and why they purchased the $1.4 mm home and how they expect it to generate $5,000 a month in revenue. Lori is an interior designer, and Roy is a contractor and together they've created this dynamic duo that has lasted for over ten years. Lori then goes on to explain her design process and gives a walk-through of the "before" look of this renovation project.
Episode 2 – Kitchen Remodel
Episode two is when things start to take shape. The team starts working on the kitchen in the downstairs unit as well as the bathroom. They face some challenges along the way, but provide helpful tips on how to overcome them. Lori also gives great advice about how they were able to save money by keeping the counter tops and painting the cabinets white. The bathroom felt small at first, but proper lighting an an exhaust fan are the perfect fix.
Episode 3 – Bath, Stairs & Bedroom Remodel
In this next episode we see how a stairway gets remodeled, fresh ceiling lights brighten a bedroom, and a bathroom gets easily updated. Lori wanted to incorporate chic lighting pieces and she loved the Giclee print ceiling lights because of the wide variety of patterns and styles. The master patio was also updated with outdoor open cage wall lights for more personality.
Episode 4 – Apartment Makeover
Episode four shows the completed look and walk-through of the first apartment unit. This unit featured an outdoor patio and was the perfect place to add outdoor seating. Lori shows how custom accent pillows from Lamps Plus added a pop of color and explains how customers can create their own designs as well. This bathroom was smaller, so Lori decided to combine a clear glass pendant and a ceiling fixture to open up the space.
Episode 5 – Studio Apartment Remodel
The last and most challenging part of the house, the studio apartment, is finally completed. We see a complete transformation of a space that used to be a living room, to now becoming a small space apartment. The studio's bathroom and kitchen share a wall to the first unit's bathroom to be able to add plumbing and electrical and save on added costs.
Episode 6 – Outdoor Remodel
After seeing all the work that was completed inside of the house, it's time to see what took place on the outside. The house definitely stands out in the neighborhood because of the bright color and massive size, but there was no curb appeal. To fix this, the team added a faux grass lawn and brick path, and the house was re-painted to a softer Caribbean blue color.
We hope you enjoy this second season of Renovation Inspiration. The series highlights the fun of design, the versatility of the Lamps Plus brand, and also educates viewers with style tips and design advice from industry experts.  If you want to see videos from the first season, click here.