Decorating with Pillows – A Quick Buying Guide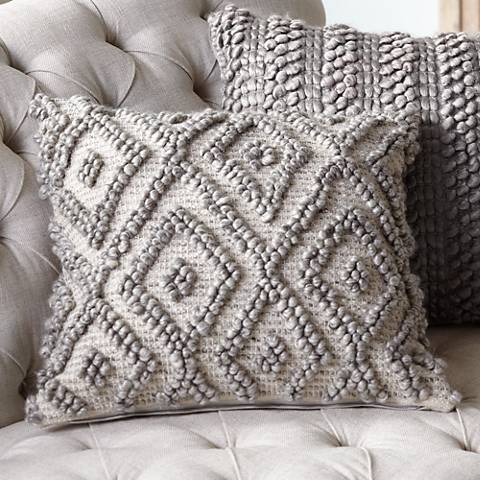 Decorator throw pillows come in a wide range of shapes and styles, so it's easy to find a look that's right for you. Best of all, they are also relatively inexpensive, making them a great choice for decorating on a budget.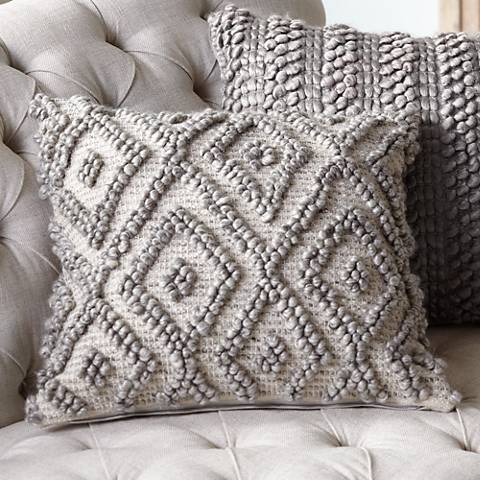 Pillow Sizes and Shapes
The right size pillow really depends on the size of the sofa, chair or bed that it's going to be placed on. Pillows usually range somewhere from 18 to 24 inches across.
A traditional pillow look is to use several large square pillows at the end of a sofa to create an eye-pleasing composition.
For a more eclectic or modern style, try using contemporary pillow rectangles and circle pillows, or other shapes that are out of the ordinary.
Pillow Trim
Trims and tassles work well in a traditional setting. Braided and cord trim is frequently used on smaller pillows for a dash of style.
Make sure the braid or trim is in keeping with the main color of the pillow.
For more contemporary rooms, avoid pillows with ornate trim and use shapes, colors and fabrics to make your design impact.
Check out our video "How to Decorate With Pillows – Using Patterned and Solid Decorative Pillows for Sofas and Chairs" below:
Pillow Patterns and Colors
In a traditional setting, pillows in golds, browns and earth tone colors offer elegant accent tones.
Lamps Plus staff designer Lynda Gould advises that you, "Pull your color from a rug or artwork that's already in the room. This is especially important if you have lots of colors and textures in a room. The pillows will help you pull the room together design-wise."
Floral patterns, paisleys and toile fabrics also work well in a traditional setting. Fabrics such as silks and velvets are classic looks.
For more modern rooms, solid colors, bright geometrics work well. Earthy looks in cotton and linens are also popular.
How Many Pillows Do I Use?
How many throw pillows are too many? Well, an answer may lie in your room style. For a solidly traditional look use two or four pillows on a couch or bed. The symmetrical look adds a classic sense of order to a room.
For transitional or contemporary spaces, go with an odd number, say three or five. A single pillow opposite two at the other end of a couch offers a casual, asymmetrical look that's perfect for more casual, modern spaces.
Need Some Pillow Talk Advice?
Visit a Lamps Plus store near you or give us a call. We'll be happy to offer design advice and product suggestions for your home. And be sure to check out our entire home decor collection for more inspiring ideas.
More Throw Pillows Ideas and Advice
Create the Perfect Outdoor Conversation Seating Area
Company Talk – Tips for Creating a "Warm" Home with Lynda Gould