Guide To Marine-Grade Outdoor Lighting and Ceiling Fans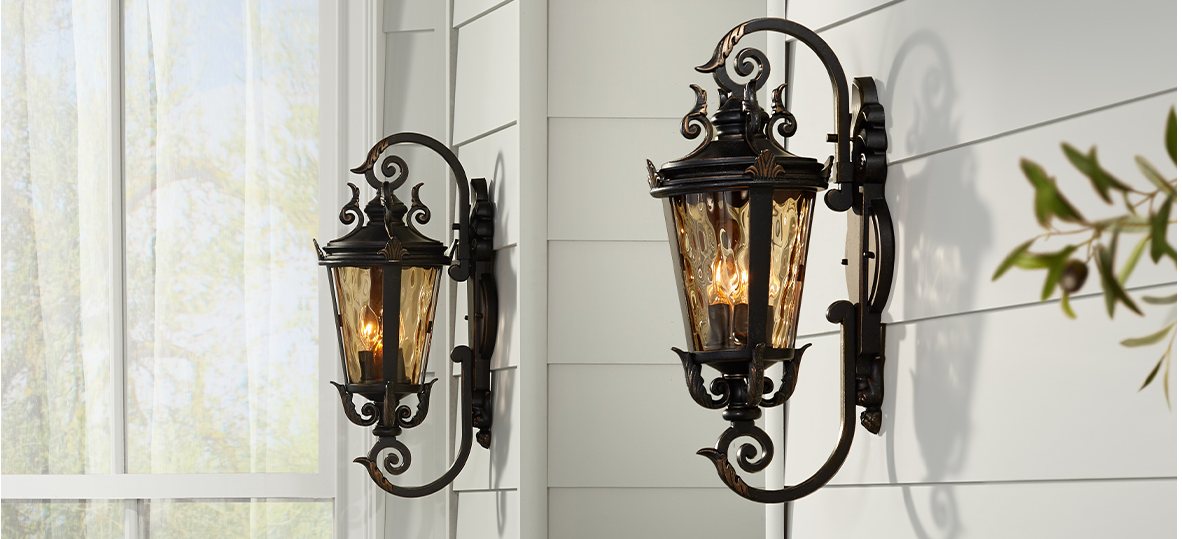 Every year, homeowners must replace or repair exterior fixtures and décor as a result of damage due to water exposure, increment weather, or temperature fluctuations. The risk of damage to your home's exterior fixtures increases in coastal environments, where salt in the air leads to corrosion and rust, and in areas that frequently experience extreme weather. The best way you can prepare your home and preserve your fixtures is by installing marine-grade pieces.
To help you ensure your home is prepared for extreme weather, this article focuses on marine-grade lighting and ceiling fans. It provides insights into what marine-grade lights and ceiling fans are, the characteristics of such products, and why they are popular. Finally, we have also included a brief guide to help you identify the main features and factors to consider when buying marine-grade lighting products and ceiling fans.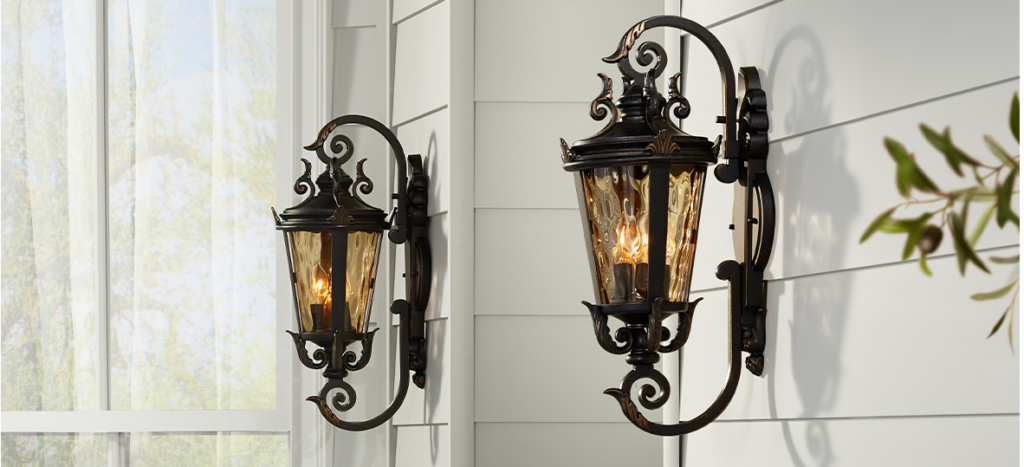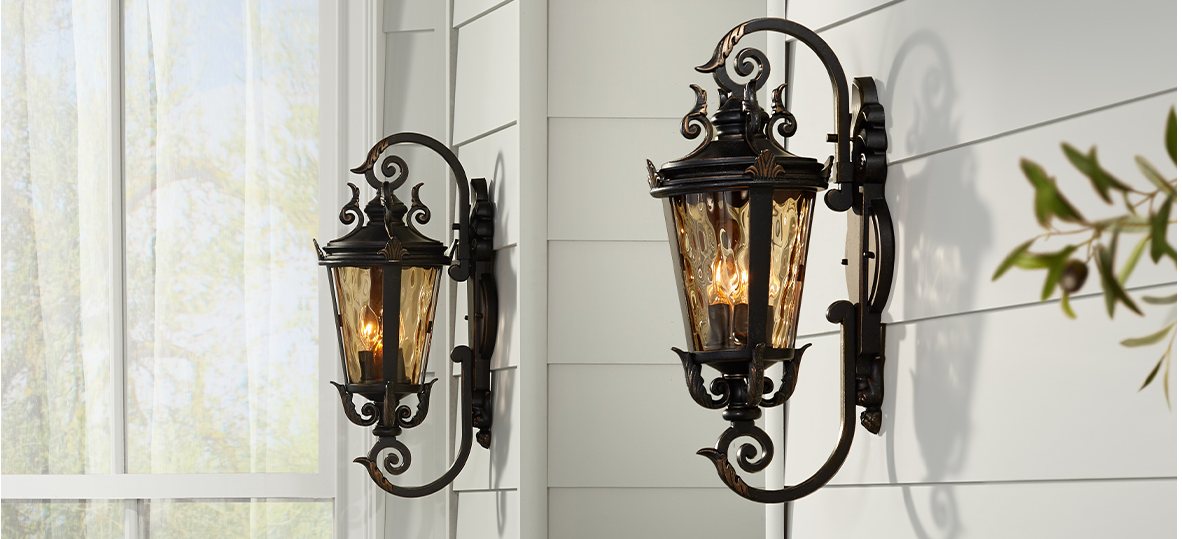 What Does Marine Grade Mean?
You would not be wrong in assuming that anything described as marine-grade is a product designed for use in marine environments. The ability of these products to withstand the most brutal weather conditions has made them popular among home-builders all over the world.
Marine-grade materials are tough, durable, and made of special composite materials. This is why they are favored for creating excellent-quality home fittings.
Marine-grade products are designed to withstand marine-level elements such as storms, corrosion from saltwater, and rough contact. These products are made from sophisticated materials like molybdenum, carbon steel, silicon bronze, and more. Every manufacturer maintains their own, unique composite and manufacturing process for marine-grade fixtures.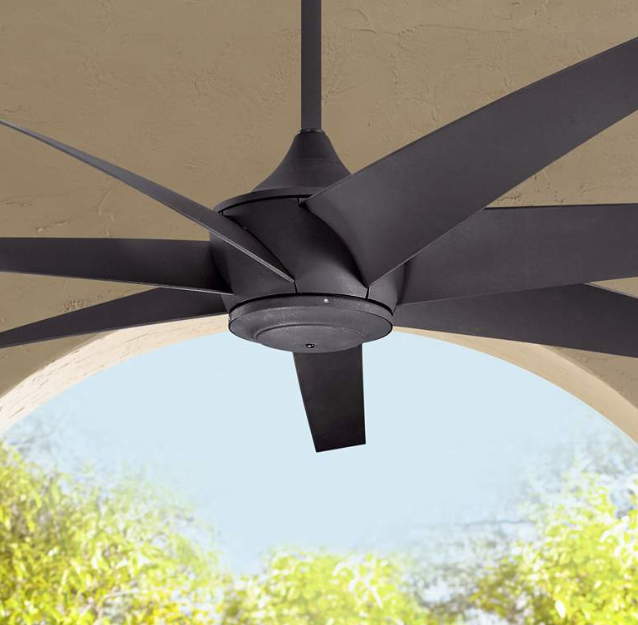 Marine-grade materials are often galvanized (dipped in hot zinc) or anodized (electrolytic acid bath) to prevent saltwater corrosion. Other practices include resilient coating treatments and the use of molybdenum.
Examples of marine-grade metals are brass; silicon-bronze, aluminum-bronze, and phosphor-bronze alloys; copper-nickel alloys; most stainless steels; certain grades of aluminum; alloy steel; some, but not all, carbon steels; and galvanized steel, depending on the temperature.
Apart from using metals that exhibit resilience and maintain their properties in rugged environments, it is also important to look at the glass used to house marine-grade lighting. The design and type of glass should not allow for dirt and dust to stick to it, which will ensure that the glass remains cleaner for longer while being easy to clean when the time comes.
For ceiling fans, marine-grade wood may be used. However, such wood must be manufactured and treated to resist water and other weather elements.
The Basics of Marine-Grade Lighting and Fans
To fully understand how marine-grade ceiling fans and lighting equipment work, it is important to assess them based on three key metrics: grade ratings (damp and wet ratings), energy efficiency, and reliability.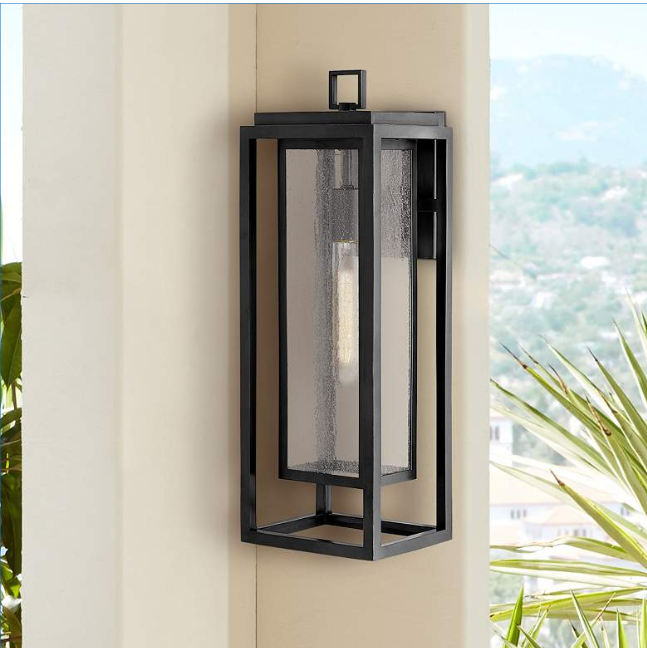 Grade Ratings (Damp or Wet Ratings)
Marine-grade lighting should be designed for use in demanding outdoor conditions. Three independent bodies—CSA International (CSA), Intertek (ETL), and Underwriters Laboratories (UL)—oversee the assessment of the quality of this equipment, providing an easy way to determine whether products advertised as marine-grade are actually marine-grade.
Damp-rated lighting equipment and ceiling fans are designed for use in covered outdoor spaces and should not have direct exposure to water. Ideally, they should be installed in covered patios and porches. This Stonington Outdoor Hanging Light, from Quoizel, is an excellent example of a damp location-rated lighting fixture.
Wet-rated lighting equipment is designed for outdoor use in places often directly exposed to water, being able to operate during rainfall without issue. An excellent example of this would be the Aluminum Outdoor Wall Lights. These lights can be found outdoors lighting pathways, water features, or swimming pools.
Energy Efficiency
According to the U.S. Department of Energy, "Outdoor lighting consumes a significant amount of energy—about 1.3 quadrillion Btu annually—costing about $10 billion per year." Therefore, using energy-efficient marine-grade lighting is important to conserve energy and save on electricity bills.
Outdoor lights that use LED bulbs are an excellent option for energy-efficient lighting. LED bulbs also last between four and six years, even in outdoor environments with extreme temperatures.
Compact Fluorescent Lights (CFLs) are a great alternative to standard incandescent bulbs. They do not save as much energy as LEDs, but they do save costs when compared to traditional incandescent lights. However, they are not the best option for cold climates, with LED's providing better performance, energy saving, and lifetime hours.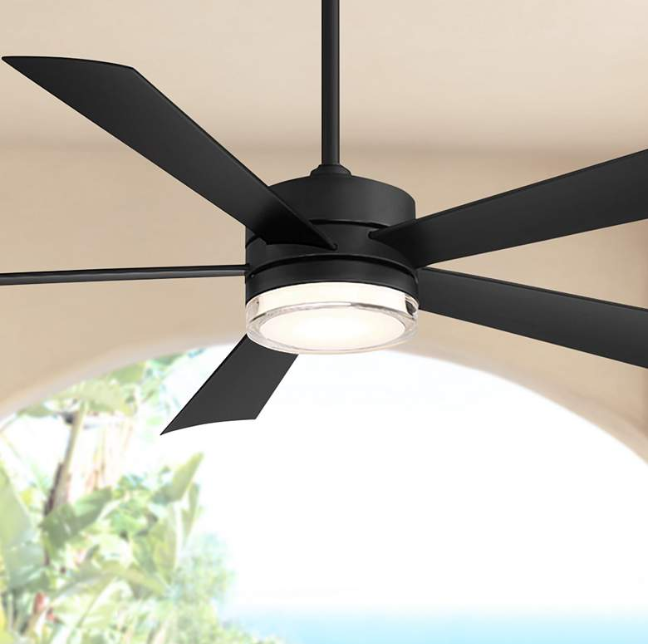 Reliability
Lighting should be reliable, aside from possessing the ability to brave harsh weather and save energy.
When a manufacturer states that a marine-grade fan or light is "reliable", it means that the product will work as expected if used under specific conditions. Therefore, it is important to ensure that the ceiling fan or light fixture you select is suitable for the specific environment where your home is located.
You should also choose lighting or ceiling fans that will work in the environmental conditions of your home. No matter how reliable a product is, it will fail when used in conditions it was not designed to accommodate.
Buying Marine-Grade Lighting and Ceiling Fans
Several factors should be considered before buying marine-grade fixtures. These include the type of marine-rated fixtures, the purpose for buying the fixture, and your location.
Types of Marine-Grade Lighting and Ceilings Fans
Marine-grade lights and ceiling fans vary depending on their placement and use. An excellent example of a great outdoor lighting fixture would be the Republic outdoor wall light from Hinkley. The shapes and sizes of outdoor wall lights vary greatly, with different sizes serving different purposes around the home.
Outdoor pendants are also a popular design for marine-grade fixtures. These are great for illuminating front porches, especially in multi-story buildings. The Republic outdoor hanging light from Hinkley exemplifies this type of marine-grade fixture. Outdoor ceiling fans, such as the 80-inch Lehr outdoor ceiling fan from Kichler, are also a popular choice for enhancing porches and patios.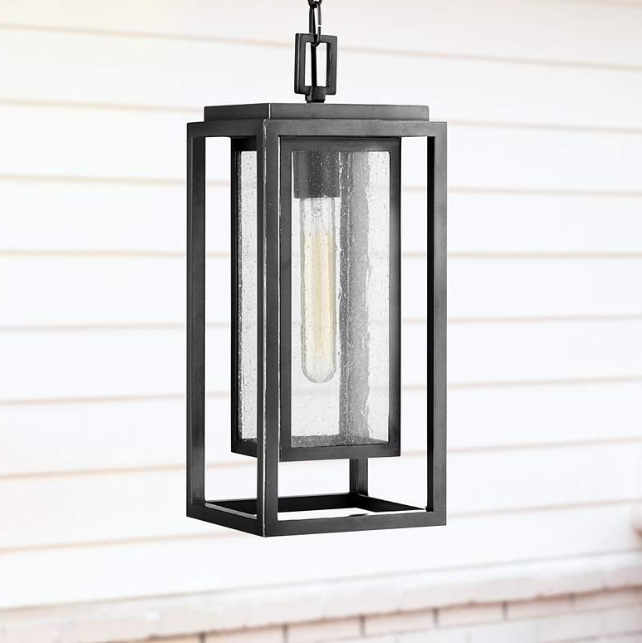 Portable outdoor LED lanterns are yet another great outdoor lighting solution. These are especially useful for providing illumination during outdoor activities in areas without enough lighting, during blackouts, or simply when you need to supplement existing outdoor lighting.
Intended Purpose
Before purchasing, it is important to consider why you want to invest in marine-grade lights and ceiling fans. Is utility your primary reason, or are you more concerned with aesthetics? If aesthetics are your primary concern, you may be willing to pay more for marine-grade lights and ceiling fans based on how great they will look in your desired location.
On the utility front, you need to decide what you will use the light or ceiling fan for. When you know the exact purpose of your fixture that will make it easier for any specialists to direct you to the right product.
For example, individuals fishing at night often rely on water-resistant marine-grade LED underwater boat lights. Other types of marine-grade lighting used in the fishing industry include navigation lights, remote spotlights, spreader lights, floodlights, docking lights, and courtesy lights.
Location
Outdoor lighting and ceiling fan needs vary based on location. Many components, even in marine-grade fixtures, are designed for specific local conditions and may not function properly outside of those specific conditions. For example, this article mentioned earlier that, while CFLs are great, they are not the best option for lighting in cold conditions.
Outdoor ceiling fans may also provide optimal functionality in colder areas. In some colder areas, porches and patios will likely only need outdoor lighting, rather than outdoor lighting and an outdoor ceiling fan.
In coastal regions where salt spray, air from the ocean, and harsh winds are a constant threat, marine-grade fittings work best. Their anti-corrosion reinforcements, which they gain through the galvanizing and anodizing processes, make them ideal for such regions. If you live in a coastal region, utility may take precedence over aesthetics.
Aside from considering your geographical location, you should also take into account the specific location(s) in the building where you intend to install your marine-grade fittings. There are three locations to consider; dry locations, damp locations, and wet locations.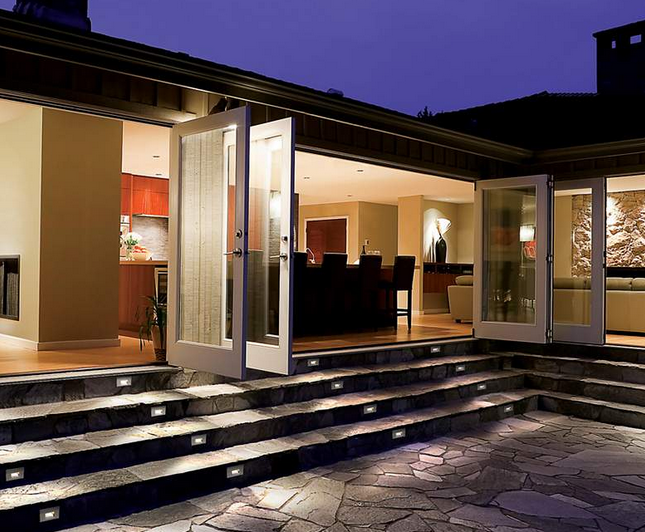 Dry Locations
As mentioned earlier, some marine-grade fittings are not designed for use in spaces with direct, or even indirect, contact with water. Such fittings should be installed in covered spaces like the patio. These items are designed to resist harsh winds or salt exposure, but are not designed with moisture in mind.
Damp Locations
Many marine-grade fittings are better able to withstand the effects of indirect or infrequent precipitation. Such fittings can be installed in spaces where they are likely to come across water or moisture periodically. You will typically find these lights and fans in spaces like basements, decks, or doorways.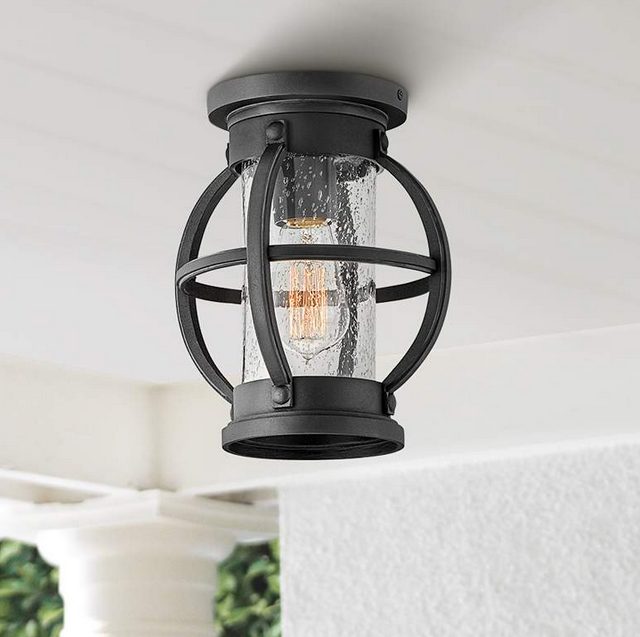 Wet Locations
Some outdoor lights and ceiling fans are manufactured to weather direct exposure to moisture and water, such as rainfall. These types of items are in rooftop spaces, verandas, and fences.
An outdoor fan like the 52-inch Wynd LED smart ceiling fan, from Modern Forms, is a quintessential wet location fixture. Many marine-grade fixtures can withstand conditions for several years when installed in wet environments.
Marine Grade is the Future
Marine-grade outdoor ceiling fans and lights remain relevant in many aspects of use, both within and around the outside of the home. With assured quality, durability, and great aesthetics, it is likely that marine-grade features will continue to be part of many homes in the future.
Unfortunately, the extreme weather triggered by climate change will be with going into the future. Consequently, the ability of home fixtures to withstand the elements will become a huge consideration when building a new home, or renovating an old one.