How To Install a Printed Repositionable Ceiling Medallion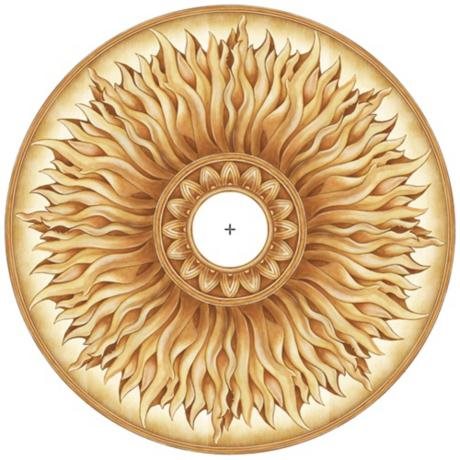 Ceiling medallions have long been used by designers to accent chandeliers and other types of ceiling fixtures. Now there is a new medallion choice.
Repositionable Medallions
The newest type are peel and stick, designer repositionable ceiling medallions.
These are based on original, hand-painted artwork done in California by our staff artists.
No screws or glues are needed, they just peel from a paper backing and stick in place. What's great about this type of medallion is that they can be installed and re-installed dozens of times.
How Repositionable Medallions Differ from Traditional Types
Three-dimensional medallions are the oldest and most traditional. These are usually made from lightweight material such as resin and are crafted to look like antique style, hand-carved medallions. They install with screws or with an adhesive glue.
Some of these resin medallions use a printed pattern and are called giclee style ceiling medallions. These are printed on canvas using the same techniques used in fine art reproductions. They are then mounted to a lightweight resin form (round usually), which is then installed on the ceiling surface using an adhesive glue.
For a closer look at the three types, check out this video from the Lamps Plus YouTube channel:
Installing Repositionable Ceiling Medallions
Our new line of repositionable designer ceiling medallions is easy to install and offers a designer look, perfect for dining rooms, foyers, bedrooms and more.
Each peel-and-stick medallion graphic is printed on a special lightweight canvas using a fine art reproduction process, and will adhere to ceilings without any adhesive or screws.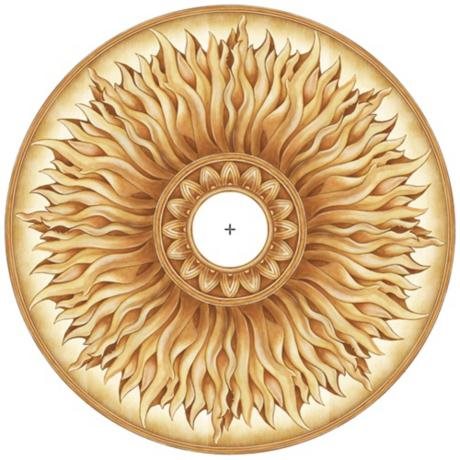 To Install Repositionable Ceiling Medallions:
Make sure that the lighting fixture is removed from the area.
Peel the medallion from the backing and position it on the ceiling around the junction box opening. Our repositionable medallions are made with a sticky backing, allowing them to be installed and removed dozens of times.
Use a wallpaper brush or smoother to remove any air bubbles.
Finish by re-installing your lighting fixture.
Please note that these ceiling graphics will hold fast and stick well to any smooth, indoor ceiling surface.
However, textured ceilings, popcorn ceilings, paneling or other types of non-drywall surfaces may not be suitable for these designs.
We also recommend waiting several days after painting before installing your new repositionable medallion.
Find a design that's right and get started. You'll have an elegant new style in no time!
Help with Ceiling Medallions
For in-depth help, call us at 1-800-782-1967 or visit a Lamps Plus store near you. One of our American Lighting Association trained associates will be happy to assist you.
More Ceiling Medallions Ideas and Advice