Interior Design Experts Flip the Switch on What's Hot – and What's Not – in Lamps Plus 2022 Trends Report
LOS ANGELES – January 1, 2022 – Lamps Plus, the nation's largest lighting retailer, brought together two dozen top interior designers and tastemakers for a look at the home décor and lighting influences experts are expecting to come on strong in 2022, and one popular trend that may be losing some wattage.
"So much of what we're seeing stems from a need to feel comfortable and cared for at home," said Julie Khuu, an interior designer based in Orange County, California. "With continued uncertainty in the world around us, home has become our sanctuary and interior design trends are reflecting that reality."
"Of any investment you can make to elevate the experience of being home, the transformative power of lighting puts it at the top of the list," added Hayley Orrantia, star of TV's The Goldbergs who recently launched her own home renovation and flipping company.
Mid-Century Modern
The simplicity, versatility, and functionality of mid-century modern design – one of the most enduring décor trends of the past decade – make it the perfect fit for today's home-centric psyche, according to the tastemakers.
"Clutter is stressful, which is the last thing we need right now," said Dinah Wulf, an Atlanta-based real estate investor and DIY expert. "The clean lines of mid-century modern design are timeless and mix well with almost any style of the moment."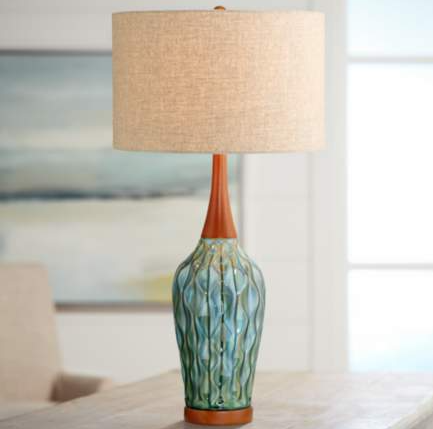 "Mid-century modern is the quintessential blend of form and function," said Jewel Marlowe, an interior designer from Washington, D.C. "With spending so much time at home, we need furniture and lighting that are adaptable to a range of use-scenarios, while still inspiring us with their beauty."
Recommended lighting:
New Traditional
Experts are increasingly expecting to see a blending of the classic warmth of traditional design with contemporary elements and bolder colors in 2022. From furnishings with mid-century modern lines and traditional finishes to traditional décor accented with mid-century lighting fixtures, the tastemakers are gravitating toward a hybrid style they say is both timeless and timely.
"I'm excited to see more of what I call Traditional 2.0," said Charlotte Smith, a Connecticut-based blogger who chronicles the renovation of her 100-year-old home. "We're taking the thread of traditional – maybe a traditional shape in a less-expected pattern – and creating a new category."
Recommended lighting:
Green Hues
From muted grey-greens to saturated emerald, and even pops of chartreuse, tastemakers pointed to green as the must-have color of 2022. Among an almost never-ending array of ways to incorporate green into living spaces, the experts talked about greens that double as neutrals, pair with lilac or pale yellow for a seasonal space-lift, or combine with white for classic elegance.
"We all fell in love with plants during lockdown," said Jane Ko, a food and travel blogger from Austin, Texas. "Green brings a sense of nature inside, adding an organic calm to any space."
"Green works on so many levels," said Denise Cooper, a Florida-based lifestyle influencer. "It can be magical and soothing, and energetic, all at the same time."
Recommended lighting:
Mixed Metals and Natural Materials
Tastemakers expect the mixed metal trend to carry over into 2022, incorporating an even broader range of natural materials into the mix. They singled out leather and wood as earthy compliments to combinations of brass, gold, and matte black.
"The trick to mixing materials and finishes is to bring each into your space in more than one place, so the overall look feels intentional," said Smith.
Recommended lighting:
Big Statement Lights
"Gone are the days when lighting was just a lamp on a table," said Wulf. "Today's light fixtures are structural art pieces."
"An oversized chandelier can add architectural interest to a home that doesn't have a lot of inherent, differentiating character," said Oscar Bravo, a San Diego-based interior designer.
Citing undersized lighting as one of the most common design fails, the interior design experts shared the following trick-of-the-trade for finding the perfectly sized overhead light fixture for any room: add the length and width of the room together and convert into inches to find the optimal diameter for a chandelier or ceiling light that perfectly fits the space.
Recommended lighting:
Layered Lighting and Dimmable Fixtures
With our homes having become the multifunctional spaces where we live, work, and, in some cases, educate our children, the experts identified layered lighting and dimmable fixtures as essential considerations leading into 2022.
"Don't install one overhead light and call it a day," said Linda Gibson, founder of LGQUEEN Home Décor. "Add a floor lamp to brighten a dark corner. Pop in a small table lamp that is dimmable for ambiance during small gatherings. And attract attention to a favorite painting or piece of furniture with accent lighting."
"With my wife and I both working from home, all of our lighting has to double as task lighting," said Bravo. "Dimmable smart bulbs are the key to providing the brightness we need to work and the soft light we love when we want to relax."
Recommended lighting:
Farmhouse Redefined
While the experts acknowledged that farmhouse, as a broad category, has become too big to fail, they predicted the decline of the trend's more kitschy and hyper-distressed elements as the style continues to morph into something cleaner and more modern.
"Barn doors, shiplap, and the chipped-paint, rustic side of farmhouse are starting to feel dated," said Cooper. "In 2022, the focus is going to be on modern, clean lines and crisp spaces."
"While we can speak to overarching themes and trends, décor is starting to follow fashion's individualistic fast-track," said Marlowe. "Just as people decided they wanted to wear what they wanted, despite rapidly-changing fashion trends, homeowners are discovering they can follow their personal style and feel good about it."
Recommended lighting
About Lamps Plus
Established in 1976 and headquartered in Los Angeles, Lamps Plus is the nation's largest specialty lighting retailer, operating a thriving e-commerce business, LampsPlus.com, along with 35 stores in the western United States. Lamps Plus carries a full range of lighting and home furnishings, including exclusive patented designs and artisan-made customizable shades and lamps. The company's American Lighting Association-trained staff provides expert advice. Follow @LampsPlus on social media: Instagram, Pinterest, YouTube, Facebook, TikTok, and Twitter. To learn more about the history of the company, visit our About Us page.
Media Contact
PR@LampsPlus.com
Tastemakers participating in Lamps Plus 2022 Trends Report