Lamps Plus Announces 2015 Interior Design Trends
LOS ANGELES — December 31, 2014
Leading Lighting Retailer Offers Style-Savvy Advice to Home Furnishings Consumers
Lamps Plus, the nation's largest lighting retailer, forecasts some of the top home decorating and interior design trends for 2015. From lighting to home furnishings, the upcoming year brings numerous trends and styles for consumers to choose from when decorating their homes.
For starters, color is king. Guaranteed to be popular is Marsala, Pantone's official color of the year for 2015 (Pantone 18-1438). This red-brown hue is a robust shade ideal for walls, lighting and home decor statement pieces like armchairs and sofas. To test the color with existing decorating schemes, consumers can incorporate Marsala furnishings and decor, starting with red decorative pillows, textiles and other small accents.
About the color, Lamps Plus Interior Design and Trends Producer Michael Murphy says that, "This change to a warmer, rooted tone is on trend with what we have been seeing, both at furniture markets, and in the world of fashion. Marsala offers a free, bohemian vibe that people will gravitate toward because it's so easy to complement. The color is elegant yet warm, exactly the way you would want your home to feel. We see this color playing a large part in furniture pieces."
His comments are echoed by Vanessa DeLeon, Interior Designer and Owner, Vanessa DeLeon Associates, "Pantone's 2015 color of the year pick; Marsala strikes me as having a sophisticated appeal. In 2015, I visualize seeing the color in formal living rooms on accent chairs, throw pillows and area rugs. Marsala is the perfect accent color to warm up a space in the master bedroom or to use as in a bedding ensemble."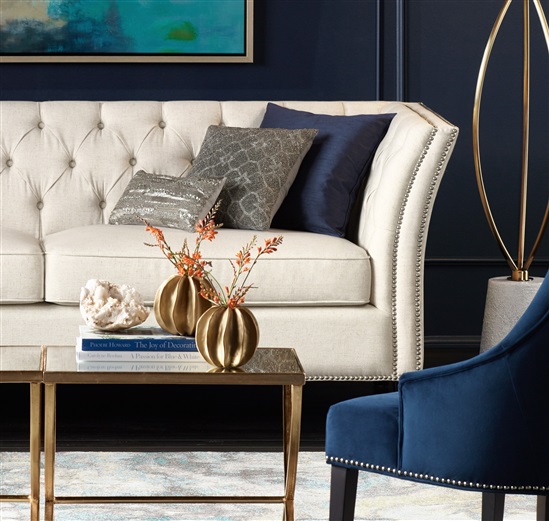 Also big for 2015 is the tufted look. Tufting is a decorative upholstery technique wherein material or fabric is pulled from behind and gathered into a small bunch, adding an extra dimension to sofas, seating and pillows. Tufting can be decorated with buttons, or accented with nailhead trim on chair legs or sofa fronts. Tufted bed headboards and tufted sofas, with their rich decorative look promise to be on trend throughout the year.
In lighting, nothing is hotter than LEDs (though, technically speaking, LEDs output very little heat and are relatively cool to the touch). The use of the light emitting diode, or LED, has revolutionized forms and shapes in lighting. Because LEDs can be embedded just about anywhere, LED fixtures don't have to be designed to accommodate a traditional socket and bulb. This allows for some inventively daring LED chandeliers and LED table lamps.
For energy efficiency, LED light bulbs can't be beat either, and the consumer trend of replacing older incandescent bulbs with LEDs is sure to continue. LED bulbs not only use a lot less energy than older designs, they also have a superior life span. This is especially useful for replacing bulbs on fixtures that are hard to reach, such as a chandelier in a high entryway foyer. With LED candelabra bulbs having a lifespan in the years instead of months, such a chandelier may not have to be fitted with new bulbs for a decade or more. LED lifespan may differ by brand or use, so consumers should always review the details of any bulb before purchasing.
On the horizon, home automation is also coming fast. New plug-and-play dimming systems are an easy way for consumers to add app-controlled lighting options to their homes, allowing them to adjust lighting and home thermostats remotely. Best of all, many of these new "smart home" technologies don't require wiring, making them the perfect add-on for existing homes.
For additional information about design trends, consumers can browse the Lamps Plus Shop by Trend Collections and our Ideas & Advice articles. Featuring original inspiration photography, style overview videos and a curated selection of products, online design resources such as these beautifully illustrate the major trends and styles for the year.
Media Contact: PR@LampsPlus.com