Lamps Plus Announces New Exclusive Art Shades by Pattern Designer Katja Hockenberg
The on-trend patterns are giclee printed to shades for lamp sets, table lamps, floor lamps, chandeliers, pendants, and other lighting fixtures. All Lamps Plus giclee designer shades are hand-crafted and custom made-to-order.
LOS ANGELES – December 8, 2022 – Lamps Plus has added fourteen art shades to its Giclee shade collection, designed by pattern expert and 46-year Lamps Plus veteran Katja Hockenberg.
Based on the latest styles and color forecasts going into 2023, from florals and naturals to casuals and glass art, the fourteen new patterns are part of a more extensive collection of proprietary Giclee designs, each printed on a high-quality canvas material, then made-to-order and hand-assembled onto shades by artisans working in Lamps Plus' California workshops.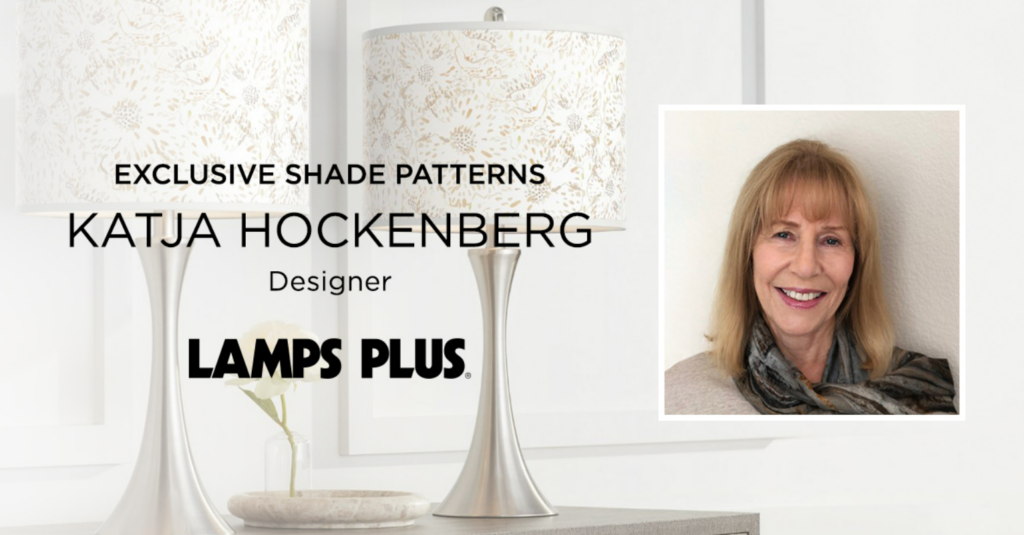 Each of the patterns featured in the Katja Giclee collection reflects current interior design trends, as well as the latest color of the year hues, offering beautiful new patterns and fresh color for home and commercial spaces.
"My patterns are based on original paintings, photography, and graphics inspired by nature and designs from around the world," said Hockenberg. A lover of the great outdoors, she finds inspiration in natural patterns, as well as organic motifs and forms.
In a life and career spanning three continents and over five decades, Hockenberg has always shown a love for design and craftsmanship. She was born in Buenos Aires, Argentina, of Ukrainian and Swiss parents who emigrated to South America to escape the second world war, later moving to the US in search of better opportunities. As a child Katja loved to draw, paint, and she was attracted to the arts. After attending UCLA, she worked as a teacher, and then moved to a Los Angeles-based lighting company working on the design of lamps, patterns, and colors.
Joining Lamps Plus, she continued to hone her design skills and worked with a factory team on manufacturing and production issues, eventually rising to Vice President of Advertising, and then Vice President of New Product Development. As part of her duties, she traveled the world researching design trends and working with artisans in Asia, Europe, and the Americas. Katja retired in 2012 but was drawn back to the Lamps Plus design team, reinventing herself as a pattern and design expert where she continues to innovate and create colorful new styles.
"Katja has been an invaluable member of the Lamps Plus team for over 46 years through her many well-executed responsibilities, from design to advertising to new product development, and now creating patterns in her post-retirement career. In the past decade, her inventiveness and design savvy have been on display in an ever expanding collection of exclusive, on-trend shade patterns available only at Lamps Plus," said Co-Founder and CEO of Lamps Plus, Dennis Swanson.
New Katja-designed patterns are introduced on a regular basis. Explore Katja's collection of art shades and find trend-setting new styles that add fresh design to any home. Visit LampsPlus.com regularly to see the latest pattern introductions.
Whether in need of a more minimalist style, an active design, or an entire set of lamps in coordinating color, all designs in the Giclee collection can be found exclusively at Lamps Plus. New patterns are continuously added. To see the full collection of shade designs, browse Lamps Plus' complete line of decorative art shades and exclusive art shade lighting.
About Lamps Plus
Established in 1976 and headquartered in Los Angeles, Lamps Plus is the nation's largest specialty lighting retailer, operating a thriving e-commerce business, LampsPlus.com, along with dozens of stores in the western United States. Lamps Plus carries a full range of lighting and home furnishings, including exclusive patented designs and artisan-made customizable shades and lamps. The company's American Lighting Association-trained staff provides expert advice. Follow @LampsPlus on social media: Instagram, Pinterest, YouTube, Facebook, TikTok, and Twitter. To learn more about the history of the company, visit our About Us page.
Media Contact
PR@LampsPlus.com