Lamps Plus Expands Patented Color Plus Collection with Addition of Candle Holders in Over 110 Colors
Handcrafted in California, Pair of Contemporary Candle Holders Brings Almost Any Color to Home Decor
LOS ANGELES – Sept. 26, 2018 – Lamps Plus has expanded its exclusive, patented colorful product line, Color Plus™, with the unveiling of Color Plus candle holders. The candle holders are available in over 110 custom designer colors and sold as a set of two, each with alternating heights.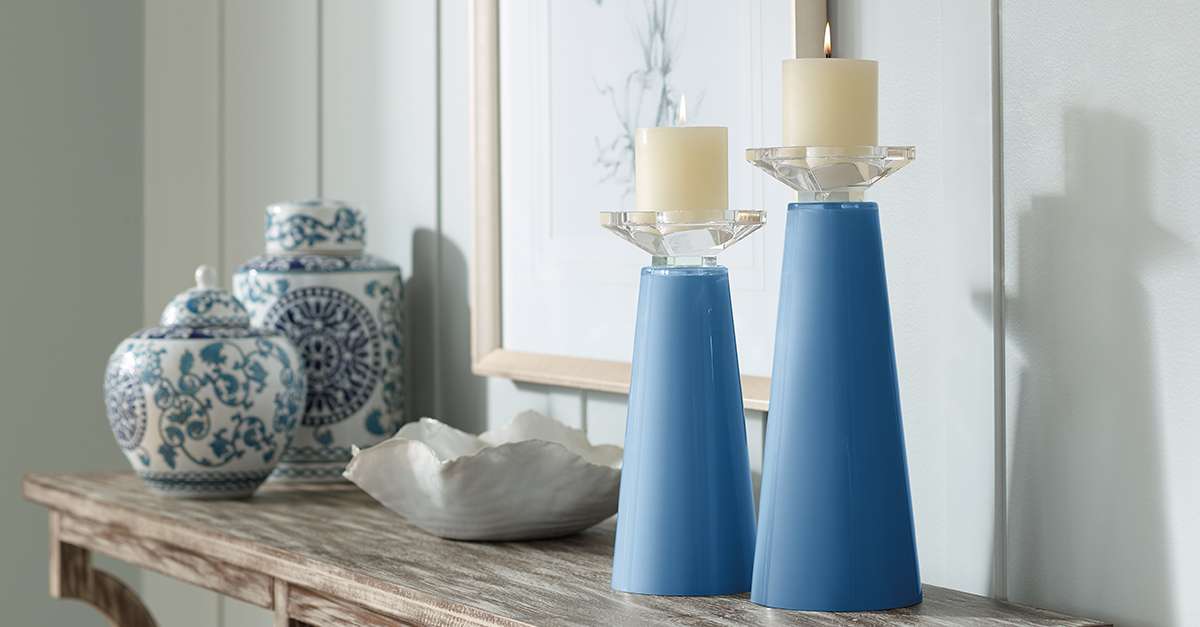 Available in-store or online from Lamps Plus for $69.99, the stylish candle holders come as a pair and feature a cone shape topped by clear crystal accents. Available in numerous colors, including shiny metallic tones and clear, the tall candle holder is 16 ¾ inches high and the small is 11 ¾ inches high, offering the ability to showcase the design on a table or mantle. The candle holders, which can hold pillar style candles (sold separately), are handcrafted by artisans in California.
"Color Plus enables home owners to truly customize their spaces and show their styles with the colors they prefer. The Color Plus candle holders bring comfort and light to the home," said Dennis Swanson, CEO of Lamps Plus. "We're constantly looking for ways to grow our customization product lines. Color Plus has always been a priority and expanding to home décor is a logical progression."
As more consumers design their homes by certain colors, color searches on LampsPlus.com continue to increase. Customers can now easily find and coordinate home accessories by color. Paired with Color Plus lighting fixtures, the candle holders can add a cohesive look, confirming Lamps Plus' commitment to offering selection and value.
"Color Plus candle holders are filled with possibilities and color choices that invite you to choose the colors that speak to you most," said Courtney Allison, Lamps Plus brand ambassador, photographer and writer at FrenchCountryCottage.net. "The best thing about so many options with the colors is instead of your basic everyday candle holders, these allow you to mix and mingle in your own unique way."
"I love the Lamps Plus Color Plus Collection because it has such an array of colors and tones you can match it perfectly to your home or it could be the specific pop of color you are looking for," said Roxy Sowlaty, Lamps Plus brand ambassador and Beverly Hills, California-based interior designer. "Usually, creating custom-colored anything would be very time consuming and expensive but with the Color Plus Collection, Lamps Plus has made it super easy!"
Using a patented process exclusive for Lamps Plus, the Color Plus lighting line was first introduced in October 2012 and now numbers over a dozen different base types, including chandeliers, pendants, wall lights, table lamps and floor lamps. The entire Color Plus Collection is available at LampsPlus.com/color-plus/.
To view all the color options visit the Lamps Plus Color Plus candle holders page online.
Media Contact: PR@LampsPlus.com