Lamps Plus Unveils The Most Popular Chandelier Styles in Each State
The perfect chandelier is essential for first impressions, and every state has its own preferred style
LOS ANGELES – October 12, 2022 – Lamps Plus, the nation's largest lighting retailer, has unveiled its list of the most popular chandelier design styles in each US state. Based on the examination of proprietary sales data on chandelier styles sold and shipped around the country, the experts at Lamps Plus were able to find some interesting collective insights. Some of the results came as quite a surprise!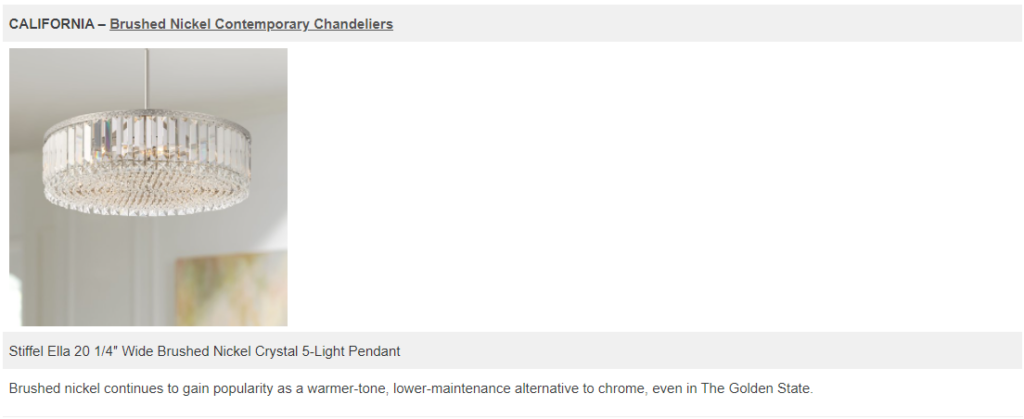 Chandeliers serve a very important purpose in the home, and selecting the right fixture for a space can make a tremendous difference on guests' first impressions. Your choice of style is based on a combination of personal preference and choosing a design which perfectly complements the overall style of your home. Explore the complete list of The Most Popular Chandelier Styles in Each State at this link.
About Lamps Plus
Established in 1976 and headquartered in Los Angeles, Lamps Plus is the nation's largest specialty lighting retailer, operating a thriving e-commerce business, LampsPlus.com, along with dozens of stores in the western United States. Lamps Plus carries a full range of lighting and home furnishings, including exclusive patented designs and artisan-made customizable shades and lamps. The company's American Lighting Association-trained staff provides expert advice. Follow @LampsPlus on social media: Instagram, Pinterest, YouTube, Facebook, TikTok, and Twitter. To learn more about the history of the company, visit our About Us page.
Media Contact
For general press inquiries, please contact us at PR@LampsPlus.com. For press inquiries specifically related to The Most Popular Chandelier Styles of Each State article, please contact us at LampsPlus@AgencyInMotion.com.