Los Angeles Dodgers Utility Player Kiké Hernandez and Fiancée Mariana Vicente Ink Partnership with Lamps Plus
Major League Baseball Playoff Hero and Former Miss Universe Puerto Rico Furnish First Home Together with Lighting and Furniture from Leading Retailer and Manufacturer
LOS ANGELES – March 28, 2018
After his most successful season in Major League Baseball, Enrique "Kiké" Hernandez of the Los Angeles Dodgers and his fiancée, former Miss Universe Puerto Rico, Mariana Vicente, have signed an endorsement agreement with leading lighting and home furnishings retailer and manufacturer Lamps Plus.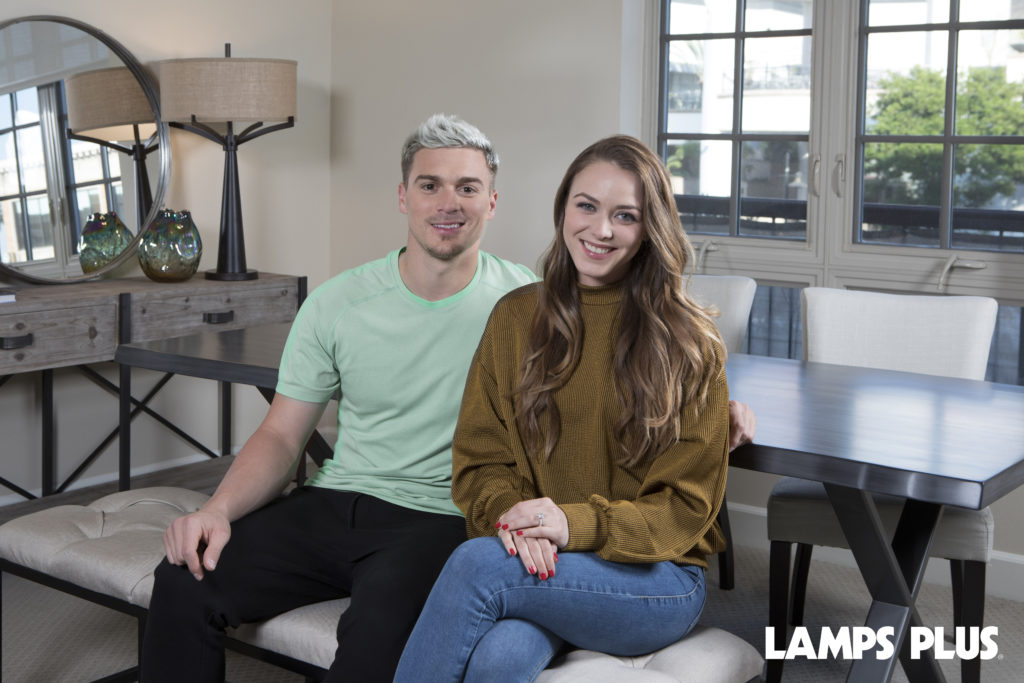 A utility player able to play infield or outfield, Hernandez was a key member of the 2017 National League Champion Los Angeles Dodgers, who played in their first World Series in 29 years. In the fifth game of the National League Championship Series against the Chicago Cubs, Hernandez hit three home runs, including a grand slam, and drove in seven runs, setting a League Championship record.
Vicente is an actress, model and beauty pageant titleholder who was named Miss Universe Puerto Rico 2010 and placed in the Top 10 at the 2010 Miss Universe pageant. She has also appeared in a number of film and television roles.
In addition to their career pursuits, both Hernandez and Vicente have been active in charitable activities raising proceeds for relief efforts to aid those affected by Hurricane Maria in their native Puerto Rico.
The couple spent baseball's offseason furnishing their first home together, a rented Los Angeles area condo where they live with their dogs, Arizona and Bruce. They chose a modern interior design aesthetic for their lighting, furniture and décor from Lamps Plus.
"With our hectic schedules and frequent travel, we value the limited time we are able to spend together at home," said Hernandez. "We're able to create a calming mood at night or energized feel in the morning with our Lamps Plus lighting."
Hernandez and Vicente will promote the nation's largest specialty lighting retailer through social media and other activations during 2018.
"We wanted our home to have a contemporary style with modern lamps and contemporary chandeliers, while also providing comfort," said Vicente. "The Lamps Plus website offered all the products we needed with a variety of design styles to furnish our first home together."
Lamps Plus has a diverse customer base, which includes couples moving into their first homes together.
"Kiké Hernandez has a passionate fan base resulting from his positive persona," said Dennis Swanson, CEO of Lamps Plus. "As a utility player, Kiké can be counted on to be plugged into the lineup wherever he's needed for his team. It's like lighting – you add a chandelier or a lamp to a room where it's needed and it makes a dramatic difference to the ambiance."
Lamps Plus now has two professional athletes and their significant others contributing as promotional partners. Last year, football offensive lineman Forrest Lamp and his girlfriend Natosha Boden signed on as promotional partners before his selection by the Los Angeles Chargers, and that partnership will continue in 2018.
Media Contact: PR@LampsPlus.com