Questions With: Varaluz Lighting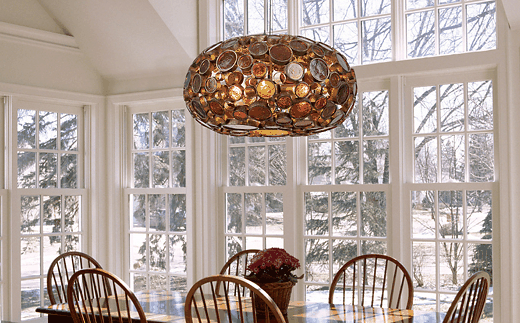 Varaluz Lighting offers a new line of lighting that features recycled materials, sustainable materials and a fashion-forward contemporary look.
A Talk with Ron Henderson of Varaluz Lighting
Ron Henderson, President of Varaluz Lighting, is deeply involved in the design process from start to finish. We talked with Ron about his inspirations, his background in aerospace engineering, his design philosophy, and starting his own line of lighting.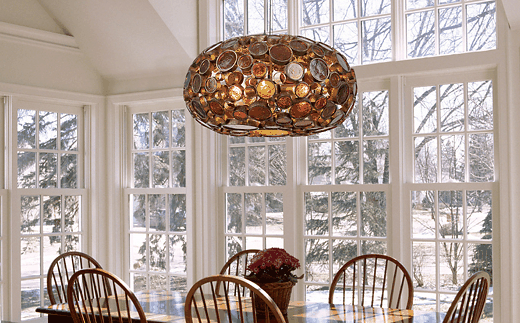 The Beginning
Q: How did you get started in the lighting industry?
A: It was one of those chance encounters – in this case, I happened to meet Harry Kallick who talked me into joining his amazing Kalco team back in the 90's.
On Sustainability
Q: Was incorporating sustainable materials into your designs a major goal when you started Varaluz Lighting?
A: It definitely was from the get-go. One of the reasons we started Varaluz was to address things we thought our industry was shamefully ignoring.
It's not like the lighting community wanted another lighting manufacturer – there are already 300 or more out there.
But our industry seemed focused on the past – not on the present and certainly not on the future.
We have a reality facing us a people, as a nation and as a world that requires us to be more responsible.
Energy efficiency certainly has its important place. But I think a larger impact (the lighting portion of your electric use is on average less than 5% of your total electric consumption) can come from designing with responsible materials and designing out waste in the manufacturing and distribution process.
We try to make beautiful fixtures you can feel good about using and proudly displaying in your home. I am often teased about how excited and enthusiastic I get when presenting our fixtures to someone not familiar with us and I rattle off how much reclaimed or recycled content we have been able to work into the fixture.
The teasing centers on what some perceive to be trash content. As the proverbial saying goes, "one person's trash is another's treasure". We just take it to hopefully beautiful extremes.
Varaluz Lighting Use of Recycled Materials
Q: Do you find that potential customers are more enthusiastic and open about your line when they hear that some of the components are recycled?
A: More people seem to get our gospel now than they did a year or two ago.
I think, though, in the US, the primary criteria for purchasing a light fixture are whether the design resonates with you and whether the price fits your budget.
I think the fact that Varaluz lighting fixtures are more guilt-free helps but I doubt it's the major factor affecting a purchase. That being said, Vancouver, Austin, Laguna Beach, Minneapolis, Portland and Boston are some areas where we know it is very important.
Party Talk
Q: What question are you most asked about your designs?
A: "How did you think of that?" Often followed-up quickly with, "What's wrong with you?!"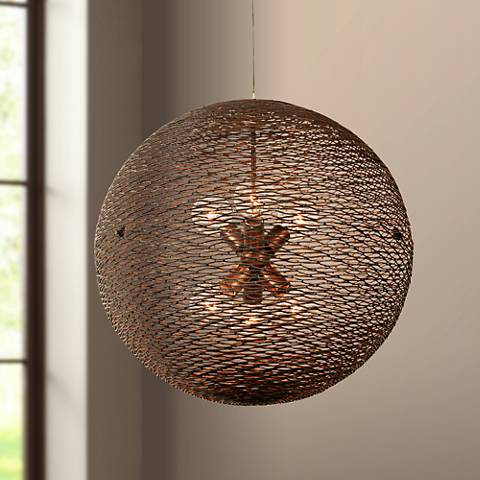 The Varaluz Design Process
Q: Do you start with a material that you want to use and design around it or does the overall shape or atmosphere come first?
A: Each collection is a different sort of process. I do try to define a need statement first – what item do we want to create, what is the exact application where it will be used, who will be buying it, what price should it be, etc.
Other times I wake up at 4 am with this crazy idea in my head that I need to get down on paper – and I just sort of go for it.
Some are outright accidents like our Varaluz banana leaf wall sconce. On what planet would you define a need for an 18" tall steel wall sconce that mimics nature pretty faithfully in appearance and gives off essentially no useful light?
Yet, its been a good fixture for us for three years. Some of my/our ideas are so out there most people never see them.
Our product introductions have sort of taken on a cult status with some of our customers as they come to see those "wow" fixtures that most people didn't even realize they needed… or liked.
I try to make sure we do one or two of those every introduction – its fun for us if nothing else. You have never lived until you design something, hang it in your front corner window and watch as your customers and competitors truly stop in their tracks while walking past.
I live for those moments. Especially when they buy it afterwards.
It's Vegas, Baby!
Q: Varaluz is headquartered in Las Vegas, which is often called "the city of lights." Does your location ever influence your designs?
A: Most definitely! If not the lights of our fair city themselves, then on occasion, the cocktails that are available 24 hours a day may have some influence.
More than a few of our fixtures started life on a cocktail napkin as I hazily recall.
On Engineering and Lighting
Q: What parts of the engineering process do you find to mirror the lighting design process?
A: Well, based on my degree in Aerospace Engineering from Auburn many moons ago, that ought to be a long answer (if only to justify the costs of 5 years of out-of-state tuition).
Really though, they are an integrated process.
If you are engineering something, you should have a fairly precise set of specifications you are trying to meet within a well-defined envelope (or dimensions). And in theory, those spec's were developed from a need for that particular item.
In lighting, we are basically creating appliances. In this case our appliance provides light for dining, eating, applying make-up, reading, etc. That's the basic need.
But then you face the daunting task of making it pretty, or at least interesting, and meeting dimensional criteria, etc. This is still a long-winded and boring way of saying engineering is a critical and major part of the lighting design process and cannot really be thought of as separate from it.
It's All in the Details
Q: How does this process show itself in your finished product?
A: Well, selfishly, I build things into a design that only engineers would notice or love.
For example, many of our fixtures don't feature a wiring compartment or distributor.
Really take a long look at our Fascination or Shaken fixtures and figure out how we make it – there's no compartment, nothing attached with screws or clips, nothing that can be pried open and lots of asymmetry.
Most people wouldn't notice this or care – but engineers and other lighting geeks often see it and want to know more.
Customer Feedback
Q: We know you spend much of your time interacting with your customers, what's the most useful feedback you've ever gotten?
A: Wow… that's a great question and possibly the most rewarding part of my work life!
There are several things I can think of right now, but hands down, the most useful advice has to have been to think about the light fixtures in their application 24/7.
By that I mean, design the fixture to be appealing when its not in use as well as when it is. A light fixture spends most of its time turned off – but its still hanging in the room or sitting on the table making a design statement. And design it to be appealing from any angle.
Trends and Obsessions
Q: What's your current design obsession?
A: I am always fascinated with Mid-Century Modern and its various offshoots.
Q: What's the hot new design trend that you see?
A: They all say there's a sort of mash-up coming of mod with early American. So far that literally is coming true in candlesticks and floor lamps, where you have a glossy white or black stack of metal elements that mimic the look of a turned piece of wood.
But it is often overscale. The idea of that trend sort of makes sense if you look at our country's current state of affairs economically and socially.
We need some reassurance with elements of the past but they need to have a modern outlook. But I'm not sure painting those elements glossy white and making them overscale hits that mark.
We are playing with some things in this regard that you may see soon.
Collecting Mania
Q: Do you collect anything?
A: A few things…old cameras (the 50's and 60's were an amazing era for camera design in my book), globes, music and unloved books.
And my idea library is huge. I keep photos, scraps, words, whatever I encounter that I think I can learn from, be inspired by or just enjoy. Boxes and boxes of ideas.
Q: What's your favorite item at your house?
A: It may sound trite, but it's my family, my dogs, an antique Valentino watch and my iPhone in that order.
Career Opportunities
Q: What's been a decisive moment in your career?
A: My kid brother, who for years kept telling me to make my own path in corporate life, passed away from a heart-attack in 2006. That was also the year I turned 40. And the year our Varaluz experiment began.
Give a Gift
Q: What's your best recent gift?
A: A $100,000,000 winning lottery ticket in Kenya! I got it just today from a friend I don't quite recall but am thrilled to be re-acquainted with…
What's Next for Varaluz Lighting
Q: Finally, what's next for Varaluz Lighting?
A: More of the same, if I'm doing my job right! We definitely have a few surprises in our next product introduction (January 2010).
Hopefully more of those "wow" and "stopped in their tracks" moments – that lovingly wind up in people's homes or hotel rooms or restaurants.
For More Information About Varaluz Lighting
For more information about Varaluz Lighting, contact us to speak to a trained lighting consultant or visit a Lamps Plus lighting store near you.
More Chandelier Ideas and Advice
How To Clean A Crystal Chandelier