How to Buy a Chandelier
Chandeliers aren't just for the dining room anymore! This chandelier buying guide reveals everything you need to know about these beautiful lighting fixtures for both indoors and out. You can shop our entire line of chandeliers here.
What you'll learn:
What Size Should Your Chandelier Be?
We recommend two simple formulas to determine the right size for your chandelier:
Width:
Room Length + Room Width = Chandelier Width (in inches)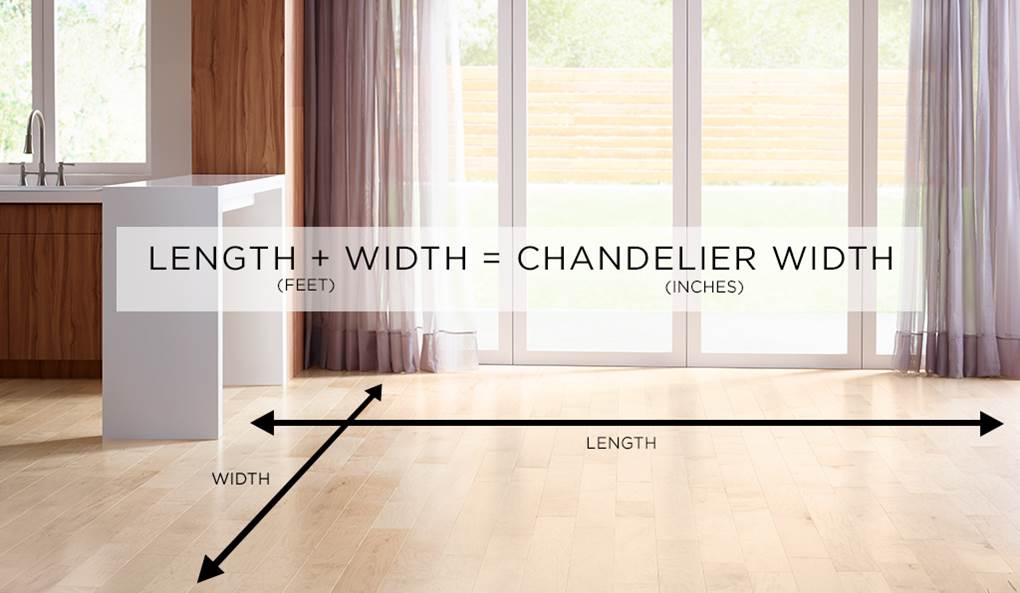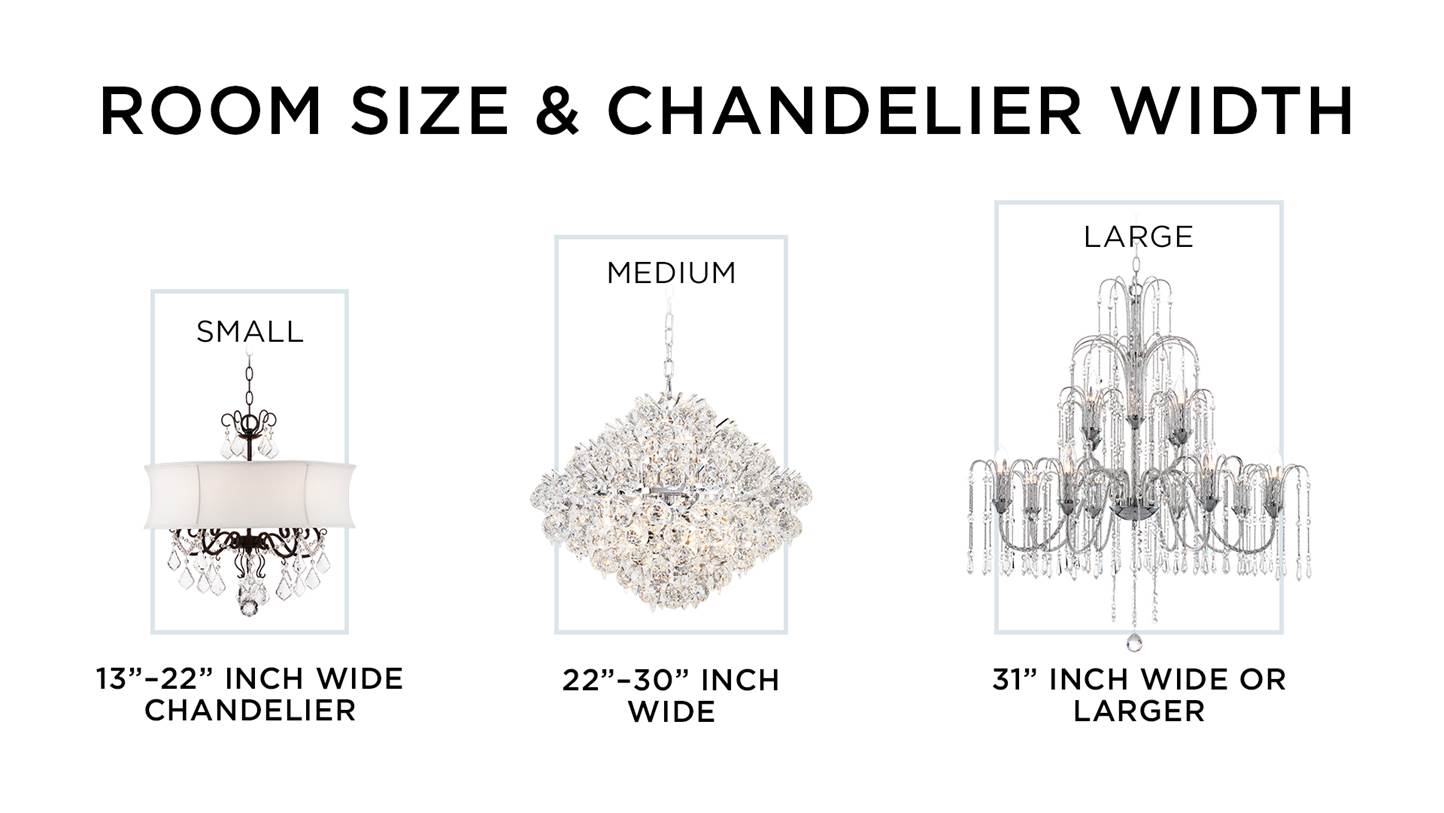 Chandelier Height
To figure what height a chandelier should be, a good rule of thumb is to take the room height and multiply it x 2.5 or 3. This will give you the rough chandelier height.
Sizing Tips for Dining Table Chandeliers
For a well-balanced look, choose a chandelier that's approximately one foot narrower than the table.

How High Should You Hang a Chandelier?
It depends on the location.
Here are the most common uses:
Over a Dining Table
The bottom of a dining room chandelier should be 32-34 inches above the tabletop.
Over the Floor
The bottom of the chandelier should be a minimum of 7 feet above the floor.
Over a Kitchen Island
Your fixture should be close enough to provide adequate light but not so low that it obstructs your sight. In general, the bottom of kitchen island chandeliers should be 32-34 inches over the counter for best results.
Two-Story Foyer
Remember, in an open foyer, the chandelier may be at eye level or slightly below when viewed from the second floor. So consider a fixture that would look attractive from all angles, even from above.
Getting the Height Just Right: Adjusting Chains and Downrods
The chandeliers we sell usually come with 10-feet of wire and 6-feet of chain. These measurements work for the vast majority of home installations and can be adjusted to fit the ceiling height of your room. If a design comes with something different, we will make note of it in the product details.
Chains: Chain links are jointed for easy addition and removal. Simply subtract (or add) links to shorten or lengthen the chain. Any excess electrical wire should be cut prior to installation. Remember to always measure twice, cut once. And be sure to leave a little extra, just in case.
Downrods: Most of our designs come with several different lengths of downrods which can be combined to achieve your ideal hang height. These downrods have threaded ends, allowing them to attach to one another easily. For this reason, the downrods should never be cut or altered.
Smart Tip! Whenever in doubt, consider consulting with a licensed, bonded electrician.
Does your high ceiling require a longer chain or more downrods? A slight mishap during installation house left you with a broken shade? Don't worry. Whatever you need, we've got the replacement, so just contact us.

Tips for Different Ceiling Types
Most chandeliers are designed to fit in a variety of locations. Here are answers to some commonly asked installation questions:
Will a chandelier work on a sloped or vaulted ceiling? For chandeliers that hang from a chain or cord, simply install it into the junction box. Gravity will see to it that your fixture hangs straight. If you're considering a fixture that uses a downrod, be sure it's designated as "sloped ceiling adaptable," which will allow you to install at a variety of ceiling angles.
What about extra high ceilings? The length of chain or downrod included with our chandeliers is usually enough to accommodate most ceiling heights; however, if you need more, just ask us. Also, you may want to consider a motorized chandelier lift which allows you to raise and lower the fixture for easy cleaning and bulb changes.
Can I use a chandelier with a low ceiling? Yes. Simply remove most of the chain or use the shortest downrod to install your chandelier in a low ceiling room.
Do chandeliers need extra ceiling support? Most small to mid-sized chandeliers can be installed into standard ceiling junction boxes. However, larger chandeliers exceeding 50 pounds require additional support. We recommend using an expandable chandelier/fan brace, which is positioned between the ceiling joists to provide extra support. When in doubt, always consult with a licensed, bonded electrician.
My junction box is in the wrong location? Swag the chandelier! Simply drape (or "swag") your chandelier chain over a hook at the exact spot where you'd like the fixture to hang. Just make sure the hook is attached securely to a stud in the ceiling to handle the weight of the fixture.
Is the chandelier canopy included?
The majority of our chandeliers, pendants, and mini-pendants come with a ceiling canopy (sometimes called a "ceiling plate") to provide a decorative cover over the junction box. When not included, we will note it in the product details.

Brightness & Dimmers
When the level of light is just right, a chandelier has the potential to truly transform a room. Over kitchen islands, you may prefer something brighter, while you may prefer a lower, more romantic level in the dining room. Every chandelier we sell comes with either the bulbs or bulb recommendations. These are based on expected usage and will work well in almost all situations.
For more flexibility in fine-tuning your lighting level, add a dimmer!
All lighting can be used with a dimmer switch, provided you use the right dimmer. Just give us a call—our lighting experts will help you find the right one for your needs.
There are a few things to keep in mind when using dimmers with LEDs. You'll want to use an LED compatible dimmer and bulbs to prevent flickering and abnormal wear; many older dimmer switches may not be compatible.

Outdoor Chandeliers – Wet or Damp Locations
You should take additional precautions if you intend to install a chandelier where moisture is present, like porches, patios, verandas…even the bathroom.
Always choose an outdoor chandelier fixture that's specifically designated for outdoor use. And remember, outdoor designs can always be used indoors…but the reverse is not true.
There are two types of outdoor fixtures to be aware of, which will always be noted in product details:
Damp rated (or damp location) fixtures are suitable for use in protected outdoor areas that are not directly exposed to rain. This is the most common type of outdoor chandelier available. Best for covered porches and patios.
Wet rated (or wet location) fixtures are designed for use in areas where direct exposure to rain is possible. Best for gazebos and pergolas.
Using Chandeliers in the Bathroom
Safety is the primary concern around water. For this reason, bathrooms chandeliers should be placed at least 3 feet away from bathtubs and showers. Additionally, you'll want to ensure your bathroom has proper ventilation, as a damp environment could lead to malfunction.
More Chandelier Ideas and Advice
A Guide to Crystal Chandelier Glass