10 Floor Lamps for Small Spaces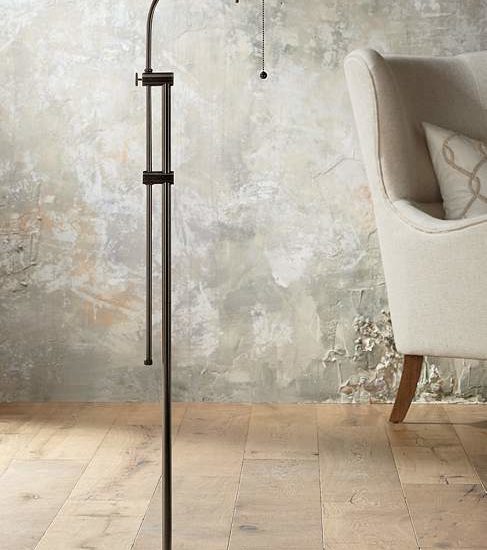 The right floor lamp can provide the lighting you need without taking up much-needed floor space.
Floor lamps for tiny rooms or homes are a great choice not only when space is limited, but also when hardwired fixtures are not an option.
Here, we reveal the top 10 floor lamps for small spaces: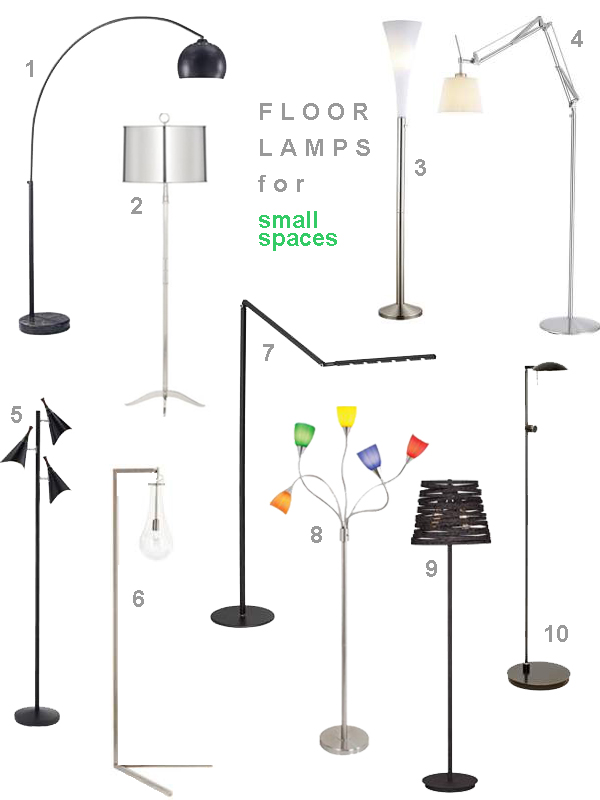 1. Arc Floor Lamps
Although arc style floor lamps seem like they take up a lot of room, they don't. Tucked away in an unused room corner, this style arcs into the room space to offer general room lighting and style.
2. Shaded Floor Lamps
Classic shaded floor lamps are both functional and simple in design. Look for a shade design that allows you to make a style statement or add a bold pop of color to your room.
3. Torchiere Floor Lamps
Place these tall and thin floor lamps in a room corner for overall room lighting.  Torchiere lamps aim the light up to the ceiling, so they provide plenty of light for a smaller area. Plus, their height and slim profile means they'll fit into a corner without taking up valuable square footage.
4. Adjustable Floor Lamps
Adjustable floor lamps bend in a few places, but they don't have any protruding parts. Because they can be adjusted and aimed, they are ideal for multi-tasking, a great feature to have in a small room space.
5. Tree Floor Lamps
With three times the amount of light and shades that can be adjusted to any direction, these space-saving lamps can be placed in a narrow corner without taking up floor space.
6. Modern Floor Lamps
Place a modern floor lamp behind an armchair to maximize space. Look for bases that are simple and slim. Check the bulb info or the lumens output to make sure the design will provide plenty of light for reading or entertaining.
7. LED Floor Lamps
Place sleek and thin LED floor lamp designs in a nook for energy-efficient illumination without taking up much-needed floor space. Many LED floor lamps have a bar or thin pole profile, so they won't add any visual clutter to your small space.
8. Multi-Light Floor Lamps
These multi-taskers combine a top light for general room illumination with side lights for reading or other tasks.
9. Basic Floor Lamps
The no-frills floor lamp will offer general room lighting. You can tuck them out of the way in a room corner or behind a sofa or chair so they'll keep your main living space clutter-free.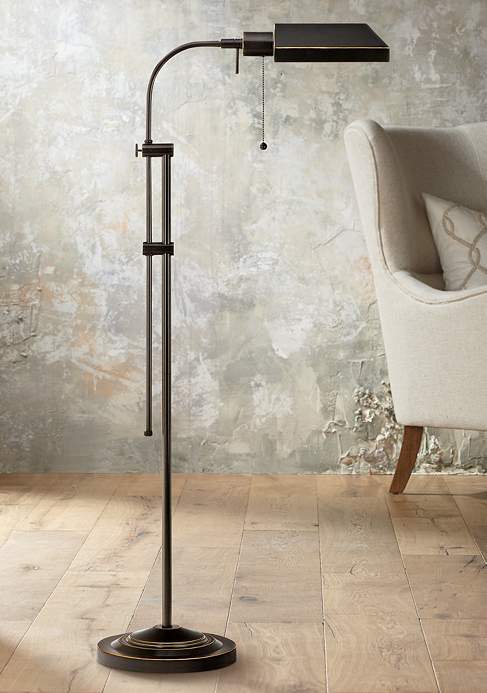 10. Pharmacy Floor Lamps
Choosing a floor lamp with a smaller profile can truly add the lighting you need without cramping your small space. Pharmacy style lamps are compact and have an adjustable lamp head. Aim the head upwards for general room lighting; tilt it down for reading. It's the best of both worlds.
More Floor Lamps Ideas and Advice