How to Buy a Floor Lamp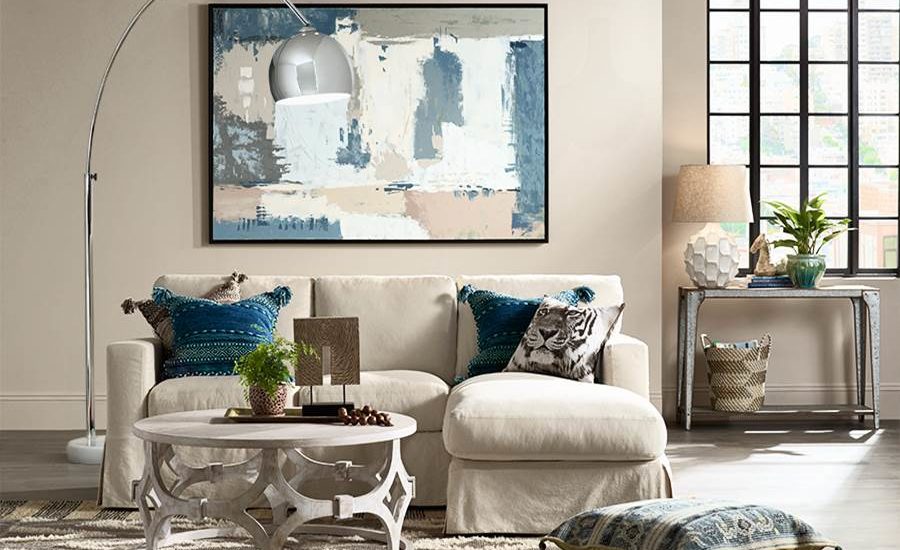 Style and features matter, but the perfect floor lamp should also provide you with the type of lighting you need most. In this guide, we tell you how to select the best floor lamp for your space, including:
How to Pick the Right Height Floor Lamp
What size should your floor lamp be? To pick the most appropriate size floor lamp for your space, consider the eye level rule.
Take a seat on the sofa, or chair, and measure the height from the floor to your eye level.
Floor Lamps by Sofas
For tasks such as sitting on the sofa with your laptop, the shade should be at or below eye level to avoid the glare.
If you're placing the floor lamp further from where you are seated, or you want it to arch over a larger seating area, use a taller lamp. The extra height will help cast more overall, or ambient lighting.
Floor Lamps by Chairs
The same rule of thumb applies when sitting in a chair. The bottom of the shade should line up with your eye level.

Find the Right Floor Lamp Type

When shopping for floor lamps, you can choose a type of floor lamp based on the lighting you need.
Floor lamps provide two main types of lighting:
1. Ambient Lighting or General Room Lighting
2. Task Lighting (for reading and other activities)
Best Lamps for Ambient Lighting:
Shaded Floor Lamps
Available in many styles, the shade is positioned at the top of a pole and casts light throughout the room.
Torchiere Floor Lamps
These designs direct light upwards towards the ceiling, providing general room lighting without glare.
Arc Floor Lamps
With single or multiple lights arranged at the end of a long arc arm, these lamps can be used to provide general lighting for large seating areas or sectionals.
Best Lamps for Reading or Task Lighting:
Pharmacy Reading Floor Lamps
A typical pharmacy floor lamp has an adjustable lamp head and base that can be adjusted to various heights.
Tree Torchiere Lamps
With a torchiere light that directs upwards and a few side lights, this type of lamp offers task lighting as well as ambient lighting.
Swing Arm Floor Lamps
These are designs that allow you to easily adjust the position of the light, offering both task and ambient lighting.

Select Your Floor Lamp Features
 You can shop for a floor lamp based on the features you want.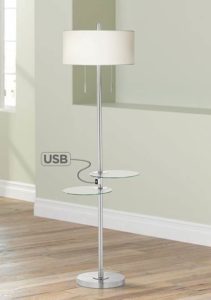 USB Floor Lamps  – If you want an easy way to charge your electronic devices, look for a USB floor lamp. Many floor lamps come with a built-in USB port, allowing you to recharge your devices without using a traditional outlet.
Double Pull Chains – For the option of having two levels of light without the use of a dimmer, choose a floor lamp featuring double pull chains.
Built-In Dimmers – For the ability to lower or increase light levels, consider a floor lamp with a built-in dimmer. Some floor lamps come with a knob switch dimmer, or a line cord foot dimmer.
Floor Lamp Sets – For larger rooms consider floor lamp sets. They are an easy and quick way to visually unify the space.
Floor Lamps with Tables or Shelves – If you're looking for a space-saving design, consider a floor lamp with a table or shelf built into the lamp. These floor lamps provide general lighting as well as a handy spot to place remote controls, drinks, and more.
Adjustable Features
If you want a floor lamp with adjustable features, look for a reading or task floor lamp.  These lamps have adjustable poles, allowing you to lower or raise the height of the lamp to accommodate your needs.
More Floor Lamps Ideas and Advice
For an overview of all these tips, check out our floor lamp buying guide video, or explore other topics with the links below.
10 Floor Lamps for Small Spaces