Designing with Light – The Bathroom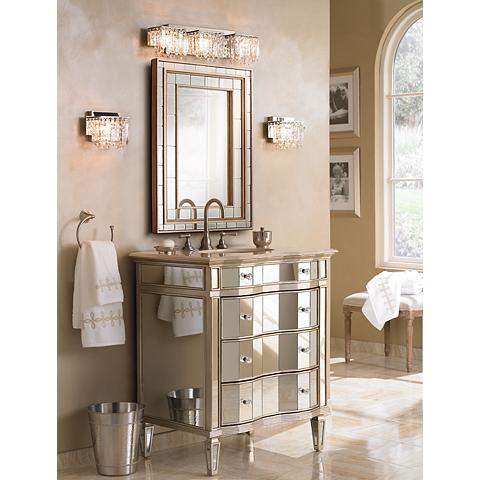 Look your best morning and night by installing new bathroom lighting. With the trend toward elegant, spa-like bath spaces, good lighting is more important than ever before.
Bathroom Wall Sconces and Bath Bars
For starters, you'll need plenty of even, shadow-free lighting around the main vanity wall mirror for shaving, grooming, and applying makeup. In small bathrooms, mirror lights can be used to illuminate the entire room, but in the larger bathrooms, an additional bath close-to-ceiling light is needed for general lighting.
For smaller bath mirrors, decorative wall sconce brackets on each side will illuminate both sides of your face evenly. You can also mount a bath bar with multiple lights across the top of the mirror. Smaller lighted accent mirrors are also an option.
One of the new trends in bathroom lighting is the use of LEDs in sconces, bath bars, and modern bath light fixtures. They provide crisp white light for accent or reflected task lighting above vanities. Aside from halogen bath lights, energy efficient bath lighting and ENERGY STAR bath lights are also available.
Incandescent vs. CFL
Ceiling fixtures equipped with incandescent bulbs behind glass or plastic diffusers provide the most flattering light. If you opt for more energy-efficient CFL fluorescent light fixtures, choose bulbs with warm white tones. They come closest to the color of incandescents and offer flattering lighting for the face.
Bath Lighting Strips
Theatrical bath lighting strips around your bathroom mirror will give you the same excellent lighting the stars enjoy in their Broadway dressing rooms. Use frosted bulbs to reduce glare.
Tub and Shower Lighting
Tub and shower enclosures can be adequately lighted by placing an enclosed damp-location recessed downlight in the ceiling. These downlights are also recommended over whirlpool baths or in saunas. It is not recommended that you install any kind of hanging fixture over a bath. Check your local building codes to make sure you follow all regulations.
Bathroom Exhaust Fans
For the ultimate in bath comfort and luxury, add a bathroom exhaust fan. New designs are quieter and more stylish than ever, with powerful motors that will efficiently draw away steam and mold-causing moisture. Many of our exhaust fans feature built-in lights, making them perfect for over a bathroom toilet or whirlpool tub.
Bath Light Finishes
Aside from the lighting type, the look of bath lighting is also important to consider. There are a wide range of finishes available, including popular silver metal finishes such as chrome bathroom light fixtures. Also trending now are gold bathroom lighting designs, which are ideal for modern luxe rooms, and bronze finish vanity lights, which have a more rustic and industrial style appeal.
More Bathroom Lighting Ideas and Advice
All About Bathroom Exhaust Fans
9 Style Ideas for Bathroom Mirrors