Choosing & Hanging Dining Room Chandeliers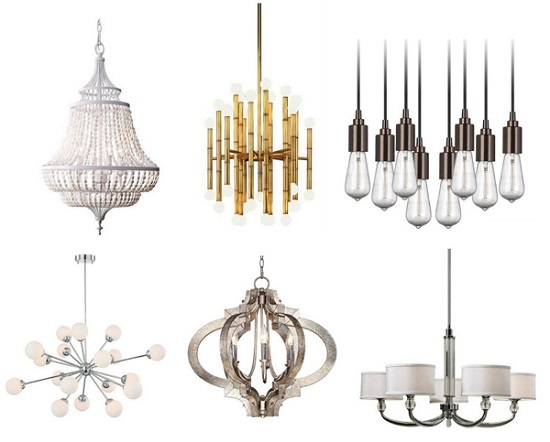 It's amazing how dining room chandeliers can completely change the look of a space when you invest in one that makes a big visual statement. Any dining room can benefit from a stunning designer chandelier, whether it's a small breakfast nook or a formal dining room.
When choosing and hanging a dining room fixture, keep these five tips in mind: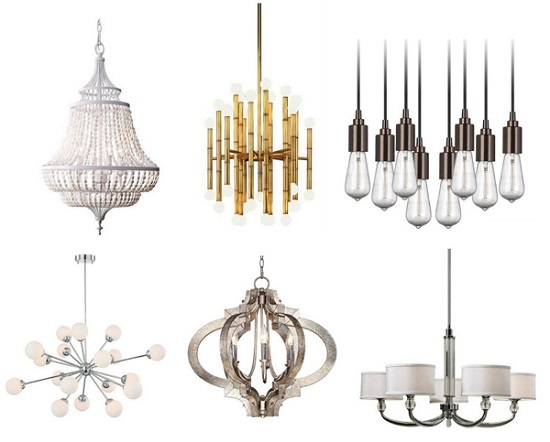 1) Style
Choose a chandelier that appeals to your decor style, not one solely for resale (unless of course, you're staging your home for sale). A dining room chandelier is an easy fixture to replace and something you can take with you if and when you move.
It's perfectly fine to mix styles: industrial, coastal, contemporary, they all work with traditional furniture and vice versa.
2) Dimensions
When selecting lighting for a dining room table, it's more important to size the chandelier to the dining table rather than the room. A good rule of thumb is to make sure your chandelier is one half to two thirds the width of the table.
A chandelier that is too small for the dining area can look out of place and has little impact.
3) Hanging Height
For the proper hanging height, the bottom of the chandelier should be 28″ – 34″ above the table. It should be low enough to create a focal point in the dining area, but high enough not to interfere with conversation. For small spaces, a small crystal chandelier design can be used, so the size of your room should not be a barrier to you adding sparkling chandelier style to your decor.
4) Function
Your chandelier does not have to be the main source of lighting in the dining room. Wall sconces, lamps, or other overhead lighting should also be part of the lighting design plan.
And it is important to keep in mind that these other lighting sources don't need to be a perfect match for your chandelier, they merely need to complement each other.
5) Dimmers
A chandelier that radiates too much heat or light can be uncomfortable for you and your guests. Most designers agree on the importance of dimmer switches. Nothing creates more ambiance than lighting turned down during intimate gatherings.
More Chandelier Ideas and Advice