How to Buy a Mirror and Hang it Like a Pro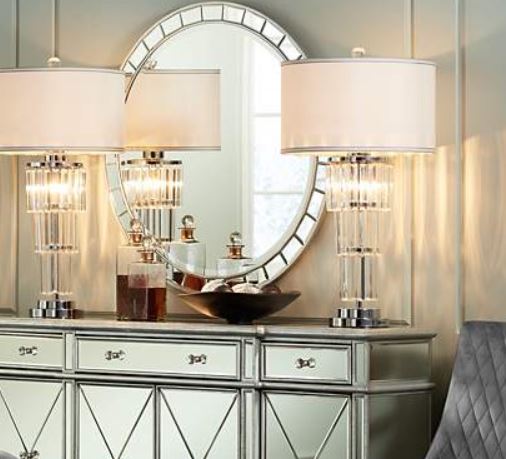 Reflecting the beauty of our lives, mirrors have a special place in the interior design world.  Lamps Plus has created this brief guide to help you buy, place, and hang your mirror.
What you need to know before you buy a mirror:
Three Ways Mirrors Add to Your Decor
Yes, we need to check our reflections before heading out the door, but a wall mirror provides more than just a way to see ourselves.
1. Mirrors Brighten a Room
Mirrors magically reflect everything, including natural light. Hanging a round or rectangular mirror near or across a window is an easy way to reflect an outdoor view and invite cheerful sunlight.
2. They Magnify Room Decor 
You've taken your time to decorate — picked out the style, colors, and textures of the furniture. Adding a mindfully-placed square or rectangular mirror allows you to multiply and reflect the details of the room.
Since mirrors reflect everything, avoid reflecting an unflattering view.
3. Mirrors Enlarge Your Space 
Some furniture pieces are space savers, while mirrors make rooms look bigger. If you have a small room, add a large wall or floor mirror to give the illusion of more space.
Mirrors for Personal Grooming
We use our bathroom mirrors to check our own reflections, groom, and get ready for the day. But mirrors placed throughout the house can be used for the same purpose.
Hang a mirror near an entryway to check your appearance before leaving the house.
Mirror Placement Tips by Room
Bathroom Mirrors
You can buy nearly any mirror for the bathroom, as long as the space doesn't have an excess build-up of steam or moisture.
Place the round or oval mirror a few inches above the bathroom sink to avoid backsplash.
For poorly-lit bathrooms, go for a mirror with built-in lighting.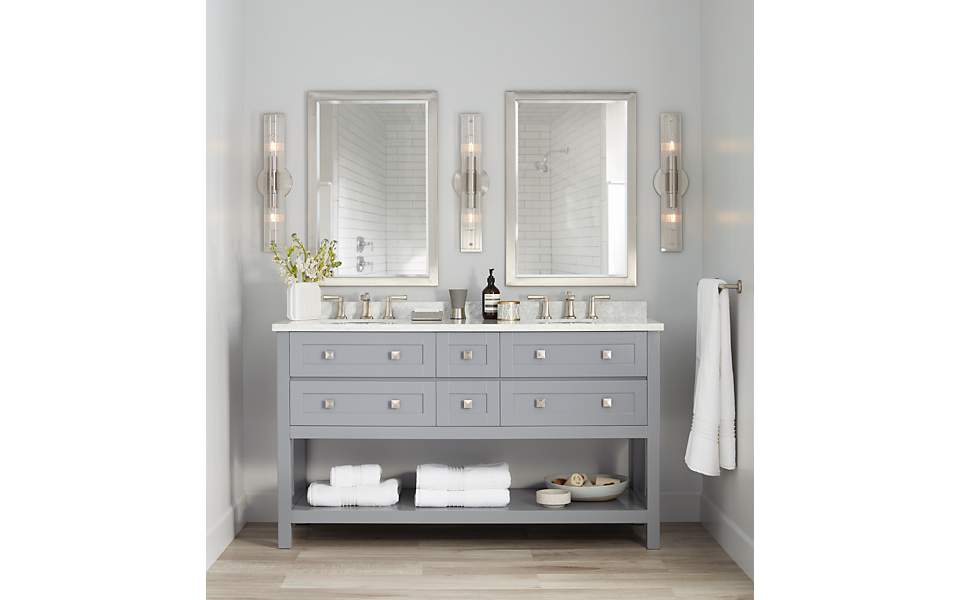 Where to Put a Mirror in the Bedroom or Living Room
Above the Fireplace or Mantel – A general rule of thumb is to place the framed mirror at least four to five inches above the top of the living room or bedroom mantel.
Tall Rooms – To emphasize the height of a space, use a vertical mirror.
Long and Narrow Rooms – Use a horizontal mirror to make a long or narrow room appear wider.
Mirror Placement in Hallways and Entryways
Place the mirror above a table in the hallway or entryway of your home. This prime location allows the mirror to brighten the space and provide a quick way to check your appearance before leaving the house.
Where to Place Mirrors in Dining Rooms
Dining rooms love mirrors, but the trick is to avoid glares from nearby lighting fixtures such as chandeliers. If you have a chandelier with exposed bulbs in your dining room, consider diffusing the glare with an antiqued mirror.
How to Hang a Mirror
With the right tools and a little preparation, you can hang a mirror the right way.
What You'll Need – Tools and Wall Anchors
The tools you will need to hang a mirror include a pencil, stud finder, level, and a screwdriver.
Mirrors with all types of brackets can be hung using a wall anchor and a screw. A separate purchase of screws, wall anchors, and mounting brackets that can hold the weight of the mirror may be required.
Note: hanging mirrors with wire is not recommended.
Enlist the help of a second pair of hands to help you position the mirror.
Identify Your Hanging Brackets
Most Lamps Plus mirrors come with hanging hardware already attached.
Here, the four types of hanging brackets:
1. D-Rings
The D-ring is the most common type of hanging bracket. It's mounted on the back of the mirror, a few inches from the top and sides.
2. Keyholes
Typically made of metal, a keyhole is embedded in the frame construction of the mirror.
3. Saw-Tooths
The saw-tooth is the least common hanging bracket used for smaller designs.
4. Vanity-Style Mirror Brackets 
With these brackets, the mirror sits several inches off the wall surface and is set in place with brackets that are part of the mirror itself.
More Mirror Ideas and Advice
Glamorous Mirrors and Sconces in Bathrooms
5 Decorating Ideas with Mirrors