How to Decorate a Lampshade – Creating DIY Lamp Shades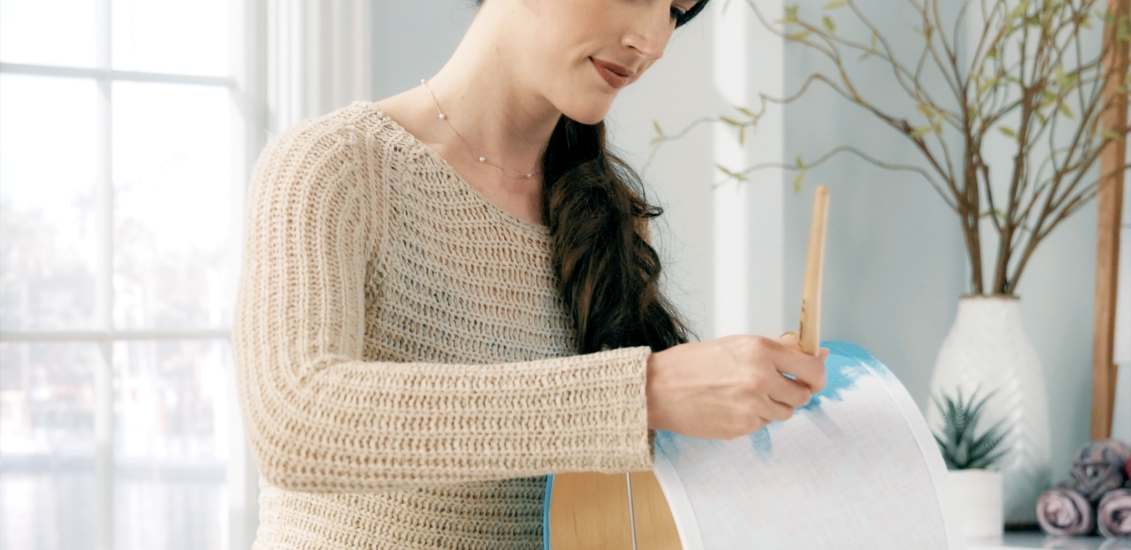 An easy way to update an old lamp is to swap out the shade. This time around, why don't you give it a personal touch? A do-it-yourself (DIY) project gives you the freedom to create custom shades for lamps and other lighting fixtures.
With a plain white shade and your favorite arts-and-crafts materials, you can design and create a custom lampshade that exudes personal style. DIY lamp shades are the perfect way to refresh the look of existing table lamps, floor lamps, and lighting pendants.
Along with the materials you'll need, we've provided a short video and steps on how to decorate a lamp shade below. You can shop our collection of lamp shades here.
Please see our "How To Decorate A Lamp Shade" Video below:
What materials do you need to decorate a lampshade?
Shade type – a plain white hardback shade works the best
Decorative items – use trim, ribbon, beads, and more!
A hot glue gun and glue sticks
Scissors or an X-Acto knife
A stencil pattern is useful if drawing or painting on a shade
These simple household tools are all you need to create your own DIY lamp shades.
Decorating a Lampshade in Five Steps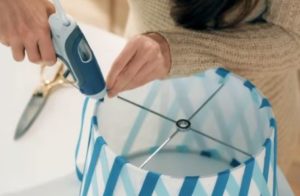 STEPS
1. Start with a blank lampshade. 
Pick the right shade base to start your decorative pursuits. We recommend a plain white hardback shade, which gives you the perfect blank canvas to work on, but you can also use a colored shade if you already have a particular design or color scheme in mind.
Shape is another important factor to consider. Lamp shades come in a wide variety of shapes, from the classic drum shade to the elegant bell shade with gently curving sides. Other options include empire shades, oval shades, rectangular shades, and squares shades.
2. Know your measurements.
Once you have your shade, measure the circumference of the shade to figure out how much material you'll need. If you're buying one from Lamps Plus, you'll find the measurements in the product details.
3. Cut your materials.
Using scissors, cut the desired length of the trim or ribbon, long enough to wrap around the shade perfectly.
4. Apply trim and decorative materials. 
When applying trim, start on the seam of the shade. It provides a convenient line for you to follow. Apply the glue first, keeping your hands straight and steady for more precise linework. As you work your way around, apply the actual trim by gently pushing it against the glue. Don't wait too long or the glue might dry out.
Some DIY lamp shades have only a top or bottom trim, while others have both a top and bottom trim for a beautiful balancing effect. Choose whichever design fits your fancy.
5. Don't forget the bottom.
If you want material or trim on the bottom, flip the shade and follow step four to add the material to the desired area.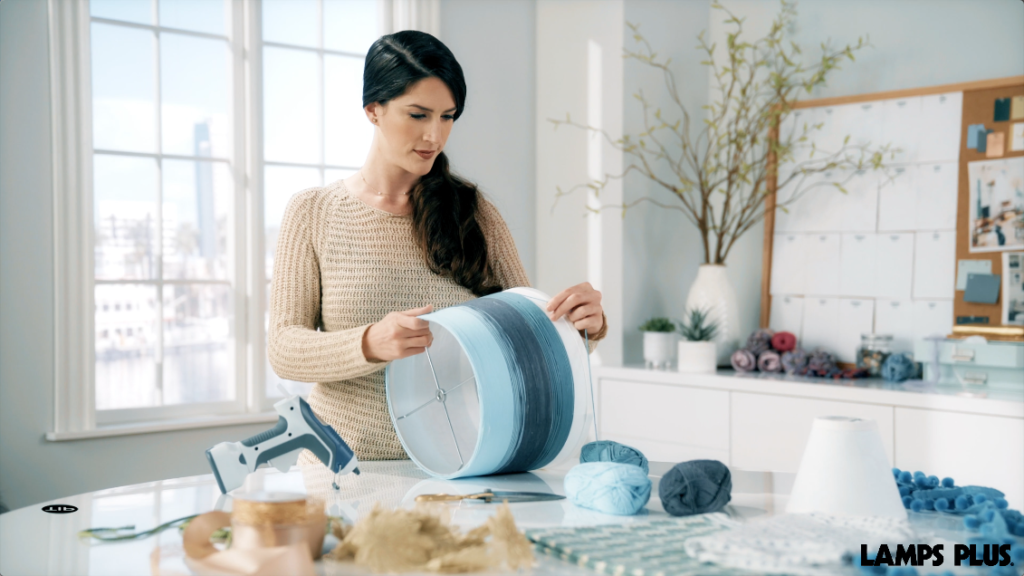 Decorate a Lampshade with Trim and Ribbon
While Lamps Plus offers a wide variety of pre-made fabric trim, you can also make your own trim using common household materials.
For example, instead of throwing away your child's outgrown clothes or your great-aunt's shabby curtains, cut them into strips of cloth and refashion them into stylish trims.
(Be sure to keep any leftover pieces of cloth for future home decor and art projects.)
You can also use a long length of ribbon, which has the added benefit of already being cut into a clean, straight shape.
Decorating a Lampshade with Beads and Buttons
If you're adding beads, buttons, paper products, or other items, simply use the glue gun to paste them onto the lampshade.
Anything goes – buttons, sequins, yarn, feathers, tassels, metallic stones, and more! Add dried leaves and flowers for a natural look, or attach dangling crystal beads for glitzy glamour.
Add only a touch of glue to the back of these decorative accents before pasting them onto the shade. Too much glue can create unseemly blots that show up when you light the lamp.
And if you know your way around the thread and needle, consider embroidering a design instead, using the lampshade as backing. A hand-done embroidery pattern can add a truly personal touch to your home decor.
How to Decorate a Lampshade with Paint 
If you want to freshen up a faded color or reinvent an already existing shade, consider a new coat of paint.
Use a flat-edged brush to apply a careful, even layer of paint and give it time to thoroughly dry out. While it's best to use fabric paint, specially designed for use on common fabric materials such as cotton or polyester, there's no reason why you can't use other paint types. If you have any leftover latex paint or spray paint lying around, it's time to put it to use. And if you don't like adding a stiff coat of paint to your shade, then try watercolors or dyes for a lighter feel.
Keep in mind that for the shade of lights, the coloring may be affected by the color temperature or the lumen count of the bulb that is used. So the painted color may seem a little different when you actually turn on the light.
Add areas of color, draw stylized letters, or even paint on personal portraits. You might want a smaller brush or paint marker for this. You don't even have to stick with paint – regular ink markers are sufficient enough for leaving a long-lasting impression.
For a creative and unrestrained look, try a free-form pattern that uses a wide variety of different colors. Alternatively, if you want a specific pattern or professional-looking design, use a stencil. There are many wonderful stencil designs that are available for free online, from elaborate floral motifs to playful animal prints.
TIP: If you want to paint a lampshade, use a stencil to add letters or a pattern, or have fun with a free-form design.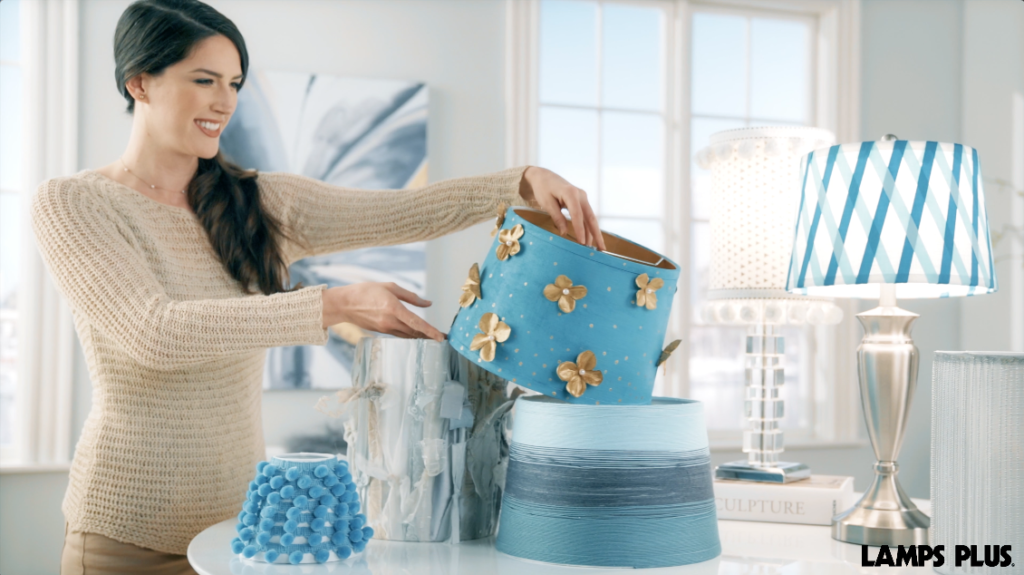 DIY Lampshades 
Want to change up the look of your lamps? Shades – especially DIY lamp shades – are a creative and cost-effective way to do so.
So, how to decorate lamp shades? Start by purchasing the lampshade you want.
By taking a plain lampshade and giving it a stylish makeover, you get a standout piece of decor for your lighting. You can completely transform the look of your table lamps and floor lamps, wall light and chandeliers – all within sensible and cost-effective means. Not only that, creating your own DIY lamp shades can be a fun and rewarding process, making it the perfect arts-and-craft project for a rainy day.
We've given you a bunch of ideas on how to decorate a lampshade, but they don't need to be the end-all be-all. Do you have any other lampshade DIY ideas flying around in your head? Feel free to indulge – what's important is to end up with a design that's all about you and your personal style.
More Lamp Shades Ideas and Advice
How to Buy a Lamp Shade – And Keep it Clean