3 Must-Haves for Installing Low Voltage Landscape Lighting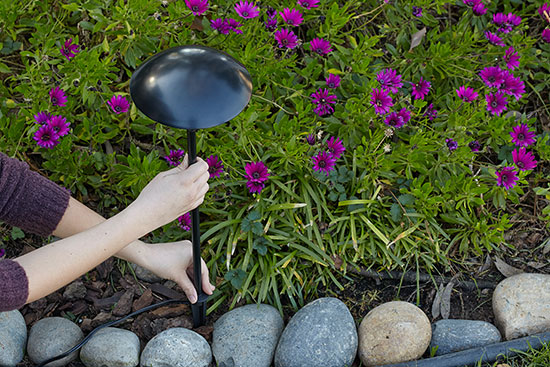 Low voltage landscape lighting is a great way to add value to your home and up its curb appeal while saving you money and minimizing energy use. All you need to get your system installed are the right lights, the proper transformer and cables. If you are looking beyond options that a complete kit offers, here are some tips to make sure you choose the right individual products for your easy-to-install landscape lighting.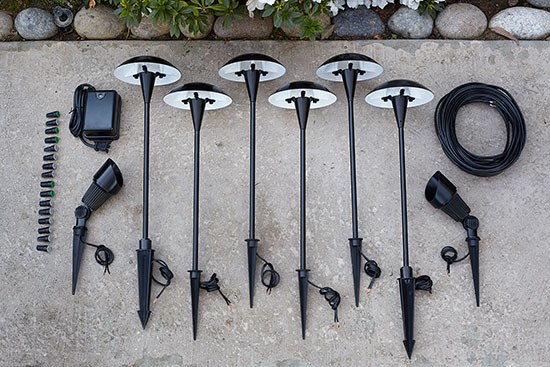 The Three Things You'll Need:
Showcasing Your Style: Lights
Depending on the size and layout of your yard, there are different choices when it comes to illuminating your outdoor space. Landscape lights are categorized by usage, style and type – path lights are ideal for illuminating your sidewalk, while spot or flood lights add impressive accents to trees or your home. You can find energy-efficient LED landscape lighting in traditional or modern designs, and in ground lights cast a unique beam of light upward from wherever they are placed.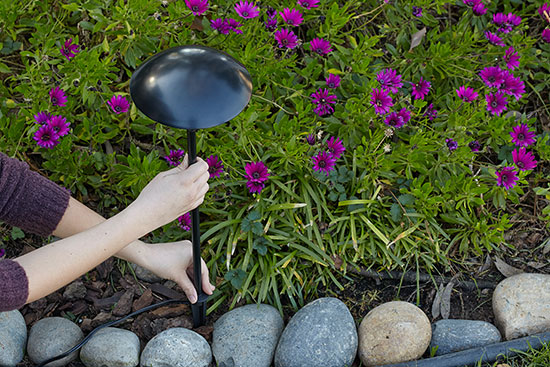 The most important step is to think through what you want to achieve: Is it security? Safety along walkways? Ambient decorative lighting? Once you understand what your goals, finding the right landscape lights is easy.
Powering Your System: Transformer
All low voltage transformers are designated with a maximum wattage capacity. For example, a 150 watt transformer can safely provide power to a circuit demanding up to 150 watts. To start, map out your yard and how you plan to distribute your lighting – a simple sketch works. From there, you'll have a better understanding of how many lights you'll be using.
Each landscape light provides a maximum bulb wattage rating. Once you have your total number of lights, follow this simple formula to ensure you pick an adequate transformer:
+ Add together the combined wattage of your individual lights – for example, 5 lights each using 20 watts (5 x 20 = 100).
x Multiply that total by 1.5 (100 x 1.5 = 150).
= The total is the transformer size, in watts, that you'll need – a 150 watt transformer in our example above.
Extra tips: Pad your numbers. There's no harm in giving yourself some room to expand on your lighting system. Purchasing a transformer with a higher maximum wattage capacity will come in handy if you want to add more lights later. And, save with LED! Transformers are priced according to wattage, so by choosing low-wattage LED lights, you'll saveon the bost of both your transformer and your monthly electric bill.
Putting It All Together: Cables
When purchasing cables to connect your outdoor landscape lighting to the transformer, you'll want to make sure you have enough wire to run the lighting to your power source.
First, lay out all your components and cables. Be sure to leave extra cable running to each light so you can reposition easily, if needed. Save on cable by finding an outlet close to your lighting needs.
It's also easiest to run your cables along the ground and place the wire behind plants or lightly cover them with dirt or mulch. Doing so will allow you to readjust them if necessary.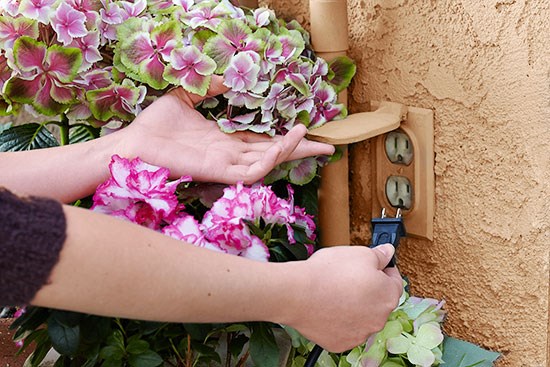 Lastly, connect all cables to your transformer, plug the transformer in, and enjoy!
Extra tip: Fine tune your lighting placement by checking everything right at dusk. You'll get a sense of how everything will look at night with just enough residual daylight left to work.
Video Inspiration
For more installation inspiration, watch this quick overview on installing landscape lighting, taken from our YouTube channel.
More Landscape Lighting Ideas and Advice
Designing a Landscape Lighting System
Landscape Lighting – Tips for Getting Started
5 Things to Know Before You Buy Landscape Lighting
All the Extras: Landscape Lighting Types
Questions?
Call at 800-782-1967 to speak with one of our friendly, professional Lighting & Home Decor Consultants or visit a Lamps Plus location near you. Whether via phone or in person, we're happy to assist you in planning your landscape lighting system.