Landscape Lighting – Tips for Getting Started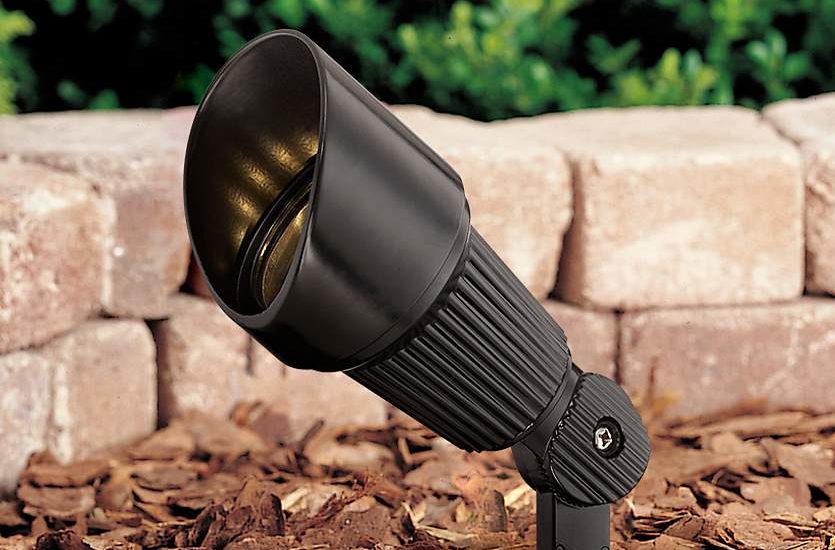 Landscape lighting is a fabulous way to add drama, beauty, and a welcoming feel to your yard. Sure, your grounds are on display during the day, but why not show off your beautiful garden, fountain, or other feature at night, too?
Installing pathway lights or a spotlight to your landscape can add a beautiful new dimension to your home. Plus, illuminated pathways are also safer and more inviting for guests after the sun goes down. In this article, you'll learn the basic info to map out your system and purchase what you need to light up your evenings.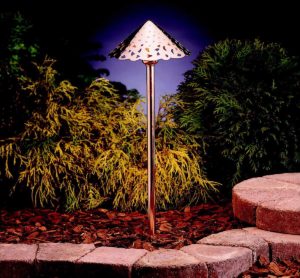 Low-Voltage Lighting
One of the best ways to balance striking brilliance with security is by installing low-voltage landscape lighting. It's affordable, flexible, expandable, safe, and easy-to-install. Here are some ideas and information to help you plan and implement outdoor lighting at home.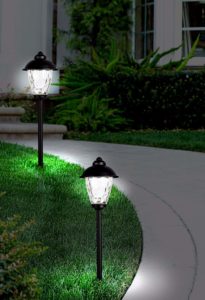 Start With a Good Plan
Low-voltage lighting is an easy and safe way to add "wow" factor to your home. There are just a few things to keep in mind:
A detailed plan, complete with measurements, will help you purchase the right system and accessories. Once you have a rough idea of where you want your lights to go, take some measurements so you know how much wire you'll need.
Know where your power sources are. Most transformers will plug directly into a standard outlet, so determine which outlet, or outlets, you'll be using. If necessary, hire a licensed electrician to install new outdoor power sources.
Buy a landscape transformer that has enough capacity for the system you want to install PLUS a couple of future additions (see the section below on determining your power needs).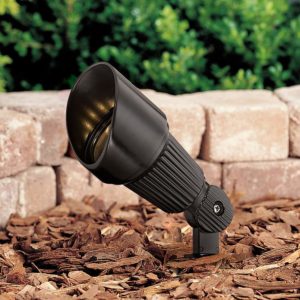 Match the landscape lights to the look of your home for a cohesive style. There are lots of styles available, and you're sure to find landscape lights that fit the style of your home. Maintaining a consistent look between your home's exterior and your landscaping will ensure the greatest curb appeal.
You might also want to plan for more than just landscape lighting. Deck and step lighting, underwater lighting for decorative ponds, garden fountains, and BBQ lights for outdoor cooking areas are also available.
And safety first! If you are a DIY'er, don't forget to read all instructions carefully and turn off power at the breaker before you start.
Determining Power Needs: How to Choose the Right Transformer
All transformers are designated with a maximum wattage capacity. For example, a 150 watt transformer can safely provide power to a circuit demanding up to 150 watts.
Making sure you have enough juice to go around is a simple matter of addition and multiplication. Each of your pathway lights will have a maximum bulb wattage rating. Add up these figures for all of the lights you intend to use, then follow the formula below. That's how many watts you'll need from your transformer. Here's an example:
+ Add together the wattage of your individual lights – say 6 lights each using 18 watts, 6 x 18 = 108.
x Multiply that total by 1.5 – 108 x 1.5 = 162.
= The total is the transformer size, in watts, that you'll need.In our example above, the transformer size would be 162 watts or more.
Speaking of more lights … It's a good idea to leave yourself room for expansion. If you plant a new tree or add a garden feature, you'll be able to highlight it with an additional landscape light without having to alter your existing setup or purchase another transformer.
How Many Lumens for Landscape Lighting Do I Need? 
Lumens is the amount of light a bulb or light source puts out. One thing to consider is your bulb source. A typical 60 watt incandescent bulb, for example, produces 800 lumens. In comparison, an LED bulb uses only around 8 watts to produce the same lumens. It's also important to keep in mind that at night light goes a long way, so you don't need as many lumens as you might think to light a pathway or porch area. For patios and porches you might want more light, say in the 400 to 1000 lumens range, while pathways can use far less, say 100 or below.
Landscape Lighting Questions?
Just give us a call at 1-800-782-1967 or visit a Lamps Plus store near you. One of our American Lighting Association trained associates will be happy to assist you with all your landscape lighting needs.
More Landscape Light Ideas and Advice
Designing a Landscape Lighting System
All the Extras: Landscape Lighting Types
5 Things to Know Before You Buy Landscape Lighting