All the Extras: Landscape Lighting Types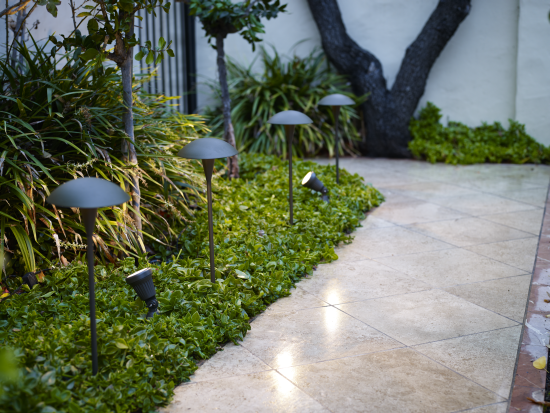 Get the most out of your low voltage landscape system by adding specialty lights. From deck light designs to submersible pool lights, there are designs for every corner of the yard to help you achieve a layered look.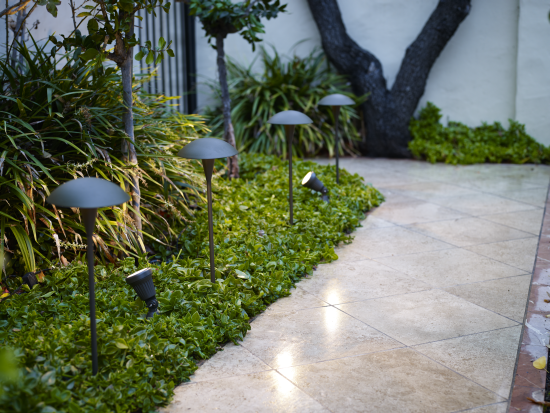 Here are a few types to consider:
1. Go Super Duty
The Super Duty brand of LED landscape lighting offers tall landscape lights engineered to last. Many of the designs are part of a complete collection, meaning you can match your landscape lighting to porch lights, hanging lights and post lights used elsewhere on your property.
Or you can add Super Duty LED lights to an existing low-voltage lighting system to highlight larger garden or seating areas.
You'll find all Super Duty designs brand designs online, or check out our YouTube video to learn more.
2. Spot Lights
Use small landscape spot lights to illuminate specific areas in your yard, such as tress, plantings or architectural details. These types of lights come in various shapes, from pinpoint to flood, so mix and match different ones to achieve the effects you are looking for.
3. LEDs and LED Bulbs
LEDs use far less energy than halogen or incandescent bulbs, meaning you can use a less costly transformer to power your system. Plus, they are almost maintenance free, so you won't have to change bulbs. Choose landscape lights with dedicated LED modules, or, if you have an existing system, swap out the old bulbs for new LED designs. See all LED landscape lights or check out our LED replacement bulbs.
4. Deck or Step Lights
If you have a raised desk or a patio seating area, deck or step lights will help you get the most of these outdoor areas at night. You'll get a great looking area, plus these types of lights make desk areas safer and more secure. Look for designs that can be installed on deck posts or added underneath stair treads.
5. Submersible Water Pool Lights
Show off landscape pond areas, garden fountains and more with an underwater landscape light. This type of specialty fixture has a submersible, waterproof design that can be placed in ponds and water features around your property illuminating them at night. See all our underwater landscape lights.
Whatever your need, there's bound to be a landscape light to handle the job. Using a combination of different lighting types is the perfect way to increase safety after dark while adding a dramatic touch to your outdoor space.
6. Commercial Landscape Lights
Many of the landscape lights that we sell can be used in a commercial setting. This includes bollard lighting for driveway and walkway areas, and other path lights. For large commercial lighting projects we suggest you contact us to speak to one of our contract lighting team members.
More Landscape Lighting Ideas and Advice
Designing a Landscape Lighting System
Landscape Lighting – Tips for Getting Started
5 Things to Know Before You Buy Landscape Lighting
3 Must-Haves for Installing Landscape Lighting
Questions?
Call at 800-782-1967 to speak with one of our friendly, professional Lighting & Home Decor Consultants or visit a Lamps Plus location near you. Whether via phone or in person, we're happy to assist you in planning your landscape lighting system.