LED Ceiling Lights for Small Spaces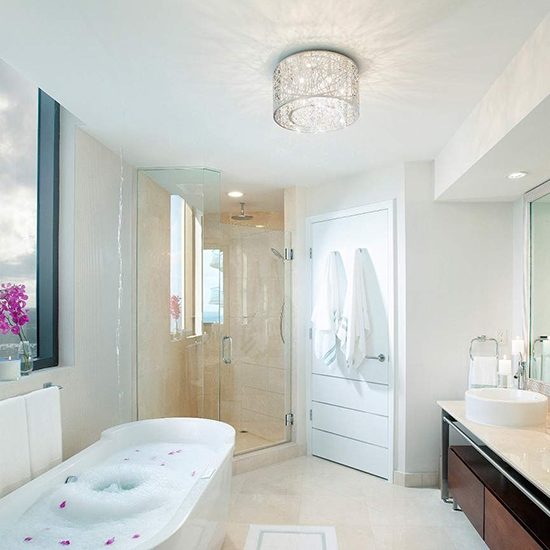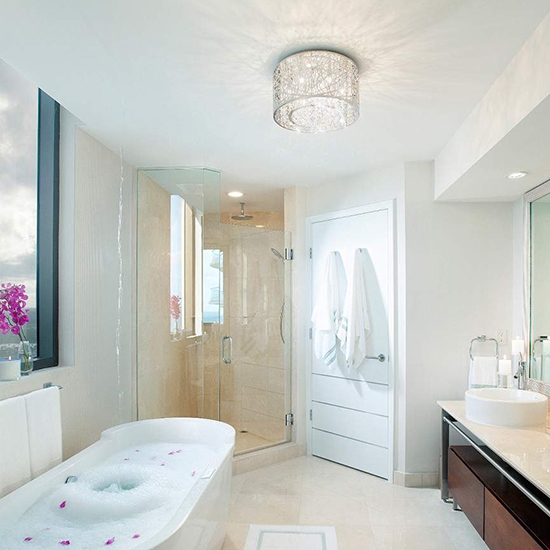 Close-to-ceiling lighting solutions are so much more than a simple frosted bowl or canned lights. Let's look at the options.
Small space design stress can inspire everything from double-function furniture to savvy storage solutions to smart LED lighting ideas.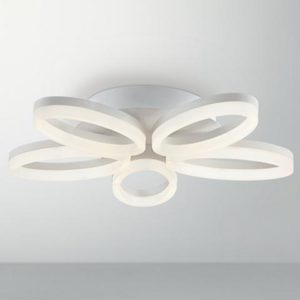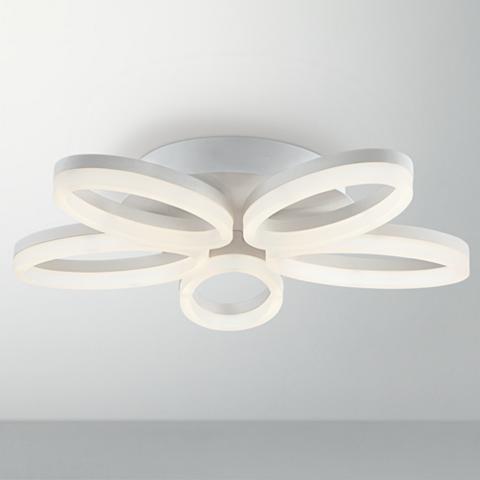 You don't have to sacrifice your style when you are shopping small. You just have to strategize a bit more. Just remember this mantra: Style can come in any size.
Even if you don't have a lot of headroom in your bathroom, kitchen, living room, or bedroom, there is a spectrum of stylish options awaiting you.
So let's say goodbye to the oh-too-common frosted bowl light fixture, and say hello to the wide range of the latest money-saving LED ceiling lighting.
There's absolutely nothing wrong with a frosted dome light, but there are plenty of other options for you to choose from to add style to your small interiors.
The laser-cut polished chrome shade of the LED Ceiling Light in the image above casts an intriguing pattern on the ceiling, and the crystals inside the shade add a touch of glam to the bathroom above.
Another bonus? This LED ceiling light is dimmable – a key feature when it comes to creating ambiance in a space, for, say, drawing a relaxing bath.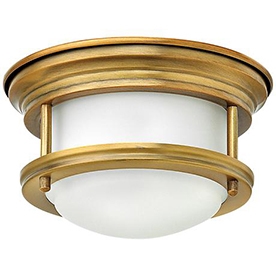 You can also consider an LED ceiling light such as this brass one above. Like the chrome LED ceiling light above, this fixture is dimmable.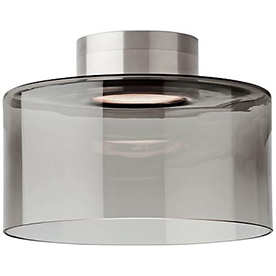 Consider the smoke LED Ceiling Light with a smoke glass shade. This style could be perfect over a dining table or kitchen island; it will shine the light directly on the surface below, and provide a subtly smokey shine to the rest of the room.
Lovers of pendants might be frustrated by a low ceiling or a small space, but there is an alternative; semi-flush mount or pendant-like ceiling-mount fixtures bridge that gap for those of us who like a fixture that isn't pressed to the ceiling and want a fixture that will give 'presence' to a space. These fixtures extend from the ceiling, but without any visible wires or chains like true pendants.
If you don't have the space for pendants in the kitchen, a semi-flush LED ceiling light is a great solution that brings both light and style to a space. The spiral-inspired design of the Spirelli LED Ceiling Light brings another layer of visual interest and texture to the modern kitchen above.
If you are shopping for a show-stopper light fixture that shows off your design aesthetic, there's the amazing category of LED ceiling mount fixtures that are in a design league all their own.
Because of the flexibility and endless possibilities of LED light fixtures, it's possible to have fixture shapes and lighting choices that just weren't possible with incandescent lighting.
The 'Atomic' Polished Brass and Matte Black LED Ceiling Light below makes a serious statement with its radiating rods. It will bring drama, warmth, texture and style to your interiors.
And for us designers, it's kind of essential to think of lighting design as made up of a mix of different types of lighting.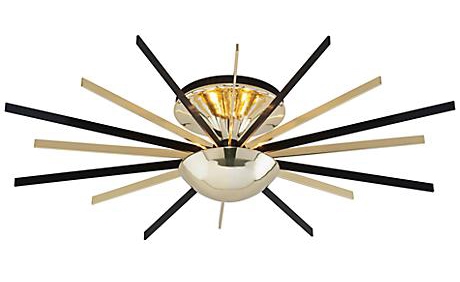 So while a close-to-ceiling LED light is one perfect solution for a small room, don't forget about the table lights, desk lights, sconces, and other light fixtures that help create the mood and ambiance you desire.
While you're at it, give the planet a hug by swapping out your incandescent light bulbs for LED light bulbs.
Here's another design tip: The more light and reflective surfaces in a space, the larger and airier a room can appear.
P.S. There's a hidden relationship benefit in going with a close-to-ceiling LED light fixture: It can be easier to install. There isn't the opportunity for the back-and-forth installation convo: "How low should we hang this light?"
More Ceiling Light and LED Ideas and Advice