How to Buy Picture Lights – A Bright Idea for Artwork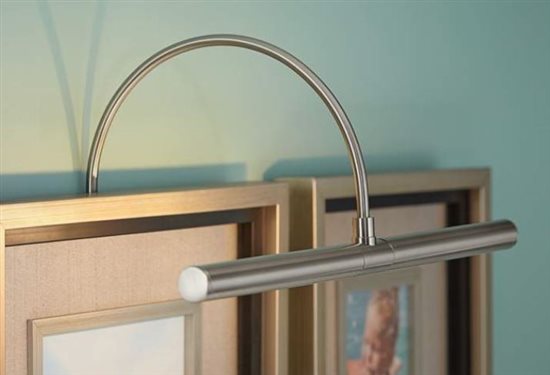 Picture lights are the smart way to illuminate hanging artwork, framed photos, piano sheet music, and much more.
While hanging them might seem like a daunting task, don't worry. With these simple picture lighting tips, your walls can be as well-lit as the Louvre.
Choosing the Right Size Picture Light
How to Position Picture Lights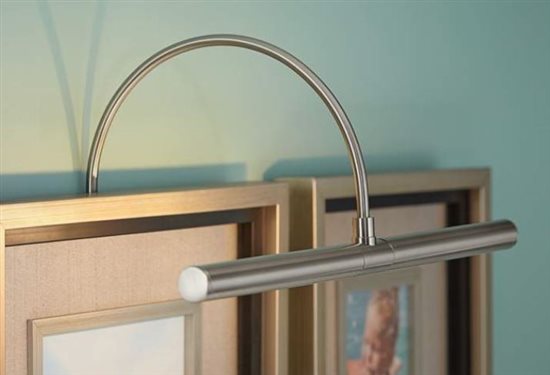 For a quick overview, check out our YouTube video below:
How to Size Picture Lights
Follow these 3 simple steps to find a light for you:
1. Measure the width of your art. If framed, include in the frame as well.
2. For best results, use the following guide:
Artwork Width — Approximate Light Width
8" to 14" — 4 1/2"
12" to 18" — 5 1/2"
16" to 24" — 7″ to 9"
18" to 35″ — 10″ to 13″
25" to 37" — 14.5″ to 16"
37" and more — 30″ or use multiple lights
3. If you are using a light with a slim, small profile, you may have to go slightly larger in order to cover the entire piece.
Buying Tip – When you are browsing our picture light collection, use the choices in our Size menu to easily find the width-size you need.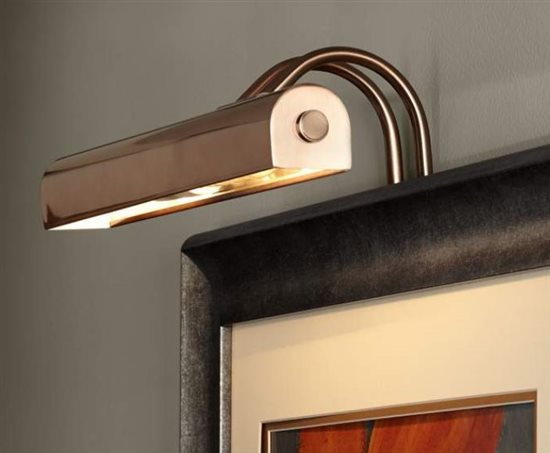 Popular Features and Styles
Wall Mounted Picture Lights
These picture lights, as the name suggests, install into the wall above artwork.
These types can be plug-in designs or hard-wired.
With plug-ins, the cord hangs down the wall or can be concealed behind shelving or furniture.
Hard-wired picture lights have no visible cords or wires, and install directly into an electrical junction box. In both cases, the look is clean and classic.
Frame Mounted Designs
This type mounts to the picture frame itself. Because of this, they are ideal for artwork that has a wide or large and ornate frame.
Like wall mounted designs, they can be plug-in or hard-wired.
Battery Powered Picture Lights
These types of picture lights also offer a clean and streamlined look.
Because they are battery powered, they have no wires so they can be installed just about anywhere.
Buying Tip: Even the most efficient model needs to get new batteries from time-to-time, so if you want to use the picture light for long periods of time you may wish to opt for a plug-in or hard-wired design.
Plug-In Picture Lights
As noted above, plug-in picture lights simply mount to the wall (brackets or mounting hardware is usually included). and then plug into a standard three-prong electrical outlet.
They are very easy to install, and come in both halogen and LED designs.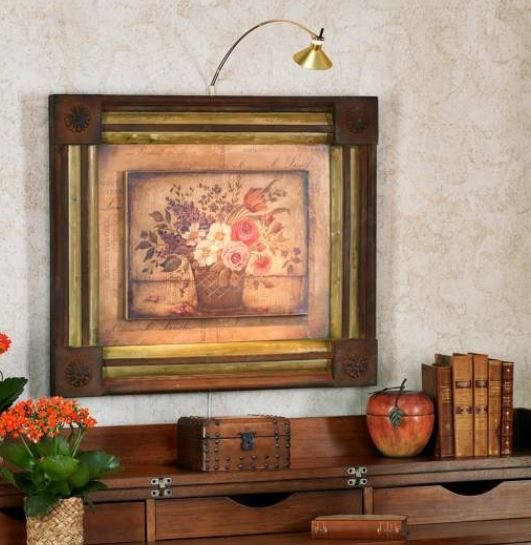 Bulb Types
After you've narrowed down your choice of size and features, you'll also want to consider the type of bulbs that are used in the picture lights you are considering.There is a wide range of options, including new energy-efficient LEDs.
LEDs
These designs have a bright light, are energy efficient and will last for years. They do not emit UV light that can harm prints, photos, and other artwork, and have a low heat output.
LEDs with a high CRI (Color Rendering Index) of 80+ are best at not altering the color appearance of artwork.
Buying Tip: Remember to shop for LEDs based on the lumens (light output), not the amount of watts/energy used.
Incandescent Picture Lighting
These have a warm light ideal for artwork in tones of reds, browns, and yellows.
Halogen – Bright white light good for an illuminating a broad range of colors.
CFLs
Output the same amount of light as incandescent bulbs, but uses 75% less energy.
Help with Picture Lighting
Have questions about choosing a design that's right for you? Just contact us, or visit a Lamps Plus store near you and we will be happy to assist!
More Picture Lighting Ideas and Advice
Designing With Light – Living Rooms and Family Rooms