Top Questions About Pendant Lights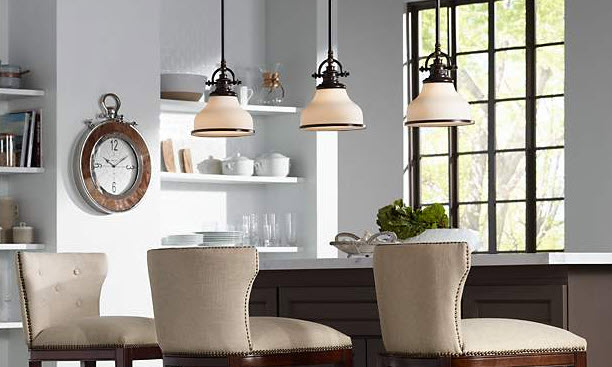 Here are some of the top questions that we get asked about at Lamps Plus about pendant lights!
What's the difference between a pendant light and a chandelier?
One of the most common questions we get is, what exactly is the difference between a pendant light and a chandelier? These are two pretty similar items, with a couple of key differences. Chandeliers usually use multiple light bulbs, with the bulbs pointing up, and tend to not use shades so the lighting is direct. You usually only see one chandelier in a room as well. Chandeliers also usually hang from chains.
Pendant lights tend to be a little smaller, and many just use one bulb. Although larger pendants can use more! Pendants also tend to use shades to direct the light, and you will often see multiple small pendants in one room, such as a kitchen. Pendants also tend to use downrods instead of chain for suspension.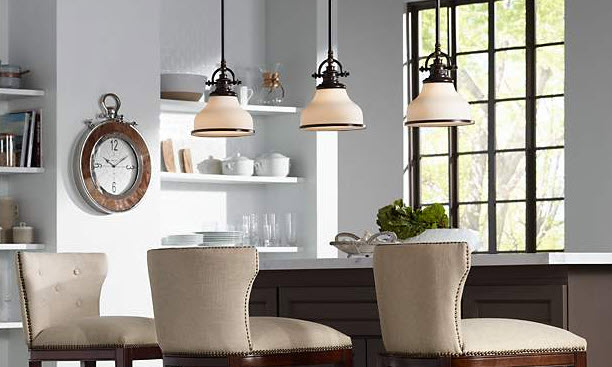 What are the different types of pendant lights?
Unlike many other types of lighting fixtures, the different types of pendant lights have more to do with style or placement than function. In broad strokes, pendant lights can be categorized using two criteria: style and usage.
Pendant lights are available in all styles – from contemporary to traditional, industrial to coastal, and more. The style of pendant light does not actually affect the use of the light itself. Rather, this is to help you find the right pendant to match your home décor.
Usage refers to where the pendant light will be used. This includes island, outdoor, entryway, and more. The different types of usages may result in very different pendant light construction. An outdoor pendant light will appear and function differently than an indoor island pendant light, for example.
For more information, browse our complete collection of pendant lights here.
What are some popular pendant light shapes?
Aside from the style or placement of pendant lights, another important consideration is the shape. This primarily refers to the shape of the shade itself, as that really defines the overall profile of the fixture.
One of the most popular is "globe," which is fairly self-explanatory. These pendants usually use a glass globe to house the bulb or bulbs. Another common shape is the "bell," where the shade looks like a classic bell, and is open on the bottom.
Then there are the "square" and "rectangle" pendant lights, which are usually on the larger side. Mid-Century modern pendant light shapes in geometric profiles are also popular.
There are many, many shapes to choose from in a variety of different styles! You should try to pick the shape which appeals to you the most and best fits your room décor.
Can I use LED bulbs in a pendant light?
You can absolutely use LED bulbs in a pendant light! Like most fixtures, it is becoming more popular to use energy efficient LED bulbs as opposed to classic incandescent. Many older pendant lights can make the switch easily enough, but Lamps Plus also carries a variety of pendant lights manufactured with LED bulbs in mind.
Check out our selection of LED pendant lights here.
What size pendant light should I hang over an island?
Choosing the right pendant light to light up your island can be a tough decision! To determine the size of the pendant, the first question you should ask is, "Am I going to install one pendant, or more than one pendant?" If you will just be using one pendant, you can go with a larger size to ensure you do not lack for light.
Generally, the bottom of the pendant should hang about 28 to 34 inches above the surface of the island. This should be high enough that you do not need to worry about people's heads hitting the light. Also, if you plan on using more than one pendant, you should aim for one pendant per 2-3 feet of countertop, moreso if you choose wide pendants.
Aside from the basic guidelines, the size and shape of the pendant is up to you, and should be one that best matches your decor while providing good lighting.
For more information on how to measure your pendant lights, check out this article.
We also have a handy article on how to incorporate pendant lights into your kitchen here.
Can I use more than one pendant light in a room?
Not only can you use more than one pendant light in a room, we often recommend using more than one pendant light in a room! Especially if you are using mini-pendant lights or single bulb pendant lights. Not only can this style enhance the overall look of your room, it can increase the amount of light available. You can also combine pendant lights with recessed lighting for to increase and customize the light available.
Before installing multiple pendants, however, make sure to measure the size of the lights and the size of your room. You don't want the pendants too crowded together, but you also want to ensure that you are getting sufficient light coverage for your needs.
How do I install a pendant light?
Since pendant lights are among the hardwired light fixtures, it is a DIY job that some can handle themselves. But if you have any concerns about working with electrical fixtures, installing pendant lights is better left a professional electrician. We suggest that to install you pendant lights, you contact a licensed electrician in your area for assistance.
What are popular pendant light finishes?
There are a wide range of finishes available today that work well with all the top designer styles and looks. For example, black pendant light designs are a natural for use in rustic decor rooms, modern settings, and industrial room design. The mixed metal look is also trending. This style combine different finishes, such as brass and bronze, to add different textures and a fresh visual look to modern luxe pendant designs. Finally, gold pendant light designs are popular for their warm and elegant appearance.
More Pendant Lighting Ideas and Advice
Explore more questions about pendant lighting with the links below, or browse our complete collection of pendant lights here.
Illuminating the Kitchen with Pendant Lighting
How to Hang Mini Pendants – A Mini Buying Guide
The Wonderful World of Woven Pendant Lights