Kitchen Lighting Trends and Concepts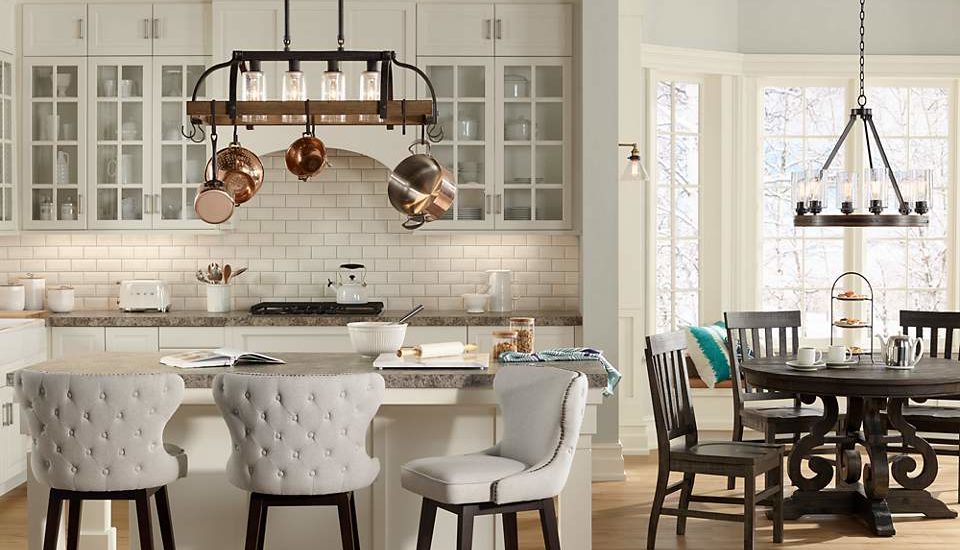 Today's kitchens are more than just places to prepare meals. In addition to its primary food function, kitchen lighting trends makes this room ranks as the heart of the home and center of family activity.
Lamps Plus design expert Lynda Gould says, "The kitchen has become the center of the house for all kinds of activities. Kids study there; parents converse and do work; holiday and party gatherings take place in the kitchen, and, at some point, you might actually prepare food and eat a meal!"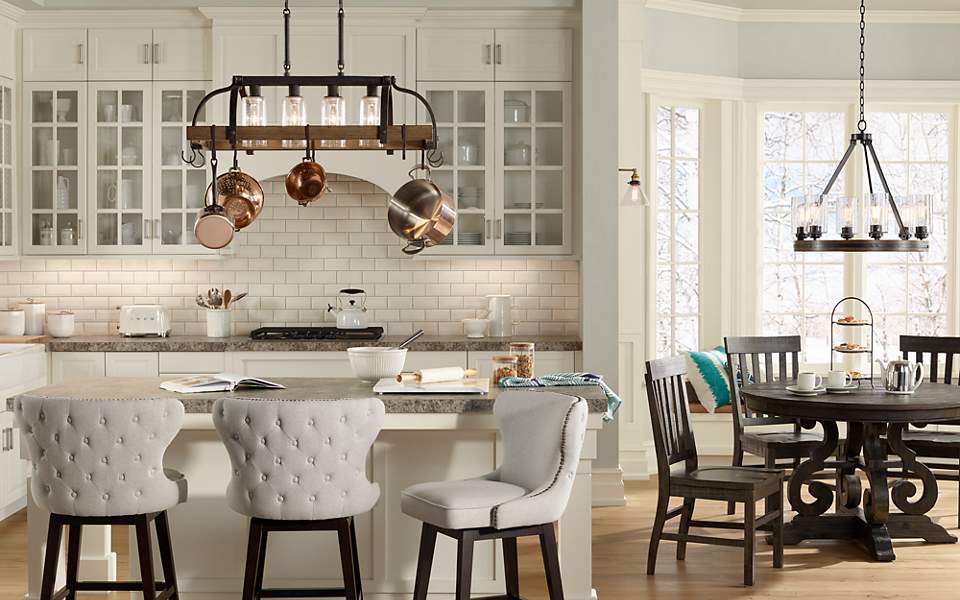 Lighting for Today's Kitchen Design
Evolution of Kitchen Lighting
Such multi-tasking rooms demand equally versatile kitchen lighting. Gone are the days when a single 100-watt fixture centered in the kitchen's ceiling was sufficient.
Sadly, most kitchens have just that one light in the middle of the kitchen.
This means that everywhere around the perimeter of the room, where most of the food prep work is done, is done in one's own shadow.
To make matters worse, the fixture is usually undersized and does not provide nearly enough light.
Fortunately, kitchen lighting has gone through quite an evolution in the last few years – not only in the type and design, but also in the areas in which it is placed.
The right recipe for lighting your kitchen depends on the size and complexity of the room.
Small kitchens may require only a central ceiling fixture and task lighting tucked under a cabinet. More elaborate kitchens will demand a blend of general, task and accent lighting.
The Right Fixture for the Job
Lights have specific functions, whether it's to accent a specific area, create general ambience, focus on a task or wash a wall.
Determine what you want the lights to do. Lighting can be decorative or functional. It's hard to find fixtures that do both.
Functional fixtures will provide well-diffused general lighting perfect for moving about the room safely, peering inside drawers and cabinets, and performing chores. While large, surface fluorescents have been popular in the past, the latest looks revolve around recessed lights and low voltage, industrial styles, often with a metal finish.
Recessed downlights assure even illumination. Install them over the stove and sink areas to create adequate task lighting for cooking and cleaning. When you add new lights over the sink or stove, you are adding not only functional lighting, but a great look as well.
The kitchen table is another family focal point.
Decorative pendant lights, operating with a dimmer control, will provide sufficient lighting.
Pendant lighting also rates raves installed over islands or peninsulas. Light over the island is not only functional, but beautiful. Even people who use recessed lights throughout the kitchen can introduce some color and style over the island. Smaller pendant lights over a counter are another popular option.
Consider a decorative fixture with multiple lights.
A lighting fixture with a trio of lights over a kitchen island, for example, provides good light, breaking up the kitchen while still allowing you to see through it.
A pot rack chandelier offers light as well as functional storage space.
The top trends in decorative finishes include wrought iron, often in rust or other earth tones.
Painted finishes are also popular. Colored glass on pendants is also very popular, especially in more contemporary settings. Pewter and satin nickel finishes have replaced the basic brass look.
No matter which light style you choose, be sure to light all corners of the kitchen.
Lights have beam spreads and you want to position your lighting so that the light spills into all the areas of your kitchen. If you are spending the money on nice cabinets, for example, you want to make sure they are lit properly. If not, the light actually creates gray shadow areas.
Under-Cabinet Lighting
Another kitchen lighting trends is that lighting the spaces above and below cabinets has become more important than ever.
Under-cabinet lighting is especially designed to do just this. Available in slim, energy-efficient designs such as miniature track lights or low-voltage linear systems, under and overcabinet lighting quickly and easily lights up counter tops and accents ceilings.
To learn more, watch this video from our YouTube channel:
If you have a computer screen or television in the kitchen, consider a CFL or LED task lights or a desk light. Every kitchen is individual and task lighting here depends on cabinet layout and computer location. Too much light can wash out the screen. Be sure the light spread can cover the key board and work materials. A halogen desk lamp offers another option.Install Lighting in Zones
No matter how many lights you install in your kitchen, the experts recommend circuiting them separately so the lighting is zoned.
This allows you to create ambience by mixing the various lights you turn on. Install a dimmer for each light for even more lighting flexibility.
Help with Kitchen Lighting
Need help navigating all the kitchen lighting trends that are out there? Turn to our experts for help in planning your new kitchen lighting. Contact us online or by phone, or visit a Lamps Plus store near you; we're here to help!
More Kitchen Lighting Ideas and Advice
Read more of our tips and ideas for lighting your home.
1. A Guide to ADA Compliant Lighting
3. Style Guide: Arts & Crafts and Mission Lighting
4. Shop By Room – Inspiring Kitchen Scenes