An In-Depth Guide: Recessed Lighting Trim and Bulbs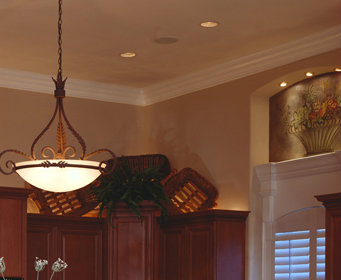 After your primer on how to buy recessed lighting, this in-depth guide takes you a step further into the details of trim and bulbs.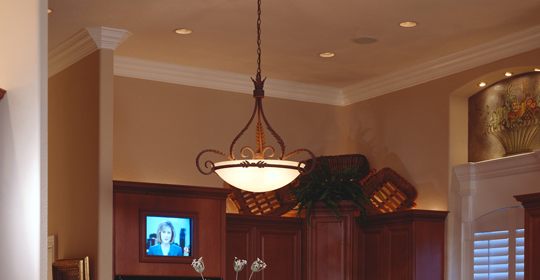 Recessed Trim Choices
Your choice of recessed lighting trim should be based both on the performance requirements of the recessed light housing and your own personal taste. Listed below are some of the many options available.
Specular clear or black alzac trims give an upscale look while providing optimum performance. Clear alzac reflectors control glare from the fixture opening and blend well with contemporary design settings.
White or black baffle trims are the most common and economical. Black trim helps reduce glare at the ceiling surface, while white blends into the ceiling better when the light is off.
Sloped ceiling trims orient the light source so it is perpendicular to the floor. Standard sloped ceiling lights adjust for ceilings pitched from 2/12 to 6/12. Super slope trims adjust from 6/12 to 12/12. These are available in black or white finish.
Recessed shower trim is used for bathroom showers, outdoor showers and wet locations. This type of trim is usually rated for a maximum of 60 watts. New low voltage wet location trim is now available that provides increased brightness and sparkle.
Low voltage directional trims are usually adjustable up to 40 degrees vertically, though some can adjust up to 75 degrees. These trims can fill both accent and task lighting functions and low voltage halogen bulbs are available in a variety of beam spreads so the light can be targeted for a specific task. Low voltage directional trims are also available as eyeballs or fully recessed adjustable trims.
Low Voltage Systems
Low voltage systems operate at reduced voltage, most often at 12 volts. A transformer is required to change the normal household 120 volt current to the lower 12 volts. Special dimmers are also required.
These systems are a great choice for when you want high contrast, bright lighting on objects such as architectural detailing, sculptures, wall art work, furniture or collectables. Accent lighting of this type should be three times brighter than the surrounding area.
Low voltage halogens are best suited for reading due to the high contrast between print and page, and can help reduce eye strain. Low voltage recessed lighting is also ideal for task or hobby activities that require brighter, whiter light with high color rendering properties.
Line Voltage Systems
Recessed light housing types that operate directly off of the household current are called line voltage. One advantage is that you can dim line voltage systems with ordinary dimmers.
Choose line voltage recessed lights for general room lighting applications or secondary room lighting. Incandescent "A" lamps or standard reflectors will distribute an even warm light, while PAR halogen flood lamps will provide white pools of general lighting. These lamps can also be used in eyeball trims for secondary accent lighting or general task lighting.
Recessed Bulbs
Your choice of recessed bulbs will be determined by how you will be using your room space and how bright you want it to be. Here are a few of the choices.
Standard A bulbs are the most common household bulbs and the least expensive choice for recessed lighting. This type provides a warm incandescent light that is good for general lighting and wall washing effects. Standard bulbs require a reflector to boost the light and are best used with a clear alzac "A" lamp multiplier.
"R" Lamps feature a built-in reflector that helps cast a warm, incandescent light in either flood or spot patterns. Slightly more expensive than a standard lamp, it is the most commonly found type in residential recessed fixtures. It can be used with most trim types for general, task or accent lighting. Available for 4″ line voltage recessed with an R20 lamp, 5″ and 6″ line voltage recessed with an R30 lamp or 6″ recessed with a R40 lamp.
Halogen PAR Bulbs provide a whiter, brighter light than a regular "R" bulb along with a more controlled beam spread. These are available in a PAR 20 size for 4″ recessed, a PAR 30 size for 5″ and 6″ recessed, and a PAR 38 size for 6″ recessed fixtures. They can be used with most trim types for general, task or accent effects.
Low Voltage MR16 Halogens offer the best features of the bulbs listed above. They have the best color spectrum for accenting room objects or walls, produce more lumens per watt that a standard bulb, offer a variety of beam spreads and have a longer life than incandescent types. A transformer is required, so make sure you select from our low voltage housings to ensure a correct match.
Recessed Lighting Kits – Popular Combinations
Figuring out how to buy recessed lighting can be challenging and confusing for homeowners. We've made it easy!
Browse the following popular combinations of products, including some of the most popular requests from builders and contractors. Each combination has everything you'll need, including a recessed housing can, a matching trim and a light bulb.
When you find a look that's right for you, simply click on the combination to add it to your shopping cart.
4″ Remodel Non-IC Housing with White Trim and Bulb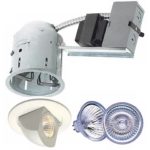 This package includes a 4″ Juno non-IC housing with white finish adjustable trim and a bright, Sylvania MR-16 halogen bulb.
Use this combination in remodeling situations where the housing will be in contact with insulation.
Style # 87104-24325-09159
4″ New Construction Housing with Black Trim and Bulb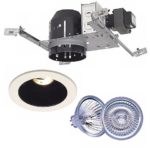 This is combination is used by builders and homeowners needing 4″ new construction housing.
You get a Juno new construction housing, a glare-reducing black trim, and a Sylvania MR16 halogen bulb.
Style # 29819-05757-09118
5″ Fluorescent Remodel IC Housing, Trim and Bulb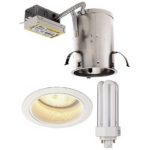 If you are looking for energy efficient recessed lighting, this CFL package is a great choice!
It comes with a Juno fluorescent remodel IC housing, trim and a GE CFL light bulb.
Style # 25786-51769-37132
6″ Remodel IC Housing with Black Trim and Bulb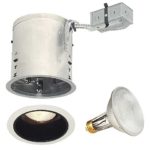 Use this recessed combination when remodeling and adding new lights.
The combo comes with a 6″ Juno remodel housing, black alzak trim, and a halogen bulb.
Style # 28179-41549-Y1031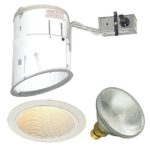 Everything you need to get a new "angle" on ceiling lighting. This kit is perfect for installing recessed lighting in your sloped ceiling.
Includes a Juno remodel housing with sloped baffle, plus a halogen bulb.
Style # 02521-02478-Y1024
Need Help?
Our popular combinations are designed to give you some great ideas and make it easy to buy what you need. If you don't find exactly what you're looking for, our American Lighting Association trained specialists can help you buy the right recessed lighting for your space. Call 800-782-1967 for personal assistance, or contact us for more information.
More Recessed Lighting Ideas and Advice
LED Recessed Lighting: Three Reasons to Say Yes
Recessed Lighting Solutions for Living Rooms, Entryways, and Dining Rooms
Four Brilliant Ways to Use Recessed Lighting in Your Bathroom
Kitchen Recessed Lighting – Layout and Planning
Choosing the Right Ceiling Light