Four Brilliant Ways to Use Recessed Lighting in Your Bathroom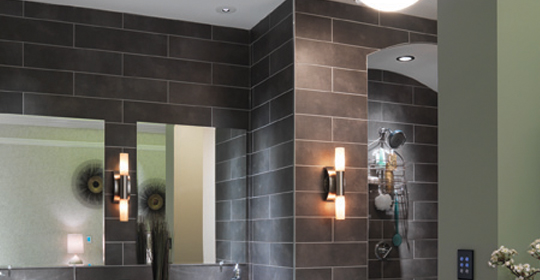 Lighting for the bath is often an overlooked part of the home lighting plan. Many bathrooms have only a single overhead light, which is inadequate for properly illuminating the vanity sink area, toilet and tub. In terms of style, this single light comes up short as well.
Recessed lighting can add both function and style to the bath space, helping to create an area that makes it easy to relax and unwind. Bathroom recessed lighting offers a clean, modern look that blends into the architecture of the bath space. And, unlike regular wall or ceiling mounted light fixtures, recessed bath lights can be installed in shower stalls or over tub areas.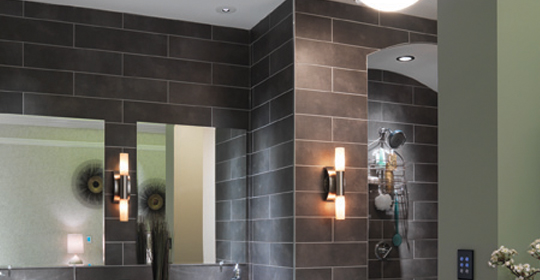 1. Over the Mirror
When using recessed lights for the bathroom mirror, place the fixtures as close to the plane of the mirror as possible. Use at least two recessed fixtures and space them so that the light output from one overlaps with the other. Placed over a mirror-sink area like this, the recessed, or can, lights can enhance decorative bath fixtures that don't cast much light.
It's important to remember that recessed lights should ideally be but one part of the bath lighting plan. Bath bar lights or wall sconces around vanity spaces and mirrors provide even, shadow-free lighting that can be hard to reproduce using ceiling mounted lights alone.
2.  In Showers and Over Tubs
The shower and tub areas are other locations where it makes sense to use can lights. Housings used must be "wet" or "shower-location" rated. "Damp-location" rated lights in these locations are unsafe and will not meet safety code requirements.
Recessed shower lights require a design with a lens cover. This type of light can also be used over a tub or toilet. Look for special "shower trim" with a built-in lens for use in these areas. You can use regular trims everywhere else in the bathroom.
3. Bathroom Ambient Lighting
Can lights can provide fill-in ambient light in the bath. This type of light serves as a substitute for natural light and gives a room eye-pleasing appeal. Recessed fixtures are wonderful at providing this type of lighting. Placed around the perimeter of the room, they'll add a soft lighting glow for the entire space.
4. Bathroom Accent Lighting
Recessed fixtures can also be used as an accent light to highlight artwork or illuminate architectural details. For example, you can use a small recessed spotlight over an artwork to create visual interest and a beautiful layer of light. Recessed shower lights with an angled baffle can be used to add sparkle to intricate tile or bath fixtures in a shower.
Use a Dimmer
Dimmers give you control over how your room space looks. When used in a very small bath space, having the dimming option gives you task, ambient, and accent lighting at the touch of a switch. Using dimmers also saves energy and extends the life of your bulbs.
Recessed Lighting in the Bath and Safety
Attention to style in the bath doesn't mean you should skimp on safety. Electricity and water don't mix, so we recommend that you always consult with a certified electrician before tackling any bathroom recessed lighting project.
More Recessed Lighting Ideas and Advice
An In-Depth Guide: Recessed Lighting Trim and Bulbs
LED Recessed Lighting: Three Reasons to Say Yes
Recessed Lighting Solutions for Living Rooms, Entryways, and Dining Rooms
Kitchen Recessed Lighting – Layout and Planning
Choosing the Right Ceiling Light