How to Buy Recessed Lighting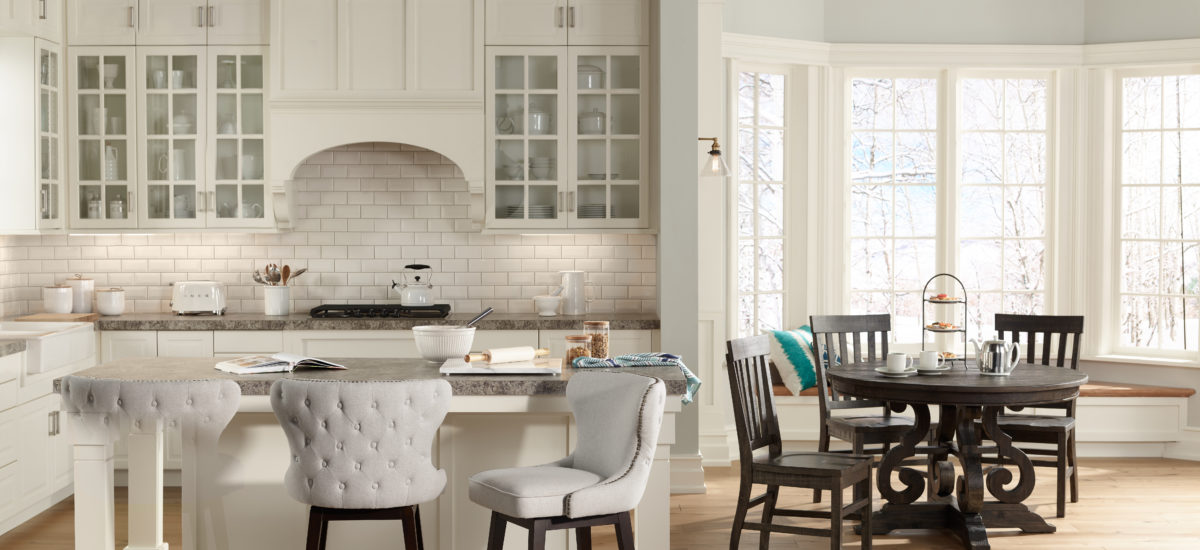 Recessed lighting is widely used for illuminating residences and offices, providing a lot of light while adding a contemporary touch to your decor.
With a video and practical, expert tips, Lamps Plus guides you through how to buy recessed lighting. You'll learn:
Recessed Lighting Parts: Housing, Trim, Light Source
How to Choose Recessed Housings
How to Choose Your Trim
General Tips
What is Recessed Lighting?
Also known as can lights or pot lights, recessed lighting is a downlighting fixture that installs into an opening in the ceiling.
Recessed Lighting Parts: Housing, Trim, Light Source
There are three parts of recessed lighting: housing, trim, and the bulb.
• Housing: This is the main protective structure of the fixture that is hidden in the ceiling and holds all of the necessary electrical components.
• Trim: The decorative molding that covers the opening of the light.
• Light Source or Bulb: A range of bulb types are used in recessed lighting, from wide flood style to tightly focused halogen bulbs. In the case of LED retrofit trims, the light source is integrated into the trim so no bulb is needed.
LED Retrofit Kits are an easy way to update older recessed fixtures to energy-efficient LEDs. Designed to replace existing trim, they are simply screwed into the bulb socket and held in place with clips.
How to Choose Recessed Housing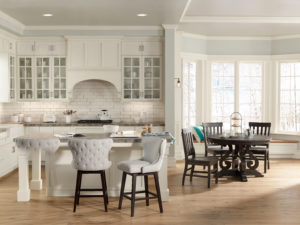 There are two basic types. Which one you need depends on how they are being installed.
• New Construction Housings
For use in construction spaces before the sheetrock or drywall ceiling has been installed. They use hanger-bars to attach to the ceiling joists.
• Remodel Housings
These are smaller and intended for areas where ceiling access is limited. They are installed through a small hole cut in the drywall or sheetrock and are held in place with clips to the ceiling drywall.
Housings also have an IC or "Insulation Contact" Rating that you'll want to keep in mind. Be sure your choice will pass the building codes in your area.
• IC Rated Housings
For use where the housing will be in contact with insulation material. These are designed with extra heat shielding, allowing insulation to cover the housing.
• Non-IC Housings
These do not offer the same level of heat protection, so they are used in un-insulted ceilings.
Lastly, recessed fixtures come in two different power options:
• Line Voltage Systems
These systems connect into your home's standard 110-120 volt feed, just like any other ceiling light.
• Low Voltage Systems
These use a transformer that converts or steps-down your home's regular current to a lower voltage, commonly 12 volts. They typically offer a more controlled, focused beam of light.
How to Choose Your Trim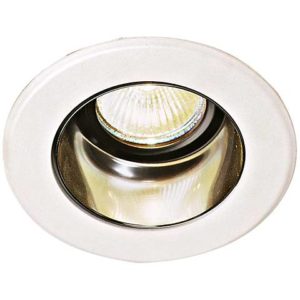 When choosing recessed light trim, make sure it's the same size, brand, and product family as the housing.
There are a number of different types of trim, each with its own unique advantages.
• Baffle Trim has a ribbed interior that minimizes glare.
• Reflector Trim has a reflective interior to amplify the illumination.
• Gimbal Trims pivot and adjust to focus light where you want it. Good for art and other wall decorations.
• Wall Wash Trim uses a scoop to direct and confine light to a specific area of the wall.
General Tips
Light Placement
Lights should be placed 4 to 6 feet apart for general room lighting.
For task lighting over countertops and other workspaces, lights can be closer together, at 1 to 2 feet apart.
For artwork, use an angled gimbal trim to direct the light as needed. To minimize glare, the beam should be at a 30-degree angle when directed toward the center of the artwork.
Using Dimmers
Dimmers add extra versatility and ambiance to your system. For LEDs, be sure to use an LED compatible dimmer. Line voltage systems with incandescent bulbs work with a standard wall dimmer.
Sloped Ceilings
If you have an angled or sloped ceiling, look for these specially designed housings and trim.
Shower Lighting
For showers and covered outdoor spaces, use housings and trim rated for enclosed shower use. They are designed to protect critical electronic components from exposure to moisture and steam.
Airtight Housings
These are sealed to keep heated air from escaping through the fixture and are recommended if installing lights on top floors.
Replacing Recessed Lighting
There are new products on the market now that make replacing recessed lighting a simple process. These retrofit kits make replacing recessed lighting easy. You can turn an old recessed light into an LED light, or convert a recessed light into a regular hanging fixture or ceiling light without having to go through the hassle of capping off or covering over the recessed opening.
More Recessed Lighting Ideas and Advice
An In-Depth Guide: Recessed Lighting Trim and Bulbs
LED Recessed Lighting: Three Reasons to Say Yes
Recessed Lighting Solutions for Living Rooms, Entryways, and Dining Rooms
Four Brilliant Ways to Use Recessed Lighting in Your Bathroom
Kitchen Recessed Lighting – Layout and Planning