How to Buy an Area Rug – 5 Quick Tips on Sizing and More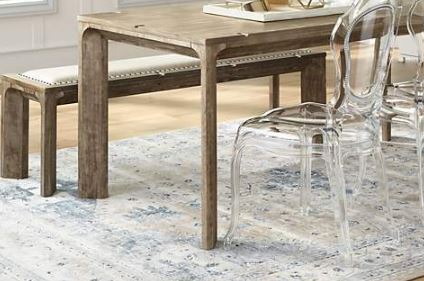 If you want to change the look and feel of a room, look to your feet and consider buying an area rug. As the name implies, an area rug covers a significant area of the room, making it a truly transformative piece of home decor. In fact, most interior designers will start designing the room, beginning with the rug.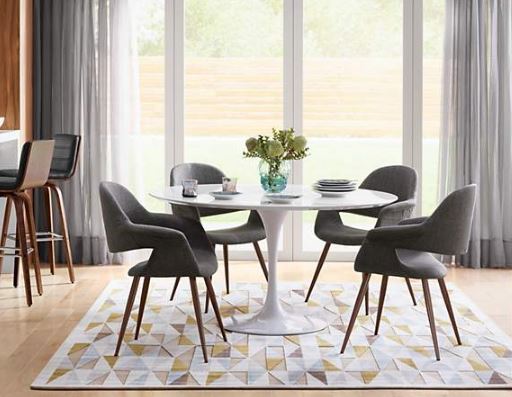 What Do Rugs Add to a Room?
Rugs can make your room look bigger or smaller.
They can serve as color accents or decorative highlights.
They provide a comforting layer of warmth and protection for your floors.
The right decorative rug won't just complement your living space – it will become a definitive feature.
If you're looking for tips on how to buy the right rug for your home, here's our guide to help you out.
Tip 1 – Size It Right
First and most importantly – the size. Because what's the point of buying a rug if it can't even fit into your room?
Here's a chart with the recommended rug size per room size.
These are general guidelines, and not strict hard and fast rules. They apply mostly to rectangular area rugs, but the basic guidelines also work well for different shapes, such as circles or runners.
Tip 2 – How Much Floor Should a Rug Cover?
Rugs look best when they cover some, but not all of a room's floor space. When you want to cover the majority of your room's floor, just keep the following golden rule in mind: Expose at least 18 inches, or one and a half feet, of floor space beyond the rug's edge. This will cover a significant portion of the floor without overwhelming the entire room.
For covering less of a floor, you should size the rug in relation to the seating or bed area.
For example, in a bedroom, the rug should be positioned in relation to the bed. Usually, the rug is laid out partially underneath the bed. You can get a large rug that extends beyond the floor space of the bed and nightstands, or you can get a smaller-sized rug placed horizontally underneath the bed and then pulled out halfway.
In a dining room, a rectangular rug should be placed underneath the dining table setup. Lay out your rug, center your table within that rug space, and then surround the table with your dining chairs. A great benefit of this set-up is that it prevents the furniture legs from scratching the floor.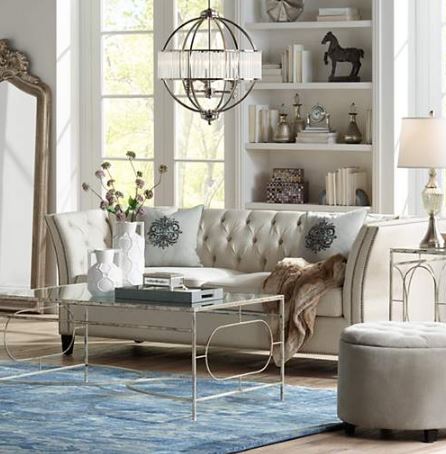 Tip 3 – Rug Shapes and Room Layout
Never underrate the shape of a rug. Not only is it an important design feature, it also determines the physical location of where you can lay out your rug. Here's a quick breakdown of the most common shapes, as well as some placement tips.
Rectangular Rugs
The most classic of all shapes. You can never go wrong with rectangular area rugs. Recommended layout: Rectangular rugs work everywhere and anywhere – there's a reason it's the traditional choice. In a living room, the rug should be positioned in relation to the seating area.
Whether you have a large sectional or a small sofa-and-coffee-table pairing, an area rug is the perfect decorative accent that adds flavor to an otherwise drab setup. You can arrange the furniture on top of the rug, or you could use the rug as a centerpiece surrounded by the furniture.
Round Rugs
Round area rugs add a charming, playful touch to your living space. They generally come in smaller sizes than rectangular rugs.
Recommended layout: Perfect for an entryway, sitting area, bathroom, kitchen, or breakfast nook. For a look of perfect harmony, place a round rug underneath a dining setup with a round table.
Runner, Stair Rugs, and Hallway Rugs
Runner rugs come in long, narrow strips. They're designed for use in tight, restricted spaces.
Recommended layout: Lay out a runner rug in a hallway or corridor, or drape it on top of a staircase. If you're feeling adventurous, you can use two runner rugs as accent pieces for a large piece of furniture, flanking a bed or sofa on either side with a strip of rug.
Tip 4 – Match Your Rug's Material to How Your Room Will Be Used
Which rug material is the best? Well, it all depends on what you're looking for and how the room will be used.
Synthetic Material Rugs
Synthetic rugs are made of manmade materials such as nylon, polyester, and polypropylene. These rugs are usually designed to be durable, stain-resistant, and easy to clean. Many are indoor-outdoor rugs that are perfect on a patio or porch.
Cotton Rugs
Cotton rugs are a classic and versatile option. They manage to be soft yet durable, not to mention easy to clean. Great for use in areas with high foot traffic.
Wool Rugs
Wool rugs tend to be resilient and long-lasting. They offer a thick and soft feel, and are naturally stain and fade-resistant. Great for use in areas with high foot traffic.
Natural Fiber Rugs
Natural fiber rugs can be made of jute, sisal, sea grass, and other organic materials. They are eco-friendly and often have a natural or rustic look.
Art Silk Rugs
With a soft touch and lustrous sheen, silk rugs bring out a luxurious feel in any space. The downside is that they come at a higher price point, not to mention that the delicate material is best recommended for use in areas with low foot traffic.
Tip 5 – Rug Styles
Last but not least – what should your rug look like? Do you want a rich traditional Persian style rug, A rug for a rustic farmhouse or an industrial style room space? Or do you want a rug for a modern, mid-century room? There's no real right or wrong answer to this, but here are some common styles to give you some ideas.
Traditional Area Rugs
Traditional rugs have a worn, old-fashioned look to them. Some of them are grandiose and elaborately designed, while others are more simple and rustic.
If you want a classic antique look, we recommend getting a traditional Oriental-inspired rug. These tend to come in rich shades of brown, beige, gold, orange, and red.
If you want a simpler style, then go for an area rug with solid coloring accompanied by a plain border. If you want a more elaborate look but aren't willing to commit to a full-blown Oriental rug, then consider a traditional design with a floral pattern.
Modern Rugs
Modern area rugs are diverse category. Expect to see anything from simple, stark geometric designs to bright splashes of abstract color.
Get a geometric-patterned rug for a basic contemporary look. Many of these designs draw the eye to mesmerizing effect. For the more daring, you can go with bold, vivid colors such as red and orange, pink and purple, green and orange.
For a children's room or for a more lighthearted look, consider a rug with a fun pattern – animals, zig-zags, abstract shapes, and more. In particular, a coastal or tropical theme would add a dose of cheerful personality to your living space.
Rugs for Transitional Spaces
If you're torn between modern and traditional, then take a look at our selection of transitional rugs. It's the versatile in-between style that encompasses a wide variety of looks and patterns, and it takes inspiration from both contemporary and classic designs.
Questions About Buying Rugs?
Need more help? Contact one of our trained decor specialists and they'll be happy to assist!
More Area Rug Ideas and Advice
A Brief History of Oriental Rugs