Small Kitchen Lighting Ideas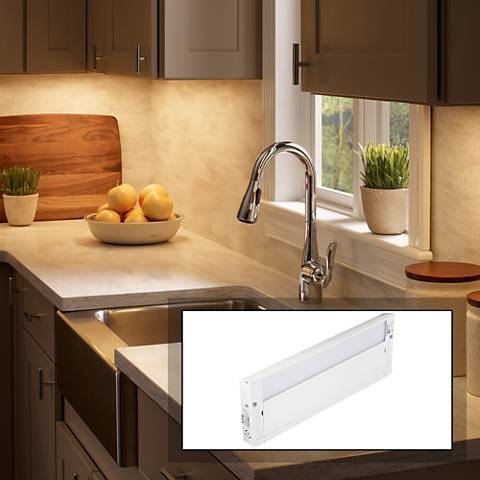 Do you need lighting ideas for a small kitchen? Lighting can become your best friend in a small kitchen — and we don't just mean recessed lighting.
In fact, you've got plenty of lighting options to make the most of your tiny space. Whether your kitchen just seems small, or is, in fact, square-footage-challenged, our experts have some tried-and-true kitchen lighting tricks to make small spaces look larger.
Here, a look at six different types of lighting fixtures and how to best use them in a small kitchen. And remember, all of these can use LED light bulbs.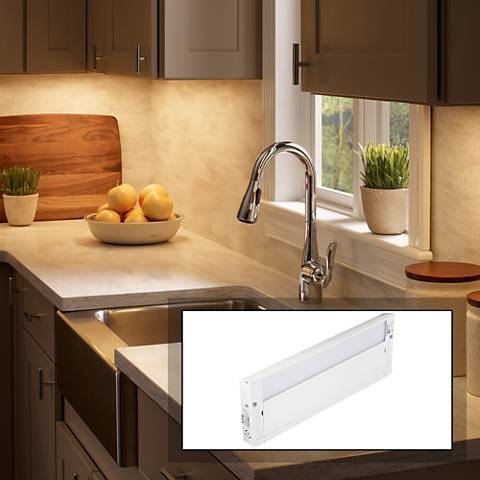 Small Kitchen Lighting Ideas by Lighting Fixture
Under Cabinet Lights
Under cabinet lights boast a double-duty function as both a mood changer and space-saver. Since they are installed underneath the cabinet, as the name implies, you save much-needed counter space. If the lights are dimmable, you can also use them to change the mood in the kitchen by dimming or brightening the lights according to your needs.
Flushmount Fixtures
If low ceiling height is an issue for your small kitchen, flushmount lighting can be a perfect way to keep a small space looking polished without compromising style.
Mounted directly to the ceiling, these fixtures can keep the kitchen visually open, while still adding a bit of design focus in a smaller space.
Close-to-Ceiling Lights
If you have the height available, you may want to consider flushmount's first cousin, semi-flushmount. Both kinds are called close to ceiling lights in the design world.
Pendants
Stylish kitchen pendant lighting is another option. You can make a series of pendants work in a small kitchen if you go with a delicate look.
If you are truly limited on space, a small sized pendant over the sink might give just enough texture and shine in a space.
Chandeliers
Yes, an eye-catching chandelier can work in a small kitchen. It may be the most challenging category to incorporate, but with a keen eye on selecting a fixture that is scaled to the space, has sleek style and smart placement, you can enjoy a chandelier in your tiny kitchen.
Recessed lighting
Traditional recessed lighting still works in a small kitchen or other small spaces. It provides a smooth ceiling profile, and can light any space efficiently.
Shop our full range of kitchen lighting for even more lighting options, and there are lots of other kitchen ideas in the Shop by Room section of this site. Check them out for some more design and lighting ideas.
More Kitchen Lighting Ideas and Advice
A Guide to ADA Compliant Lighting