Style Guide: Tiffany Lighting and Decor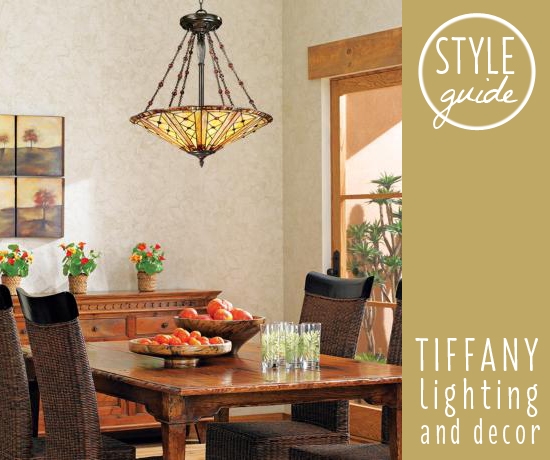 What is Tiffany Lighting Style?
Tiffany style decorative lighting and home decor arose during the late 19th and early 20th centuries. This tradition of beautiful art glass shared a hand-crafted aesthetic with the concurrent Arts & Crafts movement.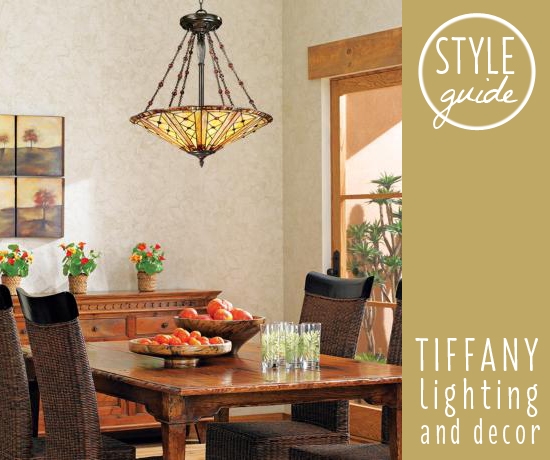 The ornate and decorative Art Nouveau movement was also in full swing at the turn of the 20th century fueled by the desire to bring art into everyday life.
Tiffany glass is one of the most recognizable art forms to emerge from this period. Tiffany lamps were built by hand with numerous pieces of cut and polished glass.
Hundreds of colorful glass pieces came together to create the shades of the original Tiffany lamps.
Tiffany designs often drew inspiration from nature. Some of the earliest and most popular Tiffany table lamps are the "Daffodil", the "Iris", and the "Dragonfly". The look is exquisite, and the spirit of the artisans behind these pieces shines through.

The Beauty of Art Glass
Founder Louis Comfort Tiffany opened his own glass factory in 1893 where he created and trademarked a type of art glass he called Favrile.
It is based on the Old English word for "hand-crafted." Tiffany's glass-making techniques were revolutionary, and he created colors and patterns no one had ever seen before.
Working from sheets of breathtaking Favrile glass, Tiffany artisans pieced together mosaics of art glass in a multitude of patterns.
Individual pieces were fused together using a recent development in stained glass called the copper-foil technique. This technique has proved to be so successful that it is still used today.
Do Tiffany-Style Shades Use Real Glass?
This is a very common question, and the short answer is "yes". The pieces of Tiffany art glass are tightly held in place by the soldered coopper-foil joints. So tightly, in fact, that they don't vibrate and resonate sound when tapped like a normal window pane or drinking glass would. Because of this, they create a dull, muffled sound when struck, a sound interpreted by many as being plastic.
But, you can always tell that you have a real Tiffany-style glass shade by the brilliance of the colors. Some glass will have texture to it, as well, and you may be able to see slight imperfections and irregularities in the glass itself. Finally, the art glass shade will be much heavier than a plastic one.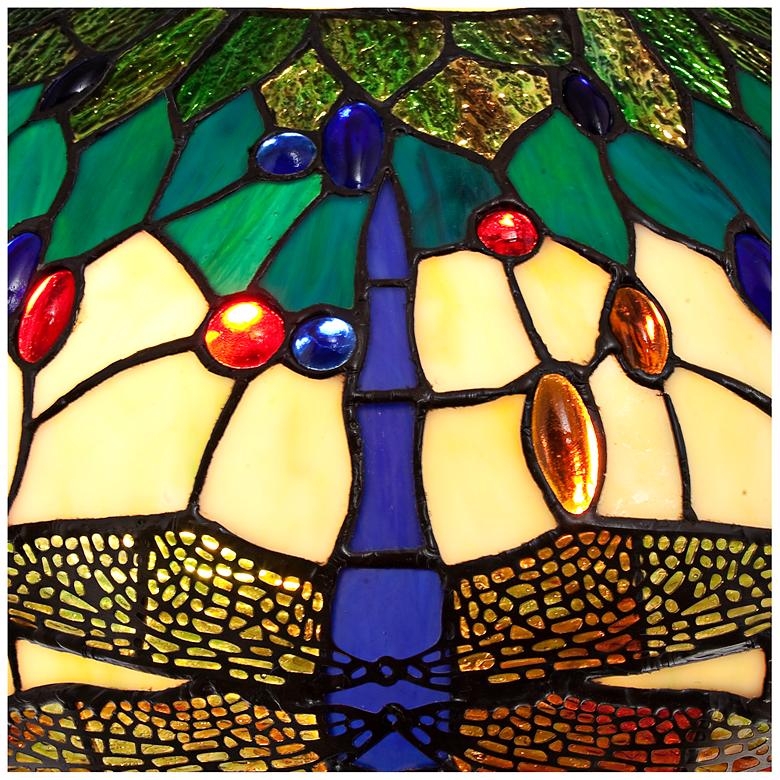 Tiffany Glass and Decor Styles
Early Tiffany designs were inspired by nature. Flowers, trees, and insects were colorfully depicted in hand-cut glass. Classic Tiffany lamps are wonderfully ornate. The hand-crafted nature of these lamps catches the eye and makes them sure-fire conversation starters.
Original Tiffany lighting designs offer a wonderful sense of history and context in older homes. If you're creating an "old-world" aesthetic at home, Tiffany lamps truly embody their time period. These pieces will really nail down your classic look.
The Tiffany tradition has been adapted nicely to other decor styles, as well. This is especially true for the Arts & Crafts and Mission Tiffany motifs. These designs often feature warm earth tones and geometric elements. Art glass is often paired with rich wood finishes for a sophisticated look.
Decorating with Tiffany Glass
Table lamps with Tiffany glass are the most traditional vehicle for the Tiffany style. Whether you enjoy the exquisite originals or more modern interpretations, a Tiffany lamp is a great way to enhance your decor.
Floor lamps and desk lamps also benefit from the beauty of Tiffany art glass. Tiffany floor lamps are great companions for armchairs, while Tiffany desk lamps dress up any workspace.
Tiffany art glass also works beautifully in chandeliers and pendant lights.
The look can be quite formal and decorative, the perfect fit for a dining room or a sophisticated seating area.
The Tiffany Legacy
Signature Tiffany designs are instantly recognizable, and Tiffany-style glass finds its way into all categories of lighting. The beauty is timeless, and original Tiffany lamps fetch large sums today.
Many modern firms continue in Tiffany's tradition of art glass, so you don't have to be a wealthy art collector to enjoy the beauty of Tiffany lighting and decor.
Look to the exciting designs of Robert Louis Tiffany lighting and Quoizel lighting, among others, for wonderful new interpretations of Tiffany style.
Questions About Tiffany Style Lighting?
Our American Lighting Association trained lighting consultants can answer all your questions about Tiffany style lighting. Just contact us or visit one of our lamp stores near you. We're here to help!
Related Ideas and Advice Articles
Home Decor Trend: Craftsman Style
Style Guide: Arts & Crafts and Mission Lighting