A History of Tiffany Lighting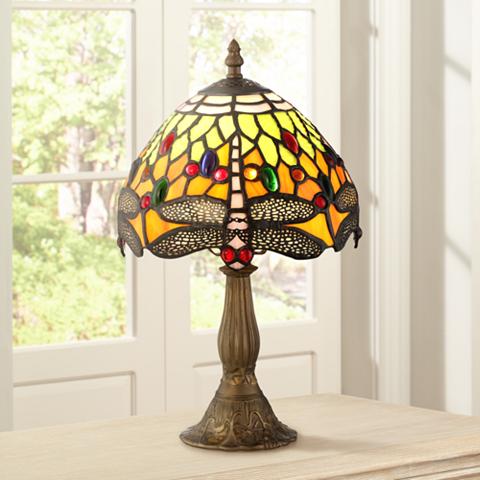 Just as the Arts & Crafts lighting movement was a byproduct of the machine age, so too was the Tiffany style of lighting and decor that arose in America during the late 19th and early 20th centuries. The results were richly decorative designs that are pure bits of American style and history.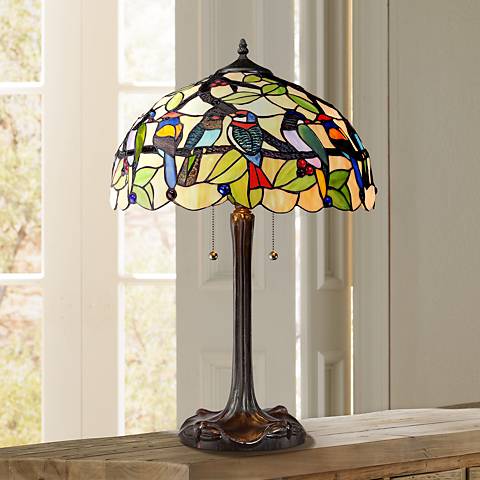 The Roots of the Tiffany Style
As the industrial age dawned, more and more items — from furniture to automobiles — were being built on assembly lines. Many artists and designers rebelled by returning to hand-crafted pieces rich with individuality.
The ornate and decorative Art Nouveau movement was in full swing at the turn of the 20th century fueled by the desire to bring art into everyday life. The artistic, hand-crafted beauty of Tiffany glass was a perfect fit, and it's one of the most recognizable art forms to emerge from this period.
Louis Comfort Tiffany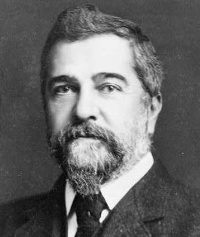 The namesake of Tiffany glass is Louis Comfort Tiffany who was born in 1848.
His father, Charles Lewis Tiffany, was one of the founders of Tiffany & Co. The elder Tiffany clearly passed on to his son a desire to create beautiful things.
Tiffany was trained as a painter in New York and Paris, studying under George Inness, Samuel Colman and others.
Back in New York, he worked as an interior designer and began specializing in stained glass. By 1885, he had formed the Tiffany Glass Company, which would become Tiffany Studios.
Favrile Glass
Tiffany opened his own glass factory in 1893 where he created and trademarked Favrile glass. The name is based on the Old English word Fabrile which means "hand-crafted". He created many types of art glass, from breathtaking iridescent colorings to glass infused with tiny strings, fractures, ripples, and mottling.
Traditionally, glass was manufactured with the fewest possible impurities. However, Tiffany found that he could manipulate these impurities to create colors and patterns in the glass the world had never seen. This exquisite glasswork would become his signature.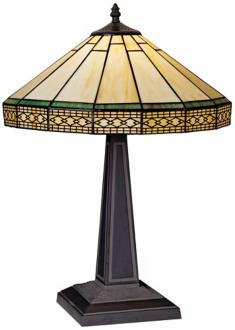 The History of Tiffany Lamps
By 1895, the first Tiffany lamp was created. Until very recently, it was believed Tiffany himself was behind the design and creation of his famous original lamps. However, it was discovered that a woman named Clara Driscoll created the first Tiffany lamps for which the company would become famous. She was employed as a designer at Tiffany Studios for over 20 years crafting these signature designs.
These original Tiffany lamp designs are characterized by the use of lavish ornamentation and patterns inspired by nature. The most famous Tiffany lamps include the "Dragonfly", "Wisteria" and "Daffodil". It took skilled artisans many hours to capture the intricate beauty of nature in stained glass.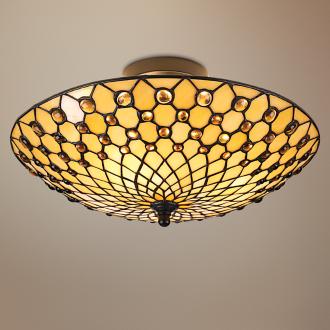 How a Tiffany Lamp is Made
To create a Tiffany table lamp, or Tiffany floor lamp, hundreds of pieces of colored glass must be fused together. The modern process by which this is done is called the copper-foil method. It is currently debated whether this process was developed by Louis Comfort Tiffany himself or by another American glass artist named John La Farge.
First, the decorative design is created on a paper or cardboard mockup. Sheets of glass are then cut according to the mockup.
Next, the individual glass pieces are ground and then wrapped with adhesive copper tape. Finally, these pieces are soldered together to create the completed design.
The pieces of Tiffany art glass are held firmly in place by the soldered joints. So tightly, in fact, that they don't vibrate and resonate sound when tapped like a normal window pane or drinking glass would. Because of this, they create a dull, muffled sound when struck, a sound interpreted by many as being plastic or a non- glass material.
You can tell you have a real Tiffany style glass shade by the brilliance of the colors. Some glass will have texture to it, and you may be able to see slight imperfections and irregularities in the glass itself. Finally, the art glass shade will be much heavier than a plastic one.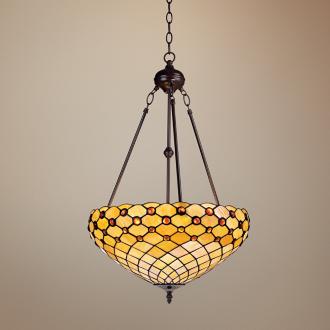 The Tiffany Legacy
Favrile glass and Tiffany lamps achieved widespread popularity at home and in Europe. Tiffany's firm ventured into jewelry and pottery, as well. The Tiffany style is still very popular today. Original Tiffany lamps fetch large sums, while many modern firms continue the tradition of manufacturing beautiful art glass Tiffany lighting fixtures and decor.
Louis Comfort Tiffany made a huge contribution to the aesthetics of the 20th century. But you don't need to be an art historian to appreciate the brilliance of a Tiffany lamp. Tiffany lighting lends character and context to classic homes. Even in more modern motifs, beautiful art glass is never out of place.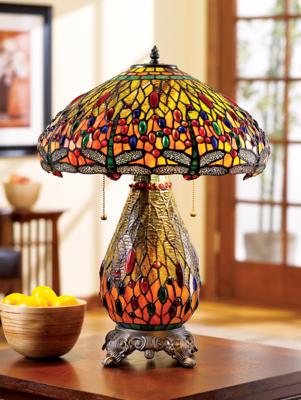 Questions About Tiffany Style Lighting?
Our American Lighting Association trained lighting consultants can answer all your questions about Tiffany style lighting. Just contact Lamps Plus or visit one of our lamp stores near you. We are here to help!
Related Ideas and Advice Articles
Style Guide: Decorating with Iron Lighting and Furnishings
Home Decor Trend: Craftsman Style
Get the Look: Modern Barn Style
Louis Comfort Tiffany photo thanks to Wikipedia.